Article
10 Best: Healthy Dishes
The most delicious—and nutritious—entrées in town.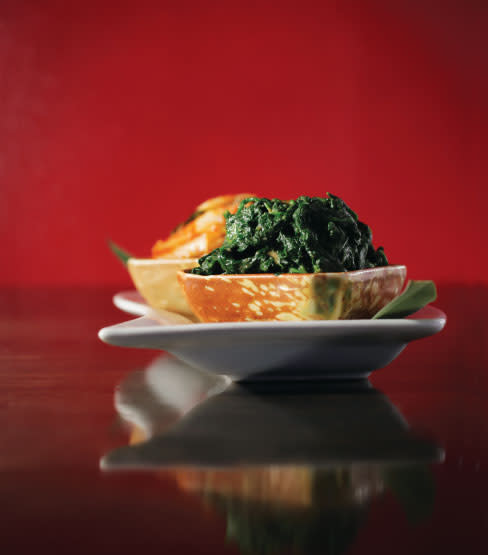 1 Spicy, fermented Korean kimchi is high in nutrients, loaded with healthy bacteria, and low in calories, fat and sugar. As J-Pan Restaurant owner Jane Dokko says, "It's the Korean version of chicken soup for the soul." When you need a kimchi fix, J-Pan's kimchi sampler (cabbage, cucumber, radish and spinach) is just what the doctor ordered. 3800 S. Tamiami Trail, Sarasota; (941) 954-5726; 8126 Lakewood Main St., Lakewood Ranch; (941) 907-1290.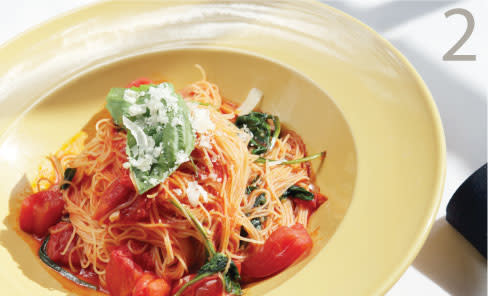 2 If your childhood spinach tasted like it does in the Bijou Café's spinach and roasted tomato capellini, you would have spared Mom and Dad your dinner-table tantrums. This simple, hearty dish is made with sautéed spinach, roasted garlic, tomatoes and basil over capellini (angel hair) pasta. It comes with cheese to sprinkle—but served on the side for those shunning calories and cholesterol. 1287 First St., Sarasota, (941) 366-8111.
3 Let us praise the humble chickpea. It's low in fat and high in fiber, antioxidants and vitamin C. Can something so healthy taste so great? The folks at Chutney's know it can. Their chana masala (chickpea curry), is a fragrant stew made from generous portions of crushed tomatoes and caramelized onions—and a colorful riot of spices. This hearty dish is a staple throughout Southeast Asia; now it is for us, as well. 1944 Hillview St., Sarasota, (941) 954-4444.
4 Put away your pocket calculator. Michael's On East takes the number-crunching out of low-cal eating. Its "City Lite" lunch menu boasts seven delectable dishes, each under 600 calories. Chef Jamil Pineda's Southwestern seared mahi mahi is a particularly flavorsome form of girth control. Bathed in a piquant gazpacho created from yellow tomatoes and roasted corn-avocado salsa and served over sautéed spinach, this delicacy weighs in at 545 calories with only 24 grams of fat. Bon appétit! 1212 East Ave. S., Sarasota, (941) 366-0007.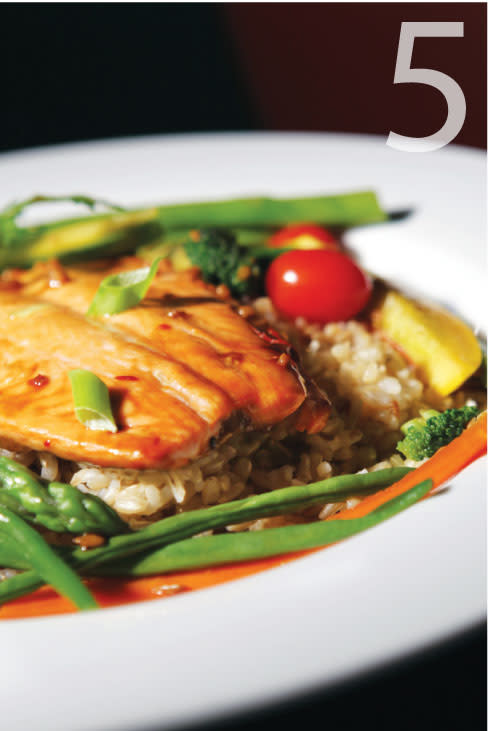 5 Feast upon a heart-healthy grilled wild salmon bowl at Monterey Grill. The salmon is marinated in the house-made sesame garlic sauce and served over brown (or basmati) rice. Dig your chopsticks into this colorful mix of fish and rice mixed with crisply steamed snap peas, green onion, and avocado. Plus, this bountiful bowl o' goodness is low in saturated fat and packed with omega-3 fatty acids. 3800 S. Tamiami Trail, Paradise Plaza, Sarasota, (941) 366-0729.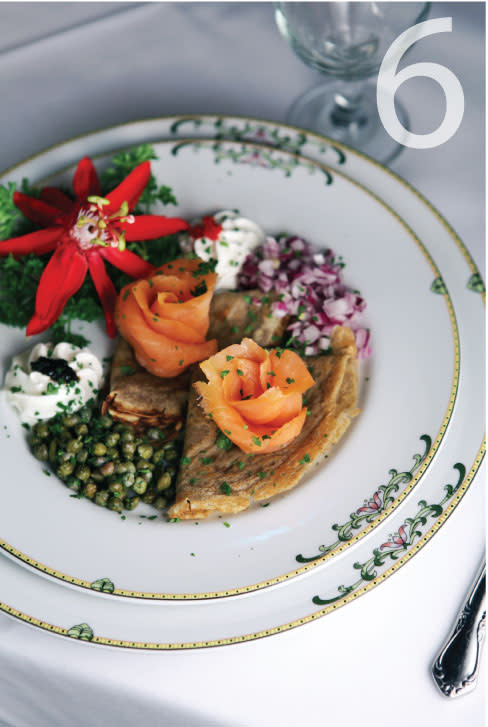 6 When it's time for your daily dose of omega-3, do it in style. Chef Ray Arpke of Euphemia Haye suggests you indulge in his smoked salmon on buckwheat crêpes, thinly sliced, cold-smoked salmon served over warm, Russian-style crêpes. He garnishes this masterpiece with a harmonious duet of caviars, sour cream, minced onions, capers and fresh dill. 5540 Gulf of Mexico Drive, Longboat Key, (941) 383-3633.
7 When is a salad more than a salad? When it's Veg's 2164 salad, a powerhouse of super greens and veggies that creates, in the words of owner Maggie Glucklich, "a rainbow on your plate." Think lushly green kale, dark purple cabbage, bright orange carrots, riotously red beets and sea-green avocado. And papaya seed citrus dressing is oil-free. How did the salad get its name? "It's our address," laughs Glucklich. 2164 Gulf Gate Drive, Sarasota, (941) 312-6424.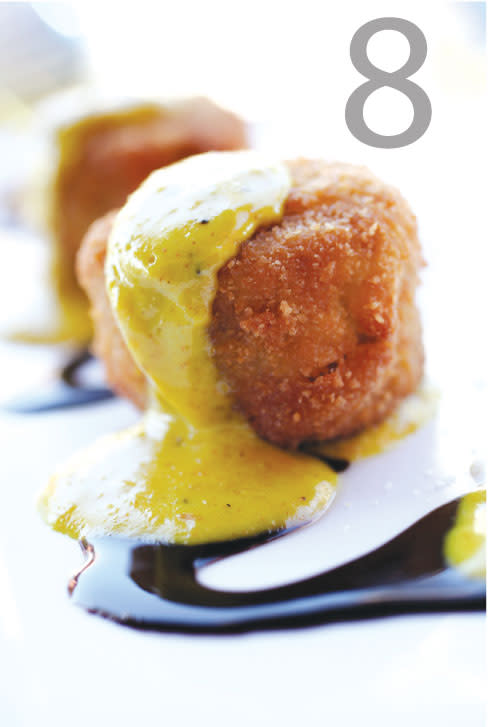 8 According to some wholesome foodies, quinoa outclasses rice on every level. Prized as a sacred seed in the ancient Inca civilization, it's still a Peruvian nutritional treasure. With its nutty taste and chewy texture, this protein-packed food is flavorful, filling and just plain fantastic. At Libby's, chef Francis Casciato uses this magical grain in his lentil quinoa cakes. "It's my secret weapon," he admits. The secret is out. 1917 S. Osprey Ave., Sarasota, (941) 487-7300.
9 When it's time to hunker down to some raw protein, dig into the Kona Kampachi tartare at Derek's Culinary Casual, an adventurous but healthy ensemble of cucumber sorbet, watermelon gelée, black olive caramel and koshinato greens—with a kimchi vinaigrette. "Kona Kampachi, a fresh sashimi-grade fish, is full of omega-3," says Derek Barnes. "It's the perfect trinity—protein, omega-3 and fermented kimchi." 514 Central Ave., Sarasota, (941) 366-6565.
10 You don't have to be a vegan to love the raw vegan lasagna at Simon's Coffee House. Chef Scott Nuss creates this popular dish from fresh zucchini, kale, mushrooms, spinach and sundried tomatoes. And Nuss uses cashew nut butter for a rawlicious mock cheese. This melt-in-your-mouth lasagna might inspire you to go raw for real. 5900 S. Tamiami Trail, Sarasota, (941) 926-7151.
Our 10 Best lists are not ranked in order of numerical preference.