Article
Urbanite Theatre's Lungs
Arts editor Kay Kipling reviews this intimate comedy-drama.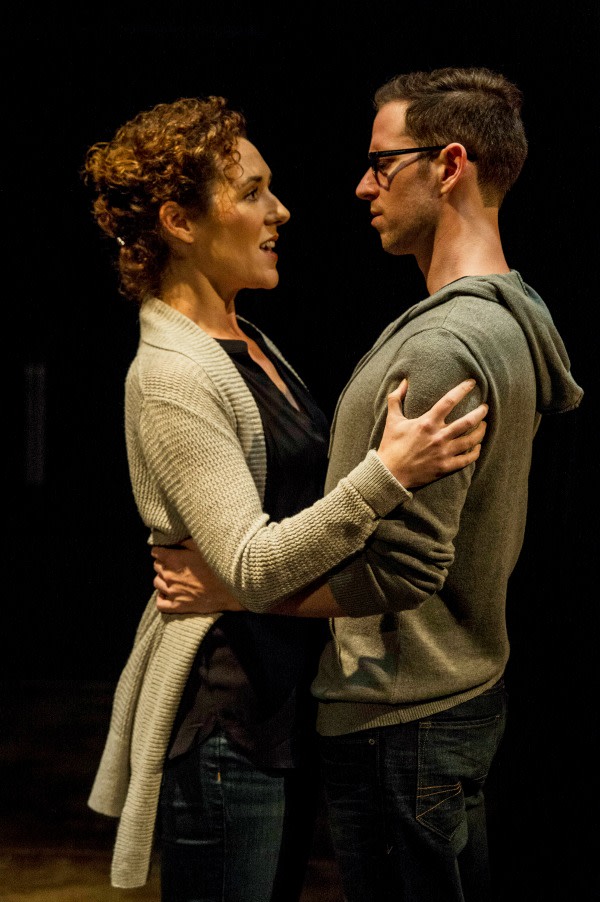 By Kay Kipling
You might think from reading a capsule description of Duncan McMillan's play Lungs, now onstage at Urbanite Theatre, that you're in for a grim evening. Nothing could be further from the truth.
When you hear that Lungs centers on a couple trying to decide, in today's world of terrorism, climate change and other global concerns, if they should have a baby, it's all right to be wary. The subject could get heavy and be a turnoff in the wrong hands. But in this piece, while there are some poignant moments, the experience is never a downer.
On a stage empty except for some looming, bare tree branches, we meet W (Woman), played by Katie Cunningham, and M (Man), played by Brendan Ragan. They are in the first moment of even thinking about procreating, and the conversation is as awkward, believable, and, to us, funny as any such conversation between two youngish, educated, earnest people determined to do the right thing can be.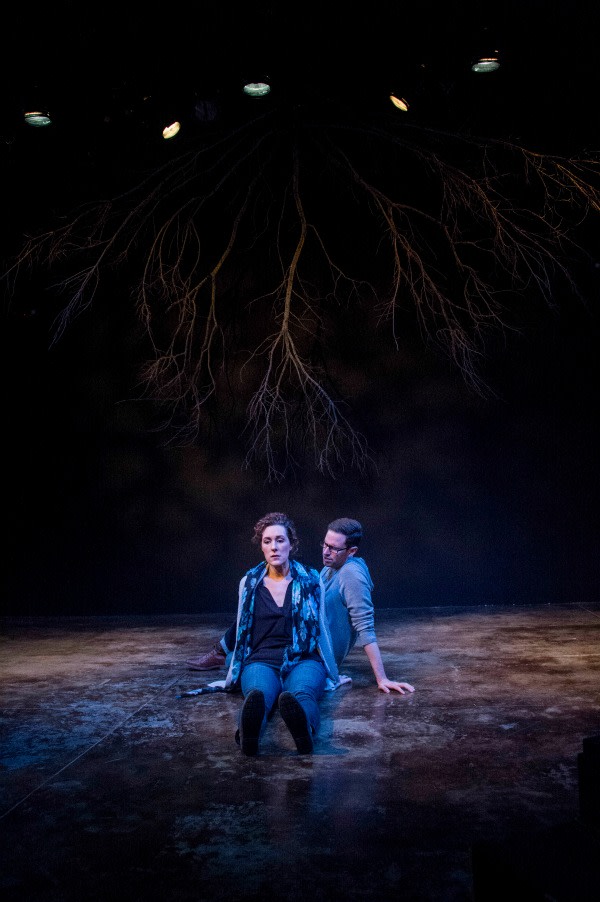 It's M who first brings up the topic, but it's W who immediately gets into overanalyzing the idea, and their dialogue goes around and around as they ponder all the knowns and unknowns of parenthood. Can they really bring another person and the resulting carbon footprint into a universe in such dire straits? Is it irresponsible and selfish? Their back-and-forths are entertaining and captivating even while deliberately exasperating at times; they're so obsessed with their decision that you both feel for them and want them to get on with it.
But Cunningham and Ragan, under the direction of Daniel Kelly, are so in tune with each other that their starts and stops, their hesitations, their reactions, keep us in their world, as they move from one setting and moment to another via only their words, their gestures and some well-timed lighting cues.
Their performances—Cunningham's more expressive and energetic, Ragan's intentionally more responsive most of the time—and McMillan's ear for the way people really talk keep us following every step of the way on their journey, even as life takes some more somber turns. And Urbanite's in-the-round configuration and Kelly's staging here mean that everyone in the audience gets to see the actors' facial expressions at different critical moments.
At just 90 minutes, with no intermission and with absolutely no special effects or fireworks, Lungs (think of the importance of breathing) still delivers quite an impact. If you don't believe me, see for yourself; the show continues at Urbanite through Jan. 3. For tickets call 321-1397 or go to urbanitetheatre.com.