Article
The Actor's Nightmare/The Real Inspector Hound
Arts editor Kay Kipling reviews this absurdist double bill.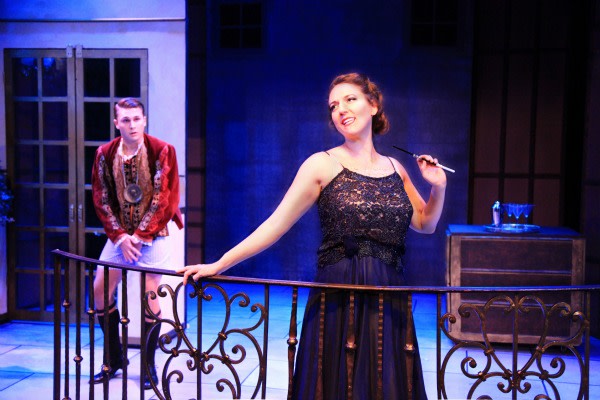 By Kay Kipling
The FSU/Asolo Conservatory opens its season in the Cook Theatre, featuring its second-year class of MFA students, with a largely delightful double bill of absurd comedies about the theater that give the actors a good chance to demonstrate their skills.
The first, approximately 27-minute piece (but who's counting?) is by Christopher Durang, and it clocks in with just the right tone and timing. The Actor's Nightmare opens with a young man (Scott Kuiper) suddenly thrust onto a stage and told he has to "go on" for another actor. What actor? George Spelvin, as the hapless man is called, is an accountant, not an actor, and he has no idea how he arrived here with the curtain ready to go up. It's a nightmare most of us have probably had in some version.
Despite his protests, the stage manager (Danielle Renella) and his fellow cast members expect him to perform, even though he likewise has no idea of what play is being presented. Is it Noel Coward's Private Lives? A two-character absurdity by Beckett? Or—Lord help him—Hamlet? It's great fun to watch George struggle to oblige his demanding castmates, all of whom are oblivious to his plight, and to see him sometimes manage, by sheer luck, to come up with the right line. Especially hilarious: a scene where George, alone in the spotlight, begins spewing out whatever Shakespeare quotes he can recall, eventually resorting to any other memorized recitations he can dredge up. But woe betide George when his role suddenly switches to Thomas More in A Man for All Seasons, and a determined executioner awaits…
The second half of the bill presents Tom Stoppard's The Real Inspector Hound, which opens with a dead body on the stage in clear view to all of us, although apparently not to any of the characters in the play-within-a-play that's taking place. It's a whodunit, packed with stereotypical characters and motivations for murder, but Stoppard throws into the mix two critics seated alongside the stage: Moon (Brett Mack), who's obsessed with the fact he's the second-string critic and schemes how he might replace his rival; and Birdboot (Brandon Maldonado), who flares up in a temper whenever it's suggested that his flirtations with young actresses might impair his judgment or his marriage. They comment on the play even as they also have their own heated personal discussions.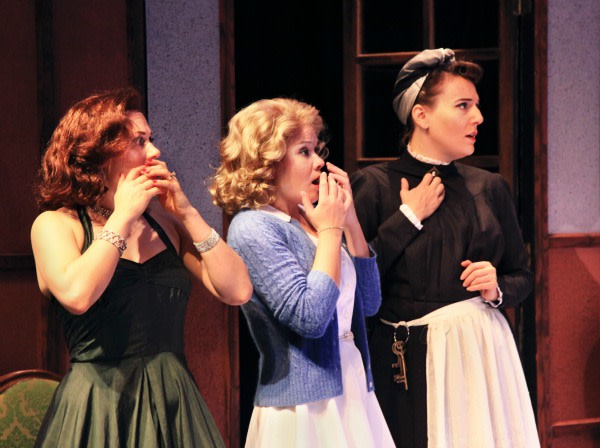 Meanwhile, in the incredibly isolated Muldoon Manor, the housekeeper (Jillian Courtney), lady of the house (Jessie Taylor), pretty young guest (Kelly Elizabeth Smith) and sudden, unexpected visitors Simon Gascoyne (Rob Glauz) and the wheelchair-bound Magnus (Jacob Sherburne) provide tons of exposition accompanied by dramatically overdone gestures and delivery.
It's clever, and, under the direction of Greg Leaming, just right in its over-the-top attitude. Chris McVicker's set and Becky Leigh's costumes hit the right notes, too. Even so, I found Hound wearing out its welcome just about five minutes before it actually came to an end. Maybe there's only so much laughter one can take before tiring.
The Actor's Nightmare and The Real Inspector Hound continue through Nov. 22; for tickets call 351-8000 or go to asolo.rep.org.