Article
RIAF Roundup
Arts editor Kay Kipling on more of the festival's performances.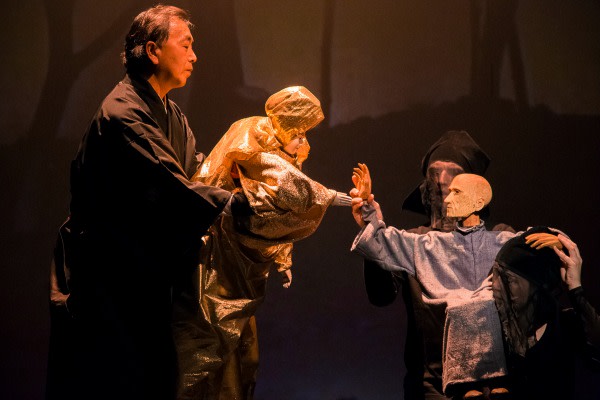 By Kay Kipling
My final viewings of this year's Ringling International Arts Festival ranged from the easy to take to the hard to absorb.
Starting with the first: the Indonesian musical ensemble Orkes Sinten Remen. Composed of nine performers (including leader Djaduk Ferianto), this group brought a fun and warm vibe to the stage, performing a mix of folk songs and pop hits in a variety of languages, sometimes with a bit of a bluesy or jazz feeling. You didn't have to know the lyrics to any of the songs to "get" what the vocalists (Ferianto, Silir Pujiwati and Anita Siswanto, who spoke for the group in accented English, with lots of smiles) were conveying. Sometimes it was playful, sometimes it was more plaintive and longing, but the engagement with the audience was always there.
The ensemble did toss in a couple of familiar tunes—the bossa nova hit Cuando, Cuando, Cuando, and, for an encore, Lionel Richie's All Night Long—as well as getting the audience to stand and sway with them during one number. Language barrier easily crossed here.
Tom Lee's Shank's Mare, which featured the art of kuruma ningyo puppetry (a Japanese form in which the puppeteers are seated on small rolling carts as they manipulate their creatures), was something I had looked forward to, and admired, but was in the end a bit frustrated by. The world premiere of the entire work takes place next month in New York, so what we saw here was an approximately 40-minute version that left us with some puzzling questions, rather than a full understanding of the story and its meaning.
Shank's Mare mainly centers on an old astronomer and his apprentice/servant, making a long and fateful journey apparently in search of a comet. Meanwhile, a samurai puppet is likewise traveling, while apparently ready to fight anyone and anything with his sword. We watch the puppets moving across the stage, but we also see the set design projected as well, featuring mountains and a snowstorm along the way.
The talents of the puppeteers are never in doubt, and the music by Bill Ruyle, design of the puppets and overall atmosphere are intriguing throughout. It's thrilling to see something like this you haven't seen before. But ultimately, the piece can't help but feel truncated in this form.
Truncation may, to be honest, be something some audience members might have wished for with the Tao Dance Theater's performance of Weight X 3. Once you read the program notes about Tao Ye's philosophy of choreography—he relies heavily on repetition and ritual—and also see that the piece is set to music by minimalist composer Steve Reich, you know something about what to expect—a mix of movement and notes you will see and hear over and over again for a result that can prove either hypnotic or mind-numbing.
That's certainly not to discount the skills of the dancers. In Part I, Fu Liwei and Mao Xue, wearing loose grayish garments and often holding each other's long sleeves, perform faithfully Ye's limited movements in patterns that speed up as Reich's music does. In Part III, Mao Xue and Li Shunjie, wearing red and blue kimonos, with their hands always firmly placed along their pelvic regions, likewise repeat the designated movements, intentionally with no facial expressions, for perhaps 15 minutes, with the tossing of a long braid the only gesture to break the strict code.
I come to Part II last; it's actually a film showing dancer Duan Ni dexterously twirling a long staff over her head, behind her back, and in other variations, confined in a small circle of greenish spotlight. You are at first impressed by her skills, no doubt, but gradually, as the film goes on, and on, and on, you may start to feel that there was never a time before you began watching it and that there will never be a time after. Interpret that how you will.