Article
The Sarasota Philanthropists Who Touched Our Hearts This Year
Meet the compassionate givers, young and old, who helped to change our world this year.
Meet the compassionate givers, young and old, who helped to change our world this year.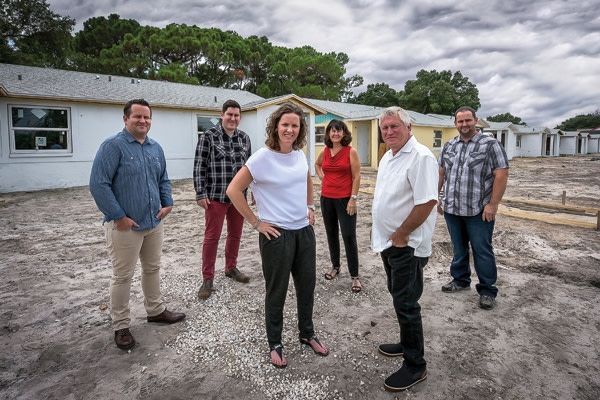 THE MINOR FAMILY
Harvest Tabernacle Church pastors Jim and Peggy Minor and their five children, now ages 38 to 29, have worked tirelessly—and mostly under the radar—for more than two decades to end the cycle of addiction and homelessness. Through their Harvest House Transitional Centers, they've quietly purchased and rehabbed 340 dilapidated apartments in some of north Sarasota's toughest neighborhoods, where they operate residential substance abuse centers and provide both transitional and permanent affordable housing along with case management.
But everything changed for the Minors when Dr. Robert Marbut shone a spotlight on Sarasota's homeless in his 2013 report to city and county officials and then turned to the Minors to establish an emergency shelter for homeless families. With a quickly assembled team of new collaborators, including funding from the Gulf Coast Community Foundation, they opened the eight-unit Harvest House Family Haven in October.
Now they've won recognition and respect for their key role in a new consortium of more than a dozen nonprofit partners, including the Salvation Army, First Step, the Sarasota Department of Justice and U.S. Department of Veteran Affairs.
"Harvest House was just going about our work when Dr. Marbut found us," says executive director Erin Minor. "He was excited about the way we're reaching people and revitalizing neighborhoods. He said this is the model every service agency should take."
Erin's parents, Jim and Peggy, originally from rural Pennsylvania, moved the family to Sarasota and to the then-tiny Harvest Tabernacle Church in 1984 from Miami, where Jim had been an associate pastor. "Their heart and mission was to serve, and their first outreach to the community was a small food bank," says Erin Minor. That exposed them to the problems of addiction and employability skills in Sarasota. They founded Harvest House Transitional Centers as a subsidiary of the church in 1992.
All five siblings have worked for Harvest House at least part-time until the beginning of this year, when Erin's youngest brother moved to New York to work for the Clinton Foundation.
The church and transitional centers altogether employ more than 26 people.
"As kids we used to pick up homeless people with our dad and bring them to church. But growing up, we [agreed] that we wouldn't work for the church. It didn't look fun, it was a lot of work, people didn't look happy," says Erin. But as with her brothers and sisters, social service turned out to be in her blood. While she started college to pursue an arts degree, Minor ended up earning her bachelor's degree in psychology and became a state-certified addictions and mental health professional.  "For me, it was a spiritual calling to take what I'd learned formally in school and in my own life struggles," she says. "This opportunity [to work at Harvest House] was at my front door. How could I turn them away?"
Working together as a family has its challenges—and joys, says Jim Minor. "We expect each other to work 24/7 to get the job done even when we're exhausted. When I call my daughter at midnight to talk about an idea, she may be mad for the moment, but then she is excited to take on another one of dad's crazy ideas and run with it. We've created a family environment at work, too. Our employees share their ideas and dream along with us."
Every Sunday after church the entire Minor family, including eight grandchildren and assorted nieces and nephews, assembles at Jim and Peggy's house for dinner. "That's our sacred time," says Erin. "If you're a Minor and if you don't show up for family dinner, you're in trouble!"
"After we eat it's time for discussion, and the topics range from politics to current events to decisions of local leaders," says Jim Minor. "We leave with either friendly feelings toward one another or the contrary, but we are family and family we will stay, and that is my greatest joy."
Harvest Tabernacle has occupied three buildings on Lime Avenue for 20 years. That property is now for sale, and the Minors have purchased a five-acre lot on 17th Street and Beneva Road where they will be building a new church.
Nearly two years ago, the Minors purchased the Angers' Deli sandwich shop on Lime Avenue. They've hired clients of their social-service programs to staff it, and all the proceeds fund their international outreach: a Bible college in the Philippines, an orphanage in the Dominican Republic and a mission outreach in Mozambique.
Harvest House has worked with the Community Foundation of Sarasota County and Lee Wetherington Foundation to launch a capital campaign, Turn the Lights On, for its newest project, Family Village. They purchased an 18-unit complex at MLK Jr. Boulevard and Tuttle Avenue to provide permanent housing for 18 chronically homeless families, with some being earmarked for U.S. military veteran families. The capital campaign to renovate the units has met two-thirds of its $600,000 goal.
Homelessness is a complex issue that demands complex solutions, but Minor says one simple belief informs all their efforts and has been key to their success: "We follow the Biblical instruction that love never fails. No one is excluded from the services or from the respect that they deserve. Regardless of an individual's beliefs, all are welcome."—Ilene Denton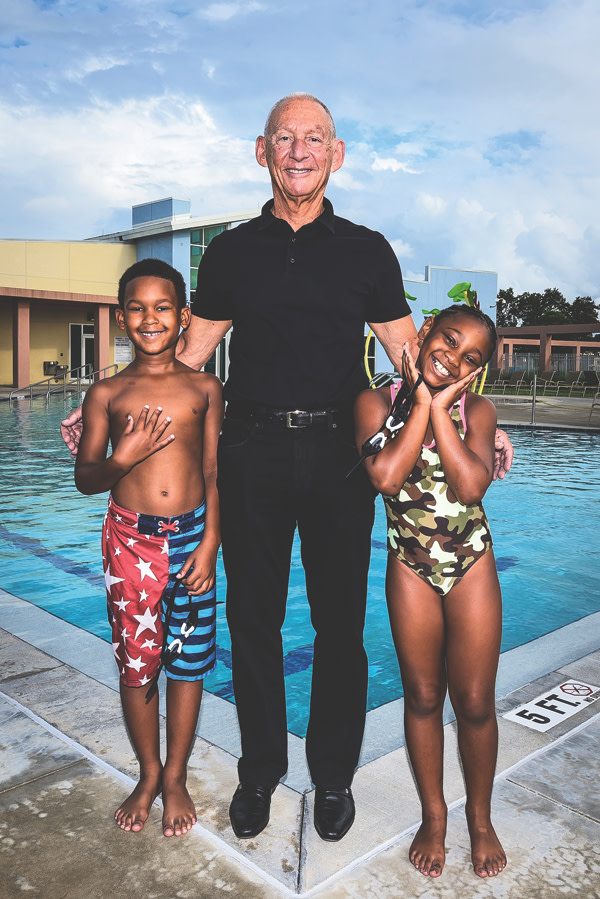 KEITH MONDA
After a high-profile career that culminated with serving as president and COO of Coach, Keith Monda says he felt obliged to devote the rest of his life to service. That decision has already affected many thousands of children right here in Sarasota—and around the world.
Despite Sarasota's many beaches, swimming pools and waterways, many local children—especially poor ones—never learn to swim, and some are terrified of the water. "My belief is, if a young child can overcome that fear, it helps make them feel like they can do anything they want," says Monda. He and his wife, Linda, founded Kids SWIM with Gulf Coast Community Foundation, which provides swimming lessons that double as confidence-building experiences. Partnered with the YMCA, Sarasota County Schools and more, the program changed the lives of 2,000 children this year alone.
The Mondas also helped establish the Campaign against Summer Hunger, which distributes meals and snacks during summer
vacations through local agencies like All Faiths Food Bank and Sarasota County public libraries. "Fifty percent of kids in Sarasota County are on free or reduced lunch," says Monda. "In the summertime, food is significantly less available." The campaign has received donations of $1.2 million and more than 900,000 pounds of food in each of its two years in existence.
Monda is also a leader and board member for Feeding America and 2 Degrees Food, which sells nutritional bars that have funded more than  1 million meals to children in need.
"How can I live a comfortable lifestyle in a terrific community knowing that there are kids almost within walking distance from my house that don't know where their next meal is coming from?" Monda asks. "That's unacceptable to me."—Hannah Wallace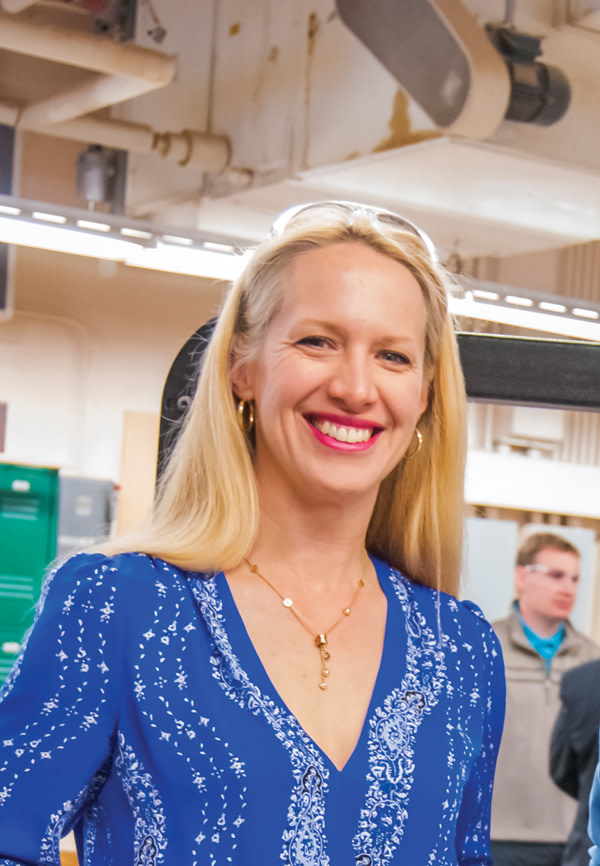 ARIANE DART
"I don't like not having something to work on," says Ariane Dart. Talk about an understatement. In addition to her busy life as a wife and mother to two young children and two older stepchildren, the composed, elegant Dart is the intensely focused center of a whirlwind of philanthropic activities. She serves on the board of the Dart Container Company's family foundation, which has given more than $100 million to support youth education, scientific research, hospitals and more in 100 communities around the world. "My father-in-law supported STEM before it was fashionable," she says. Unlike his father, he was able to go to college, "and that changed everything," she says, not only for him but for the company. "The biggest impact we can have on anyone in the world is to give them an education," she says.
Dart was directing sales and marketing for her family's plastic manufacturing company when she met Bob Dart on a business trip in London. With their similar backgrounds, the two felt an instant affinity. After they married, she joined the foundation board and began reviewing grant applications, often visiting recipients around the country.
Locally, the foundation has helped create the Children's Rainforest Garden at Selby Gardens, bought computers for underprivileged children and helped build facilities at Sarasota Memorial, Forty Carrots Family Center, Out-of-Door Academy and more.
Seeing how those grants affect individual lives and families has been profoundly rewarding, Dart says.
But she's equally passionate about creating successful fund-raising events. At her Caribbean vacation home, she hosts an annual garden party that raises funds for local artists. And in Sarasota, she spends some 200 hours every year pouring her creativity—and near-obsession with details—into Forty Carrots' Firefly Gala. Six years ago, searching for a concept that would excite the younger crowd, she came up with the idea of featuring pop stars—among them Pat Benatar, Blondie, and, last spring, Bret Michaels.
Convinced that "every element is critical," she works without a party planner and has been seen, in her evening gown and stilettos, rearranging the chairs in front of the stage shortly before the band appears. "I love building a product," she says, "and then I want to see it grow." And that Firefly has, becoming one of the town's signature events and to date raising some $2 million.—Pam Daniel
CAROL & BARNEY BARNETT
Visitors and residents, no matter their background or income level, come to Sarasota to enjoy sunsets over the Gulf, a wealth of watersports, and fishing in inland and offshore waters. That was certainly true for Publix chairwoman Carol Jenkins Barnett and her husband—and Publix's vice chairman—Hoyt "Barney" Barnett when they decided to establish a part-time home here years ago. The couple, who both grew up in Florida and graduated from Florida Southern College, are avid fishermen. Once they were here, they soon discovered Mote Marine Laboratory and became enthusiastic supporters of its programs and research initiatives.
Although they avoid the spotlight, Barney and Carol (who was named to Forbes' 2015 list of the world's billionaires), have long been committed philanthropists. They've given both personally and corporately to myriad programs that improve the lives of Florida's children. Carol is president of Publix Super Market Charities, which gives $25 million a year to support causes such as education and the homeless.
This year the couple extended their support to our local waterways as well, with a $3 million lead grant to a Mote program that will help protect and restore Sarasota Bay fisheries. They've challenged the community to contribute another $3 million to complete the program's funding.
"They were very strategic [in choosing to support this initiative]," says Mote's CEO, Dr. Michael Crosby. "They're working very, very closely with us, challenging the rest of our community to step up. It's one thing for [donors] to generate money—it's good, we need it—but when people commit their time, that's equally as important. The Barnetts are in this heart and soul."
HARRY LEOPOLD
Retired investment banker Harry Leopold began his giving ways in Sarasota with the Sarasota Opera, and he remains a huge fan of the arts, saying "Without contributions, ticket prices would be twice as much, and likely none of our arts organizations would exist." But he's reached beyond his support of the opera, orchestra and other cultural groups to include human services; and this past year he initiated, with USF Sarasota-Manatee, the Joy of Giving series, to spread the word about the pleasures of philanthropy. The series, which attracted large audiences, included five notable lecturers and inspired many of those attending to form giving circles that will continue to benefit the community. Why does giving lead to such joy? "I don't have a clue," Leopold says with a chuckle. "I just know leading a philanthropic life is wonderful." He's working on a similar series for the coming season.—Kay Kipling
JOE & MARY KAY HENSON
When Greenwich, Conn., transplants Joe and Mary Kay Henson learned that 52 percent of Sarasota County's school-age children live in poverty—70 percent of students in 12 elementary schools alone—they decided to "get up off the couch," says Mary Kay, and do something about it. They contacted Alta Vista Elementary principal Dr. Barbara Shirley with their idea to fund the pilot Eagle Academy, a pre-K to third-grade summer program to help prevent the "summer slide." (The Community Foundation of Sarasota is now a 50-50 funding partner.)
"We were concerned," says Joe Henson, a retired tech entrepreneur and venture capitalist. "What do the kids do after they get out of class? They're not going away to camp or engaged in enriching activity, they're out on the sidewalk or watching the boob tube."
Four years later, 350 Eagle Academy students at Alta Vista now go to school year-round. The Hensons fund their teachers and a full-time, Spanish-speaking social worker who helps their families navigate social service agencies. Based on the "two-generation" approach the Community Foundation advocates, Academy parents are required to attend weekly budgeting, nutrition and child development classes.
"Now the sign in front of Alta Vista says, 'A Community School,'" Henson says.
At the Eagle Academy's start, just 49 percent of Alta Vista third graders earned the standard FCAT score. Last June, 73 percent did. "We're thrilled for the kids; it gives them a shot at life," says Henson. "It's a model that clearly works."
The couple has persuaded the school board to expand the Eagle Academy to Gocio, Tuttle and Emma E. Booker elementary schools next summer. And now Mary Kay is turning her eagle-eyed focus on developmental programs for children from birth to three years old. "The climate is right; there's so much national attention on poverty," she says. "What I tell people is, pick a piece of it. We all have to work on this. What's your passion?"—Ilene Denton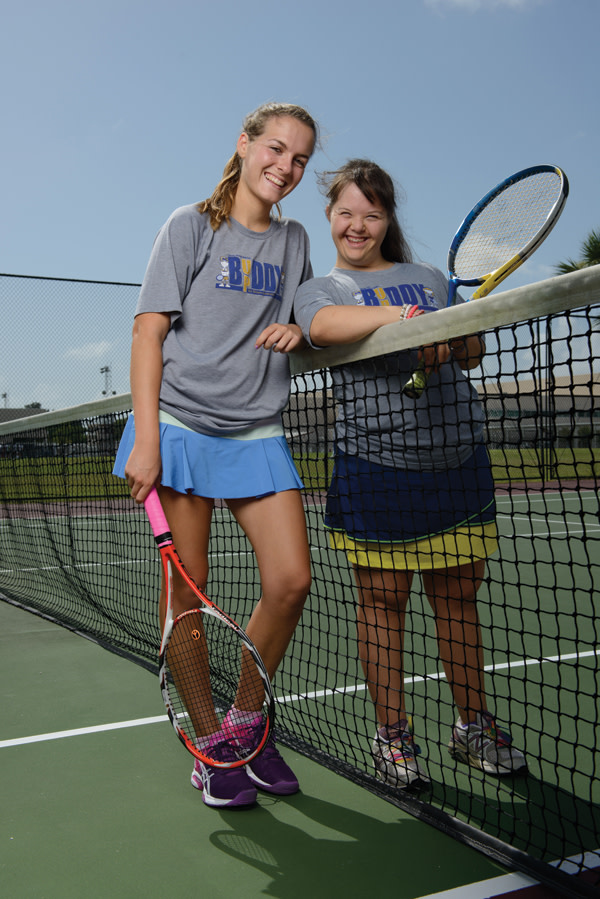 ALLISON DAVIS
Allison Davis' twin sister, Sarash, has Down syndrome, but that hasn't stopped them from being tennis partners for years. When Allison witnessed her sister's joy at even the smallest signs of progress during her tennis lessons, she vowed to help other people with Down syndrome learn to play. In May 2013, she collaborated with Riverview High coach Joan Bellissimo to create a program. Starting with three athletes and a few volunteer coaches, their efforts reached the attention of the national organization, Buddy Up Tennis. Last November the two organizations joined forces, and now Sarasota Buddy Up Tennis serves nearly 30 athletes. Davis, now 18 and leaving for college this fall, says the program has enriched her as much as anyone else. "I find myself carrying Sarah's excitement into my tennis game," she says. "And Buddy Up Tennis has changed the way I approach people and struggles in life, too."—Chelsey Lucas
CHUCK & MARGERY BARANCIK
The Baranciks (seasonal Sarasota residents from the Chicago area) are famously averse to publicity, but it may be hard to keep their giving under wraps now that they've established Sarasota's largest private family foundation, the Charles and Margery Barancik Foundation, Inc.
The couple has given generously to philanthropic endeavors before, including to area arts groups, multiple sclerosis research, and notably, with a challenge grant offer of $200,000 to Season of Sharing that helped propel last season's campaign to a record-setting $2,018,678. Their new foundation is still in the early stages, but rumors swirl that it will open with significantly more than the $270-million-plus assets of the Gulf Coast Community Foundation—whose former CEO, Teri Hansen, has now signed on to head the Baranciks' foundation. What will be their mission, and who will benefit? We can't wait to find out.—Kay Kipling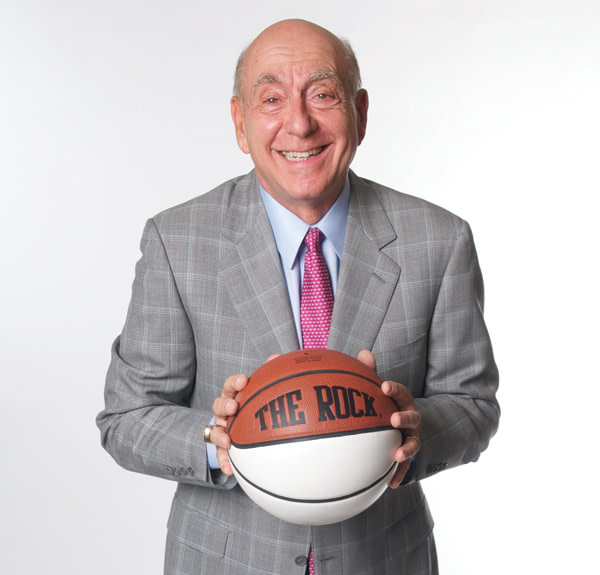 DICK VITALE
For 10 years now we've been blown away by the volcanic energy ESPN Hall of Fame sportscaster Dick Vitale expends on the gala bearing his name and benefiting the V Foundation for Cancer Research. We're also blown away by the amount he's raised for pediatric cancer: a record $2.38 million at the most recent event, for a total of $15.1 million. Why? "I just love kids," says Vitale. "And it's a crime that only 4 percent of every dollar raised for cancer research goes to pediatric cancer. I have five healthy grandkids; I've been very blessed, and I hope that if it's ever needed this research would be available for them. To my last breath, I will plead, beg and use celebrityhood to get in front of the CEOs who make big decisions about giving. I get fired up on this."—Kay Kipling