Article
Downtown Sarasota Pianos Strike a Chord
The Arts and Cultural Alliance's Sarasota Keys project goes viral.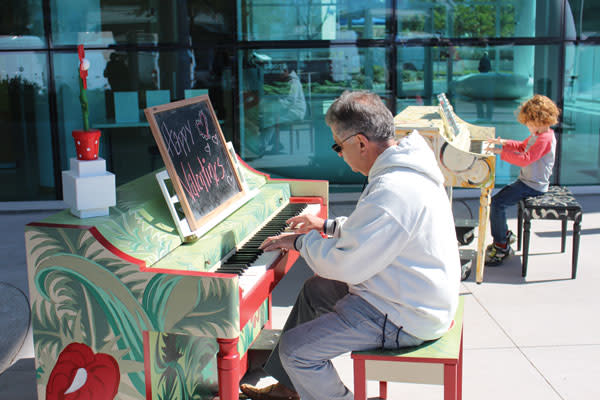 Two years ago, when the Sarasota Arts and Cultural Alliance rolled out its Sarasota Keys public art piano project, executive director Jim Shirley and his team didn't know what the public response would be. "Our [initial] intent was just to see what would happen," Shirley says.
Turns out the project took on a life of its own, culminating this spring, when Donald Gould, a homeless musical prodigy, made national news for playing an impressive version of Styx's Come Sail Away on the piano situated outside Red Clasico Café and Bar. (Posts about his story got more than 1,100 likes, comments or shares on Sarasota Magazine's Facebook page alone.)
For the project, now in its second year, the Arts Alliance worked with Pritchard's Pianos to acquire the instruments and then invited local artists to paint a different design on each of them. The pianos were then installed in front of various "host" businesses throughout the city, from Mattison's City Grille to the Herald-Tribune building to Libby's Café + Bar. Each business was responsible for taking its piano out each morning, bringing it in at night and generally taking care of it. "One of the most popular sites has been the covered portico at the Herald-Tribune building," Shirley says. "It gets a lot of play—as do the pianos at Mattison's, Louies Modern and, of course, Clasico."
They're popular with Sarasotans of all ages, Shirley says, from young children sitting down to pound out Chopsticks to more accomplished players like Gould who are finally getting a chance to share their talent with the public. Other cities are taking notice, too; Shirley says he's been contacted by five different communities around the country—including Clearwater, our neighbor to the north—who have seen the project and want to do something similar in their towns.
Shirley says the Arts Alliance is now planning for the Sarasota Keys' next season, including talking to the visual artists who painted their designs on the instruments and planning an exhibit with them later next year. And he says he feels the project is fulfilling its mission. "We feel the arts are and should be a major part of everybody's life, and we're really striving to do that. We want to make art available to everyone."
For more Sarasota arts and entertainment news, click here. >>