Article
Seventh Annual Sarasota Improv Festival Kicks Off Thursday Night
This year's Sarasota Improv Festival kicks off July 9, 2015, at Florida Studio Theatre.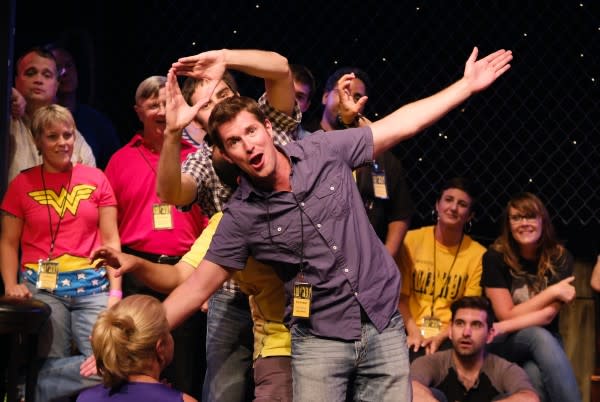 The seventh annual Sarasota Improv Festival kicks off at Florida Studio Theatre on Thursday, featuring a variety of acts from all around the world including Available Cupholders, ImproMadrid, Omar Argentino Galvan, Baby Wants Candy, Improv Boston and more—including, of course, FST's own improv troupe.
We chatted with FST's managing director Rebecca Hopkins and director of improvisation Will Luera to find out more about this year's event and what festival-goers can expect.
How did this festival come about?
Rebecca Hopkins: [Our] improv program was four or five years old when I got the idea for the festival. The art form as a whole has grown so much. It was also an opportunity to expose [FST's actors] to different forms of improv and help them grow as artists. Originally the plan was a one-time event, but now we're in our seventh year.
What's the local reaction been like?
RH: It's been overwhelming—we've sold out every year, and we see all kinds of people, including ones that we don't usually see at the theater.
What can festival-goers expect this year?
RH: Some favorites are back, like Available Cupholders and Improv Boston, but we also mix in new companies. This year we're very excited about [the musical act] Baby Wants Candy, and we've got some Spanish groups coming in.
Will Luera: When I was [working] in Boston, we would do a lot of international touring and get to meet groups from around the world; two of the most impressive, who will be performing at our festival, are ImproMadrid and Omar Argentino Galvan. ImproMadrid is one of the premier groups in Spain and maybe even all of Europe. Omar is an improv guru who travels to 15 to 20 countries per year—he's basically on a nonstop improv tour year-round. This is his first year coming to the United States and we were able to work Sarasota into his schedule; I'll be translating for him as he performs his one-man show.
Who are you most looking forward to seeing?
RH: It's hard to pick—[I'm excited to see] Baby Wants Candy and Music City Improv, and the Available Cupholders are one of my all-time faves.
WL: I second Rebecca on Baby Wants Candy; also, Peter Gwinn—an [Emmy Award-winning] former writer on the Colbert Report—will be teaching a sketch-writing workshop this year.
Where do you hope to see the festival go in the future?
WL: My goal is that every year we keep expanding it by adding high-quality, new and interesting work to our stages, especially during the festival.
What do you want people to know about improv that they might not?
RH: Sometimes people are a little scared to come because they know [the acts] are interactive—but it's a big party and you can interact as much or as little as you want. Believe it or not, improvisers don't like to pick on people who don't want to be picked on!
WL: Yes, one of our primary directives is to make everyone look like a superstar.
To purchase tickets to this year's improv festival--including weekend passes--click here. 
For more Sarasota arts and entertainment news, click here. >>