Article
Remembering Roberta MacDonald
Bob Plunket remembers his dear friend, the indomitable Roberta MacDonald.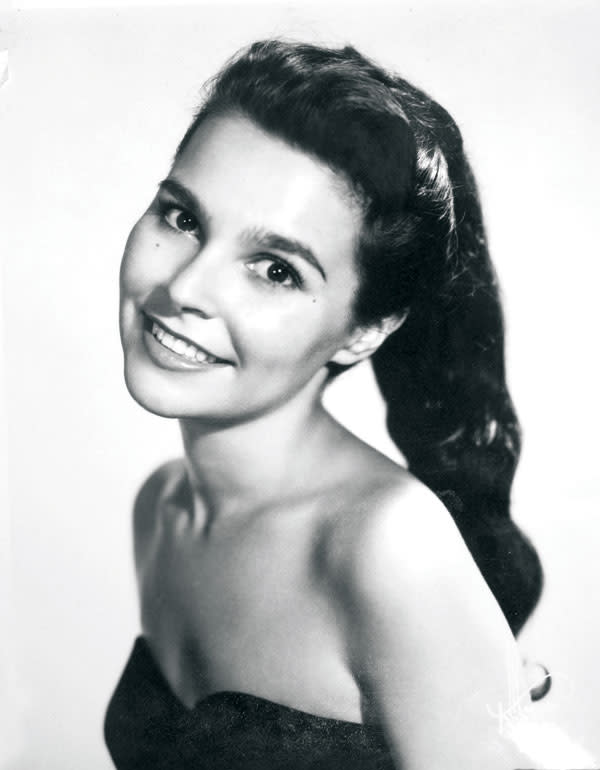 When the Golden Apple Dinner Theatre shut down in 2013, it was a terrible loss to the town but even more of a loss to me. You see, I actually used to receive a paycheck from them every once in a while.
Many of you probably still remember my performance as the Pope in Evita. There were great accolades for both me and my co-star Joey Panek, who played Che. In fact, Joey often says he owes his career to watching me perform, studying and perfecting my mannerisms and creating the lovable "Joey" character now seen so often online and on ABC 7, which is clearly just a younger, more attractive and more talented version of Mr. Chatterbox.
But my fondest Golden Apple memory began when Bob Turoff, the Golden Apple patriarch, called and said they were preparing a special show based on the life and career of his wife, Roberta MacDonald. Roberta was well known as the Mother Courage of Sarasota theater, an indomitable force who had been performing and directing and mentoring for almost 50 years. This show would focus on her early days in New York, and Bob explained they needed a "Dick Cavett type," someone who would charmingly pry information out of Roberta and make her shine.
I jumped at the chance, and Roberta and I set to work putting the show together. She was a great person to brainstorm with, always full of ideas about how to improve things.  I'd known her for years, of course, as had most everybody in Sarasota. I was vaguely aware of her early days but the more we talked I realized what a treasure trove of American show business her life was.
She was born in Brooklyn, her father being a banker who later became a movie producer. Her mother, Kay, was, according to Bob Turoff, "a real New York broad, charming and beautiful." From the very beginning Roberta wanted to be an actress. She attended the prestigious High School of the Performing Arts, a place that attracted similarly inclined kids. Her classmates included Dom DeLuise and playwright Herb Gardner; one of her teachers was Sidney Lumet.
Her big chance came when she was just 16. She was invited to audition for Richard Rodgers and Oscar Hammerstein as a replacement for one of the nurses in the original production of South Pacific. Oddly enough, Roberta loved to audition. The terror that it induced in so many performers was only an exciting challenge to her. It was probably this sort of attitude that got her the part. There she was 16, and already on Broadway.
This was tricky territory for a pretty young girl. Roberta, who was eager to learn everything she could, would stand in the wings and watch the other actors when she wasn't onstage, grilling the stage manager with questions. One afternoon she suddenly felt a hand on her rear. Thinking it was one of the chorus boys getting fresh—yes, there are such things as straight chorus boys—she turned around and slapped the guy. It turned out to be her boss Richard Rodgers, a notorious womanizer.
Roberta left South Pacific—she was replaced by Shirley Jones—and began touring the country with her nightclub act. This was back in the days when all the big hotels had supper clubs—glamorous venues called things like the Persian Room or the Caribbean Room, where well-heeled patrons would dress to the nines and dine and dance and listen to a sexy chanteuse—in this case, Roberta in a low-cut dress, singing songs like La Vie en Rose (one of her signatures) or Autumn Leaves.
But after a while she returned to New York and was soon immersed in the world of early television. The form was still in its infancy, and there were many live dramatic shows being presented, written by guys like Paddy Chayefsky and William Inge. Roberta acted in them all. She once played opposite a young Paul Newman, who got to kiss her. He was a good kisser, she reported, "but no Bob Turoff." She also starred for a while on a wacky-sounding show called Melody Street, where she would lip-sync to the popular hits of the day, songs like Rosemary Clooney's Mambo Italiano.
All this led to her stint on the Today show.
Back in those days, the Today show was remarkably similar to the way it is today: news, entertainment, weather, and (not so similar) a chimpanzee named J. Fred Muggs. He wore a diaper and caused chaos on the set. There's a very funny videotape of Roberta singing It's a Most Unusual Day while J. Fred followed her around, trying to peek up her skirt. (By the way, the chimp now lives on in happy Florida retirement.)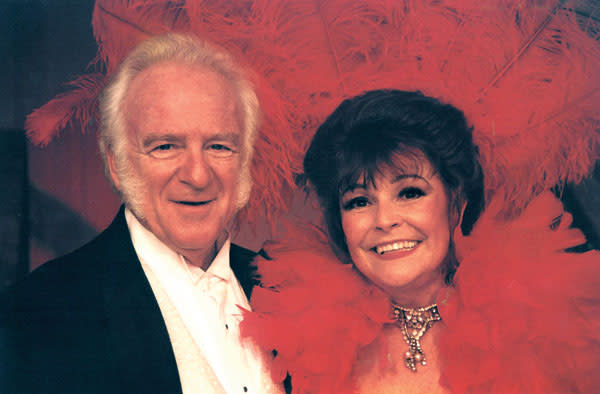 At that time there was much more theater around the country, and Roberta was always traveling from one town to another, doing this show or that. As a last-minute replacement for the female lead in Where's Charley? in Fulton, Ohio, she met a young director named Bob Turoff. He still remembers the first time he saw her. She was lurching up the driveway in a car she didn't know how to drive.
"She was beautiful, of course," he remembers, and if it wasn't exactly love at first sight, they quickly became an item. Bob and Roberta were soon married, and after trying to mesh their careers in New York, they decided to move to Sarasota, raise a family, and open a theater. The rest is Sarasota history.
The most moving part of the show I did with Roberta was when she described her two bouts with cancer. She recounted them with honesty, candor and a remarkable sense of humor. I remember how mesmerized the audience was as she discussed her diagnosis and her treatments, and the crucial support she got from other patients. I vowed then and there that if I got cancer she would be the first person I called.
She had no self-pity and kept working even after the cancer recurred. I remember vividly the last time I saw her. It was at a memorial service several months ago. She must have known that the end was coming, as she was in and out of the hospital. But there she was, as indomitable as ever, still in possession of her good looks and the showgirl legs she was so proud of.
I've long felt that the saga of the Golden Apple Dinner Theatre would have made a fabulous reality show. It had everything: the Turoff family, each of them larger than life—Bob, Roberta and their children, Ben and Kyle, who were also involved in the family business; the extended family of crazy actors, eccentric musicians, long-suffering waitstaff and box-office people; even a gaggle of kids, in particular Avery and Kennedy, the twin grandchildren who were practically raised backstage. Then visiting stars would drop in to do a show and keep things lively. Conflict would be provided by all the theatrical egos, and—unfortunately—by all the money problems that plagued the theater's final years. These problems eventually became too much and the theater closed. Sarasota is diminished by the loss. But now that Roberta is gone, we've lost even more. Sarasota has lost our star.