Article
FST's The Hound of the Baskervilles
Arts editor Kay Kipling reviews this comic version of the Sherlock Holmes classic.
By Kay Kipling
It's become something of a habit for Florida Studio Theatre (and other theaters, too, surely) to present stage adaptations of semi-classic works, like Around the World in 80 Days and The 39 Steps, in versions that lean strongly toward sendup rather than storyline—and to do so with small casts portraying a wide range of characters, all done at a record fast clip. Latest in the line-up: FST's current production of The Hound of the Baskervilles.
Sherlock Holmes fans, which are legion, will well remember this tale of murder and mystery on the moors. But don't expect this piece, concocted by Steven Canny and John Nicholson, to stick too faithfully to the Sir Arthur Conan Doyle original, although the basic concept is the same: Holmes (Patrick Noonan, pompous here with self-admiration) and his faithful sidekick, Dr. Watson (Michael Daly, quicker with a gun than with any mental agility), strive to prevent the death by foul play of the latest heir to the Baskerville name, the likable if gullible Sir Henry (Tom Patterson).
There are suspects aplenty, and the three actors onstage here play them as well as their main roles, shifting back and forth from one gender or class or accent to another, and frequently breaking the fourth wall by addressing the audience, sometimes as themselves rather than their characters. While the evening is a little slow to get going (too much explaining of what they're about to do), once we leave London and head to the moors (sparely represented here by a stone walkway) the action picks up the pace.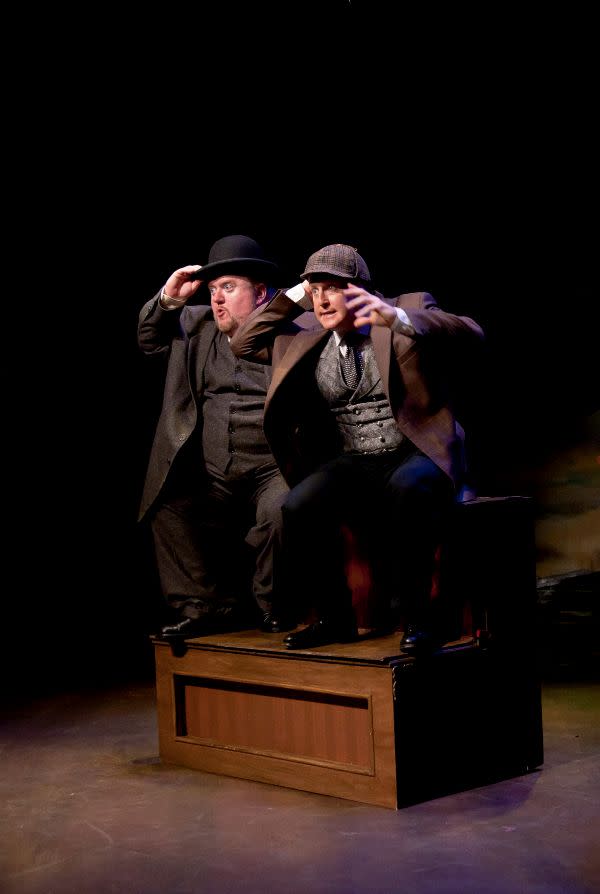 In the funniest part of the show, in fact, the beginning of Act II really picks up the pace, as (supposedly in response to a complaint from an audience member on Twitter), the actors run through what we've already seen in Act I at breakneck speed. You'll be impressed not only with the performers, but with the backstage dressers and props people who swiftly maneuver set pieces on and off or aid, say, Noonan in switching his attire from Holmes' suit to the crutch and eyepatch favored by the villainous Stapleton to the shawl and fan of Stapleton's Latina "sister," with whom Sir Henry is supposed to fall in love.
The actors, under the direction of Gavin Cameron-Webb, work hard to get laughs, although there don't seem to be quite as many provided by the show's creators as I recall from those other, similar productions I mentioned earlier. Still, there are enough sight gags, puns and creative uses of props to provide smiles, if not exactly peals of laughter.
The Hound of the Baskervilles continues through Aug. 2 in FST's Keating Theatre; for tickets call 366-9000 or visit floridastudiotheatre.org.