Article
Can Young Creatives Find Success in Sarasota?
Seven rising talents on honing their art in Sarasota.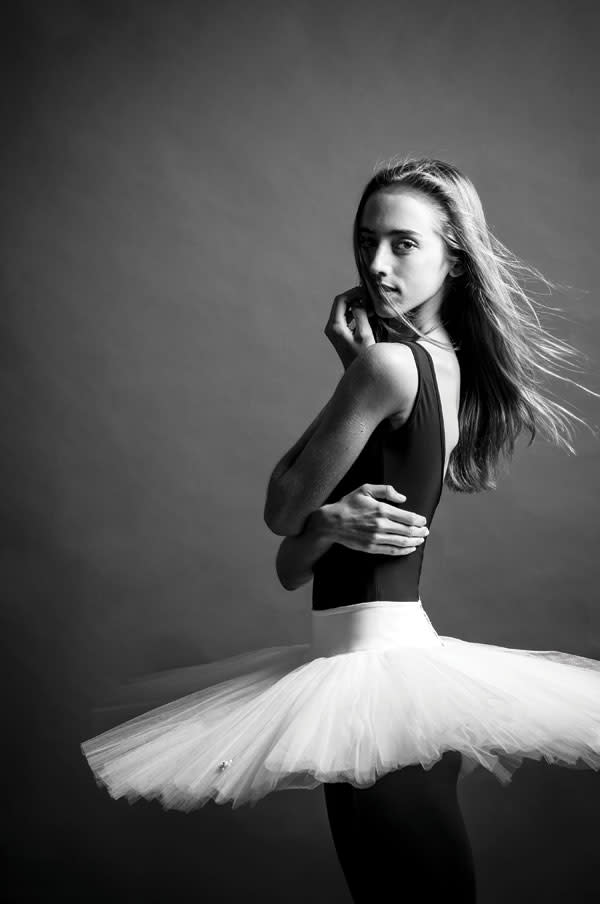 Can an ambitious artist find success—and happiness—here? We asked seven to share their stories.
ELLEN OVERSTREET
Ellen Overstreet, 22, enters her fourth season with the Sarasota Ballet as a newly promoted junior principal, and she says she's ready for the responsibility. Overstreet has been immersed in dance since high school; as a junior in McLean, Va., she decided to finish her senior year online and flew across the country to train at the San Francisco Ballet School. "When a door opens, you have to take the opportunity," she says. "I needed to do it right then, when I was hungry for it."
After two years in California and one at the Houston Ballet School in Texas, Overstreet answered an open audition at the Sarasota Ballet, where director Iain Webb offered her a contract on the spot. She says she loves the focus dance requires. "If you're not working your hardest, what are you saving it for? Every day is important; every day should be full force," she says.
She's formed close friendships with the other dancers, and likes to spend leisure time with them on the beach or walking the Ringling Causeway. She's also taking online college courses; psychology interests her the most, she says, but "I want to be dancing as long as my body's healthy and I'm growing mentally."
But how long can an ambitious young dancer find fulfillment in a small Florida city? "Sometimes I think about going to a bigger city; we all do," she admits. "But I'm completely contented here."—Chelsey Lucas
Insta-Quiz
What would you change about yourself? "I'm too uptight about little things, and too impatient." Your biggest inspiration? "The dancers in our company." Advice to would-be dancers? "We don't make much money; it is [physically] painful and crushes your self-esteem; but if you have the heart and passion it's all worth it." Tea or coffee? "Peppermint tea with dessert."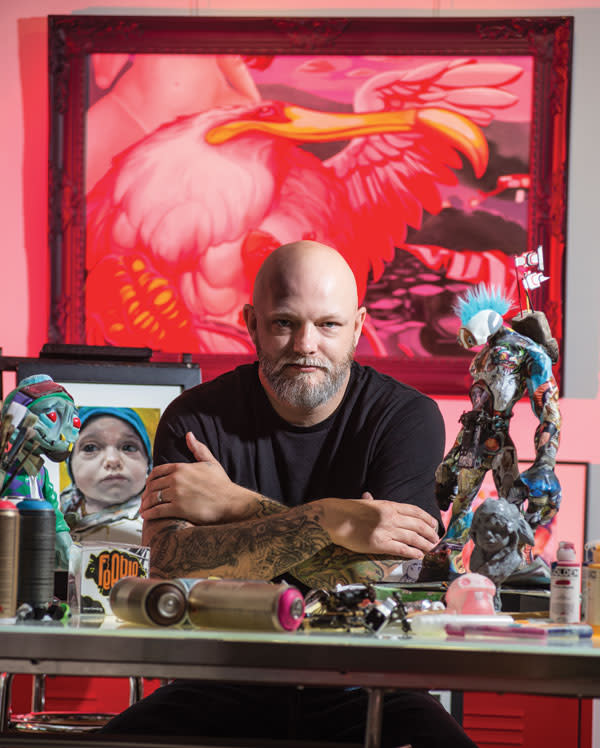 TRAVIS FRANKLIN
Travis Franklin takes art seriously. Compelled from a young age to draw and sculpt, the 41-year-old owner of Main Street's Oddity Tattoo Studio and Gallery says he felt alienated in his hometown of Louisville, fitting with neither strait-laced religious types nor the violent bikers that controlled the tiny Louisville tattoo industry when he began his career 25 years ago.
But in Florida, for the first time in his life, he says, "I blended in." He and his wife met in Fort Lauderdale and then, in 2000, moved to Sarasota, drawn by the area's beauty. Sarasota, he says, is "a perfect place to make art and to love art. People are accepting of tattoos and grateful [for quality art]." The studio has grown steadily, both in staff and reputation, and Franklin recently opened a second Oddity location on Bee Ridge Road.
He also continues to draw, paint and sculpt, and has published a book of his work, Deviled Art. In addition to hosting gallery exhibitions and weekly "drawing nights" at Oddity, Franklin says he holds his staff artists to high creative standards. Many of the shop's tattoos are custom-designed, requiring hours of conceptualization and drawing long before the client sits down to be inked.
Franklin admits he can be tormented by the artistic process. "The main reason I do [art] is for other people," he says. "I love the distraction and the personal challenge. But after I'm done, I feel [unsatisfied]. Maybe an artist should never be satisfied."—Hannah Wallace
Insta-Quiz
Inspiration? "[Fantasy and science fiction artist] Frank Frazetta, Bernie Wrightson, Boris Vallejo, Norman Rockwell, Michelangelo, Caravaggio…" When are you happiest? "Tattooing someone I'm comfortable with, cutting up and having fun." What makes you laugh? "My [18-month-old] son—just watching him eat. It's hilarious. He's beautiful." Favorite tattoo on your body? "A Botticelli reproduction by Frank Lee."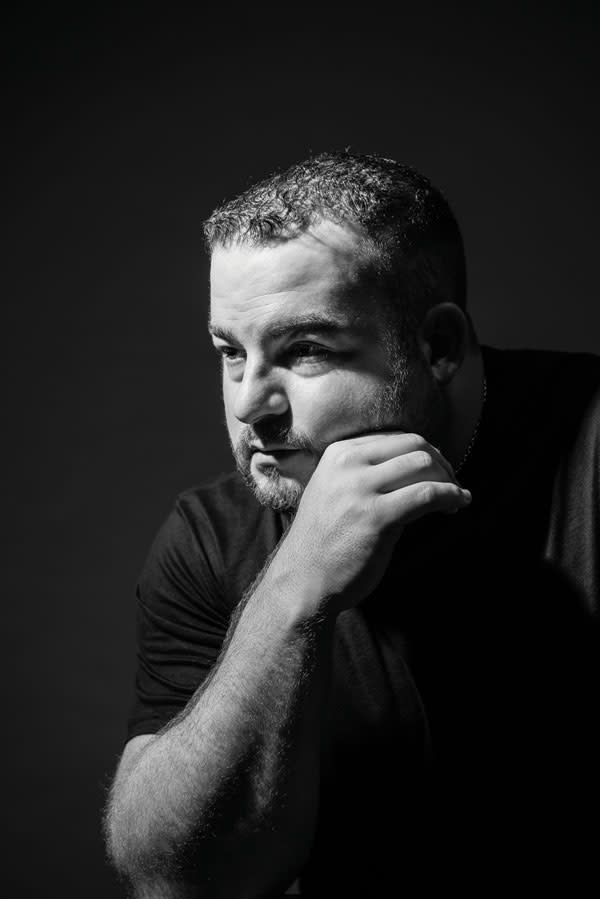 ADAM BIELAMOWICZ
Operatic tenor Adam Bielamowicz, 31, made his Carnegie Hall debut as a soloist with the American Symphony Orchestra this year. But when he's not performing with prestigious companies like the Houston Grand Opera and Glimmerglass Festival Opera—"I'm singing a lot these days," he says—he's back home in Sarasota doing finish carpentry for a friend who owns a design company and singing in two synagogue and church choirs.
That's the supremely contented life of this itinerant opera singer, who arrived here in 2011 to join the Sarasota Opera Apprentice Artists. He since has sung in 18 Sarasota Opera productions. Bielamowicz originally intended to move to Chicago or New York, "someplace with more opportunities," he says. "But three days into that first contract I met a girl who's now my wife." The couple had their first child, a daughter, in December.
Bielamowicz's latest project is founding the Qol (pronounced "coal") Quartet with fellow Sarasota Opera baritone Samus Haddad and local soprano Johanna Fincher and mezzo Robyn Rocklein. Their first public performance was in February at an Artist Series Concerts fund raiser. Next season, they'll be headlining a Valentine's concert with the Venice Symphony.
"The art scene is huge here [and], the support is out of this world. As long as I'm near an airport, I can sing anywhere," he says. "Plus, I love to fish and golf. It couldn't be a more perfect place for me."—Ilene Denton
Insta-Quiz
Dream role? "Radames [the love interest] in Aida." Who do you most admire? "My parents. They've never told me I couldn't follow my dreams." When and where are you happiest? "At home, holding my baby girl." What do you sing in the shower? "What don't I sing in the shower? Just this morning I was singing Christmas carols."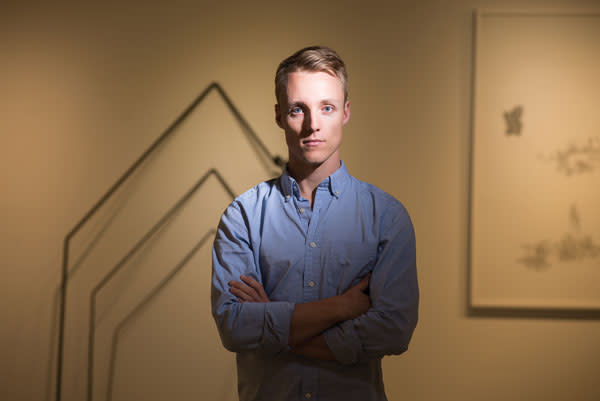 DUSTIN JUENGEL
How do you survive as a visual artist in Sarasota? If you're Dustin Juengel, new exhibitions curator at Art Center Sarasota, you work part-time at an antique rug shop, hang and deliver art for a downtown gallery, and occasionally work as a studio tech and drawing teacher. Then you find time for your own art, in his case photorealistic oil paintings he creates in his home studio near Sarasota High.
Juengel, 30, a native of Germany and 2008 graduate of Ringling College of Art and Design, turned heads this spring when he coordinated an army of volunteers to decorate 500 cardboard "modules" created by Dutch artist Noa Haim—her first-ever project in the United States.
After graduating from RCAD, Juengel lived in New York for a year and then headed to London to earn his M.F.A. at the Chelsea College of Art and Design. "I came back to Sarasota in 2011 because I feel confident here; I have friends here who could 'catch' me," he says.
Juengel says he's learned a lot from working at so many different venues.  "It's interesting to see how different artists work, the people who take classes, and also [seeing] the customers for art—those who consider it decoration, the ones who fall in love with the piece," he says.
"I'm not sure it's any different here as a working artist than anywhere else; it's about finding the balance," he adds. "After I focus on my painting, I only have so much energy left for the bill-paying work."—Ilene Denton
Insta-Quiz
Favorite museum? "The Met. The collection is just incredible, from ancient Egypt to Greek marbles to contemporary." Landscapes or abstract expressionism? "I experience both the same way; they're both landscapes to me." Guilty pleasure? "Going sailing on Sarasota Bay." Artistic inspiration? "Everything. My entire surroundings." When are you happiest? "Right now."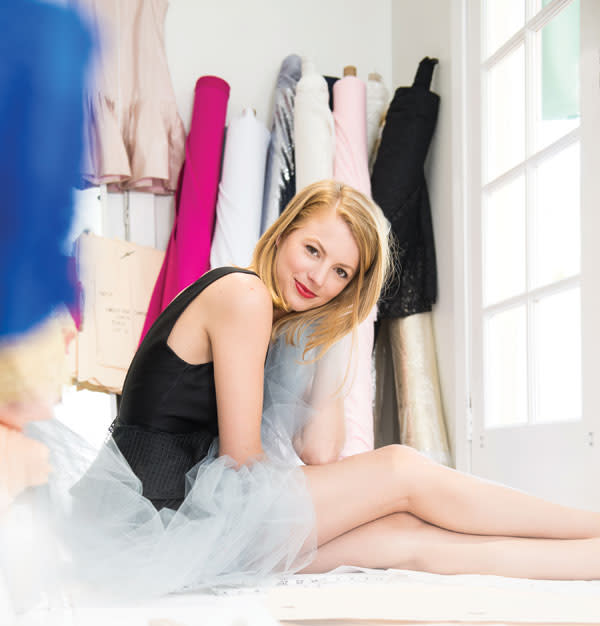 CAMILYN BETH LEAVITT
Clothing designer Camilyn Beth Leavitt, 28, launched her Camilyn Beth line of frothy, feminine frocks—think ruffled necklines, scalloped hems and gold accents—in 2012. Since then, her star has been steadily rising. Her designs, which are priced between $175 and $375, have been featured on big-name fashion blogs, worn on celebrities including Kaitlyn Black from the TV show Hart of Dixie, and ordered by boutiques across the country and in Canada. And at press time, she was still giddy from receiving a request to send dresses for consideration to one of the country's most prominent (and most fashionable) young pop stars—whose name she couldn't yet reveal.
In December 2014, because of the volume of orders Leavitt was receiving—"We went from getting about 50 dresses made per style to 200-600 dresses per style, and from five boutiques to almost 50 today," she says—she expanded her workspace from the guest bedroom in the home she shares with her husband to a sunny studio in downtown Sarasota. Now she's working with a PR rep and spending more time in Los Angeles, where her designs are produced. Initially, the dresses were made in Sarasota, but that proved impractical. "We can produce faster and handle a higher quantity of dresses [in L.A.]," she explains. Eventually, she hopes to see her designs in stores like Anthropologie, Nordstrom or Shopbop.
Still, she has no plans to leave Sarasota. "It's beautiful here, and the lifestyle is so great," she says. "I would love to have a flagship store here someday."—Megan McDonald
Insta-Quiz
Women present and past you'd most love to see wearing your fashions? "Kate Middleton in the Clara dress or Jackie O in the Jacqueline dress." Sweet or savory? "Sweet." Stripes or polka dots? "Stripes." Person you most admire? "Gabrielle ('Coco') Chanel." Guilty pleasure? "Swedish fish." Motto? "It's better to be overdressed than underdressed."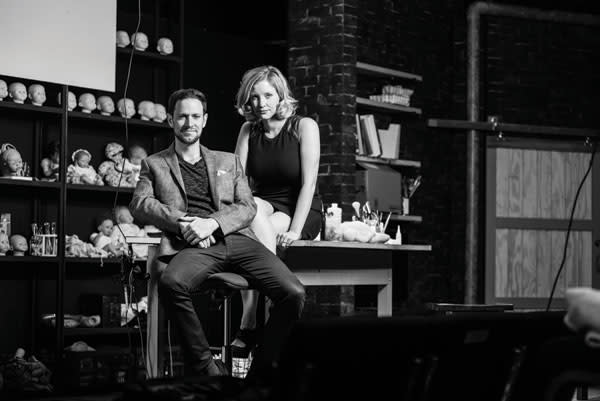 BRENDAN RAGAN & SUMMER DAWN WALLACE
Brendan Ragan, 31, and Summer Dawn Wallace, 36, first met at the FSU/ Asolo Conservatory as acting students, but it wasn't until they met up again by chance about 16 months ago that they realized they both had the same goal: to present intimate, exciting, black box theater right here in Sarasota. "It's in our DNA to be theater makers," says Ragan, "not just actors looking for gigs."
To that end, and with the financial support of "silent partner" entrepreneur/actor Harry Lipstein, they co-founded Urbanite Theatre, which has so far presented two plays (Chicken Shop and Reborning), with edgy themes (like human trafficking) unusual for Sarasota, on downtown's Second Street in a converted space holding about 60 seats. Plans are to produce perhaps six shows in a year-round season. So far, the response has been enthusiastic, with their first play, Chicken Shop, earning good reviews and an extended run. (Reborning was presented after press time.) "It's all happened in such a short time," says Wallace, who has been performing since the age of 14 (she's also a musician). "We've been eating, breathing, living and sleeping [Urbanite]."
Why Sarasota? "There's great theater here, and it's a testament to the patrons," says Ragan. "But we thought, 'What if we introduced an element that wasn't here before?' We discovered that we underestimated the hunger for this type of work."—Kay Kipling
Insta-Quiz
Dream roles? Wallace: "Lady Macbeth, Alma in Summer and Smoke." Trait you most hate about yourself? Wallace: "I am the definition of sweat the small stuff." Trait you most love? Wallace: "Being Southern." Biggest challenge? Ragan: "Summer and I have 30 years of professional experience between us, but that doesn't stop people from labeling us as 'kids.'"
For more Sarasota arts and entertainment news, click here. >>