Article
Asolo Rep's Woody Sez
Arts editor Kay Kipling reviews this musical look at the great Woody Guthrie.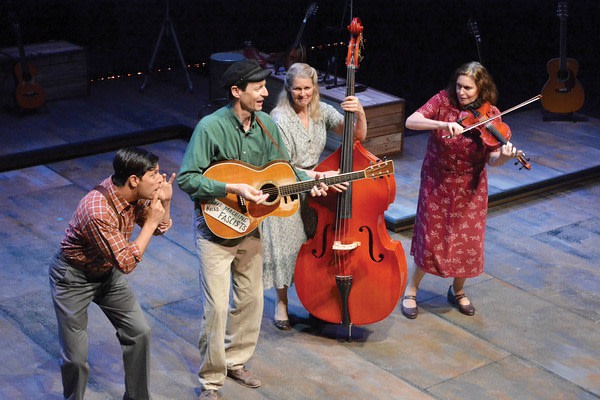 By Kay Kipling
It's possible that for some of a younger generation, almost all they know of Woody Guthrie is the song This Land Is My Land. That's a good starting point, at least, but the Asolo Rep's current show, Woody Sez, provides a lot more information—tunefully, humorously, and sometimes poignantly—about this quintessentially American folksinger/activist.
The production (directed by Nick Corley) features 20 or so of Guthrie's songs, plus a few traditional numbers that would have inspired a young Woody growing up in Oklahoma, where he was born in 1912. They're sung and played, on a multitude of instruments, by a talented cast that can move easily from autoharp to violin to guitar to banjo and back again.
Woody Sez takes us from his days on the radio in New York City, where his political views could sometimes get him into trouble, back to those early Oklahoma days, where family tragedies befall, including the loss of a sister due to a fire and the gradual retreat into mental illness (and Huntington's disease) of Woody's beloved mother (Helen Jean Russell). We also go rambling on the road with Woody during the Great Depression, as he finds his voice in speaking for the displaced people of the migrant camps.
Woody is played by show co-deviser David M. Lutken (also responsible for the music direction), whom some might call a long, tall drink of water; he's got a thin, gangly frame that suits Woody well. He's also got a great rapport with his audience and his fellow cast members, drawling out some sharp jokes in Woody style and occasionally kicking up his legs in a dance. But he's also capable of expressing great passion about the wrongs and injustices of a system that keeps so many at the bottom of the economic ladder. Certainly Guthrie's songs, from Do Re Mi and Jolly Banker to I Ain't Got No Home and The Ballad of Tom Joad (which is interspersed throughout the story here) still bear a strong, pointed impact today.
His fellow musicians, whether it's David Finch on Talkin' Dust Bowl, Darcie Deaville on Union Maid, or Deaville and Russell on Columbus Stockade, are likewise proficient at switching the mood from lively to angry to tender. Overall, Woody Sez is a welcome and entertaining reminder of the man, his music and his humanity.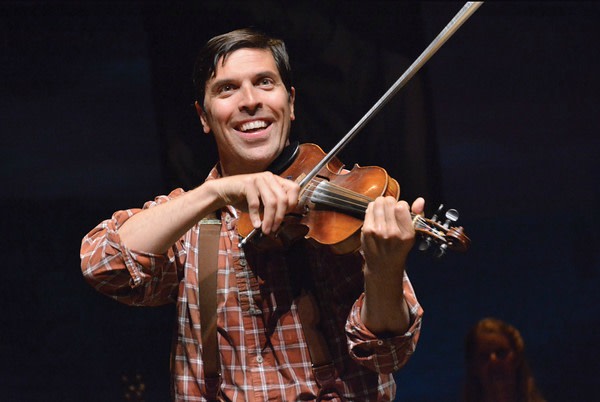 Woody Sez continues through June 21; for tickets call 351-8000 or go to asolorep.org.