Article
Venice Theatre's The Miracle Worker
Arts editor Kay Kipling reviews this true-life drama.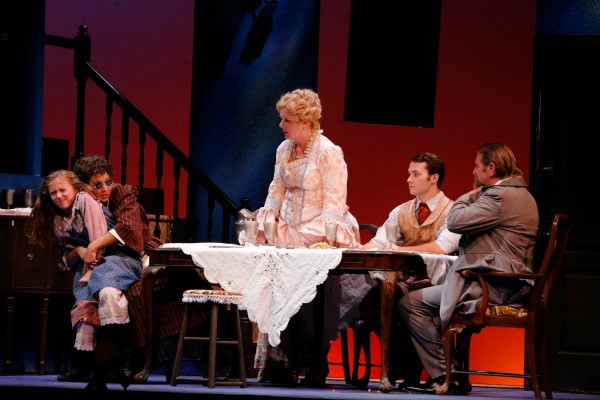 By Kay Kipling
It's easy enough to see why, more than 50 years after it first debuted, theaters still choose to produce William Gibson's The Miracle Worker. It's a true story, it's an uplifting one, and audiences respond to it with strong emotion.
Venice Theatre produced the show more than a decade ago (and the Manatee Players have it on their second stage schedule for next season). That may be, in part, because the piece gives the theater's younger actors a chance to spread their wings.
In this case, it's young Alexia King who tackles the role of the young Helen Keller (one most of us still attach Patty Duke to, because of the often-seen film version). She is, of course, the determined, wild, frustrated deaf-blind child of the Keller family, headed by a captain-journalist (Michael Campbell), who's frequently at odds with his grown son, James (Patrick Tancey), who longs for some respect and affection from his hard-to-please father. Mother Kate (Cheryl Andrews) is more focused on the daughter she loves but cannot help.
Into this troubled family dynamic comes young teacher Annie Sullivan (Corinne C. Woodland), who has had her own struggles with blindness and loss, growing up in terrible conditions with her now-dead younger brother. Although the outcome of her painstaking lessons with young Helen is never in doubt, Gibson's play still works to depict the battle (remember that drawn-out dining room scene, with Annie insistent on getting Helen to eat like a human being?) that ensues before their successful relationship can truly begin.
In this production, directed by Kelly Wynn Woodland (Corinne's mother), some of that drama (and also some welcome humor) comes through. With the action taking place on a multi-level set by Tim Wisgerhof that shows us different rooms of the Keller home (with that all-important pump prominently displayed in the foreground), we can clearly see the mental and physical war being waged between the tough Sullivan and her equally tough charge.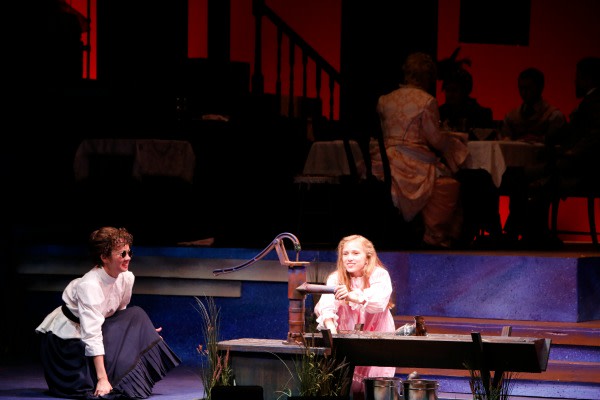 But the production also feels rather subdued, too quiet, and certain key moments fall flat. Part of that might be due to some opening night hesitation, as cast members occasionally talk over each other, but I suspect that quicker pacing could also help stir more life here.
As Annie, Woodland is a believable, compassionate teacher even as Sullivan has doubts about her own abilities. She doesn't quite possess the steel that someone like Anne Bancroft displayed onstage and in film (and she eschews any trace of Irish accent; Sullivan was of Irish descent, though born in Massachusetts, and she is sometimes portrayed with a bit of one).
Andrews is sometimes touching as Kate (although there is not perhaps quite the age difference between her and Campbell that one expects). Tancey as James could use a little more bite in his earlier scenes, whether with his father or with Annie.
King, who's only 10 but has been acting since she was practically a toddler, looks right as Helen and is mostly convincing as she finds her way through her world by touch and hurls herself into the tantrums that a child so disconnected (and so petted) would naturally have. Not every moment of this Miracle Worker reaches fruition, but one still responds to the moments when we see her mind coming to the light.
The Miracle Worker continues through May 24; for tickets call 488-1115 or go to venicestage.com.