Article
Mike Solomon Remembers Kevin Dean
Artist and arts writer Mike Solomon reflects on the career of Kevin Dean and the current show at Alfstad& Contemporary.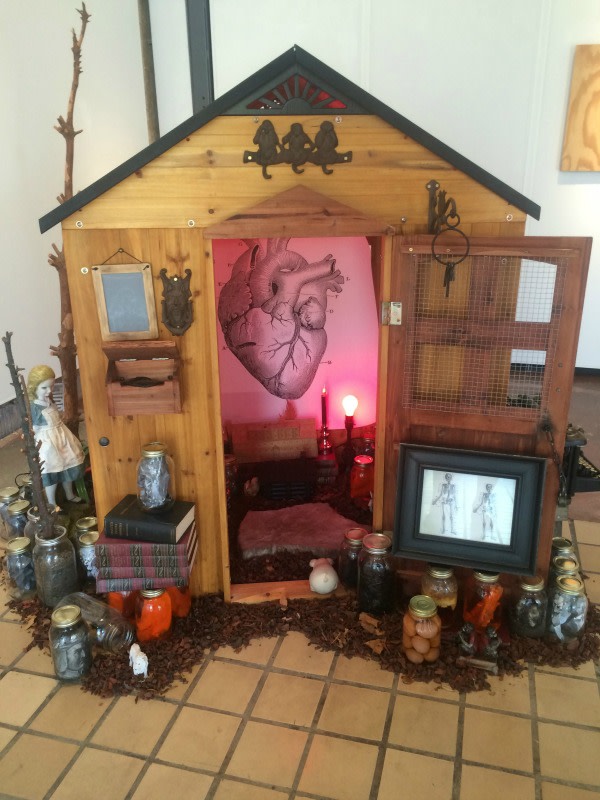 I can't believe it's a year since Kevin died. There is really no way to console ourselves for the loss, but certainly it helps to celebrate his amazing life and incredible work. And it's been good to see the various events held this year, too, through the Ringling College of Art and Design, including the creation of a scholarship in his name.
In furtherance of honoring Kevin, Sam Alfstad has just opened a tribute exhibition in his space on Fifth Street in the Rosemary District at Alfstad & Contemporary. Dean's work has long been represented by Allyn Gallup Gallery, and Sheila Moore, the gallery's owner, graciously acceded to Aflstad's request to do this not-for-profit show, put on simply to honor the artist and bring more attention to his unique body of work. So both dealers are to be commended for this unselfish, un-commercial effort on behalf of their departed artist friend. How cool is that? We have art dealers in Sarasota who put art before the other concerns!
The exhibition consists of a number of never-before-seen works as well as some of Dean's greatest hits, like the House" installation, an amazingly witty display of meaningful detritus that could easily have been included in Matthew McLendon's Ringling Museum knockout show, Re:Purposed.
Alfstad is a newcomer to Sarasota's art scene. He opened the Ice House in 2013 and among the several shows he held there, was All in the Family, which included Kevin, Ian and Molly Dean's works. Ice House also put on a large survey show on the late David Budd, whom Dean had been championing for decades, doing three major exhibitions that produced definitive catalogs. It was entirely due to Dean's advocacy that the largest single collection of Budd's work was gifted to the Ringling College by Budd's daughter, April, and his first wife, Corciata Cristiani.
Working with Dean, Alfstad quickly realized, was an unexpected blessing and education rolled into one. And so Alfstad has put on this celebratory show as a kind of reciprocation and memoriam for the brief but warm friendship that ensued between them.
Kevin Dean: Extra-Ordinary is curated by Dean's colleagues at Ringling, Laura Avery and Tim Jaeger. The well-balanced exhibition features paintings, prints, photographs and an installation. (Unfortunately, there is no checklist for the works, and thus we are left to guess at the titles, dates and media of most of the works. While I am puzzled by this, the gist of my column here is to talk more about Kevin's dilemma, but I hope before the show comes down the curators can provide these essentials so we can further appreciate Kevin's show.)
One of the interesting and seemingly eccentric aspects of Dean's work is the character Whitcomb. Journalist/writer and radio personality Marty Fugate describes for us Whitcomb's genesis: "For the last two decades or so, Dean was working on the great American novel: the Nabokovian biography of an iconic, 1960s Christ-figure named Whitcomb. (In an elaborate conceptual frame, this fictional character supposedly created many of Dean's conceptual art pieces). These came in the form of an interconnected series of boxes, constructions and installations stuffed with iconographic meaning."
Now we might ask ourselves, why would the artist Kevin Dean use a character from a novel in progress to co-create his art works? What is the function of such an idea? Let's look at the artist and the man, as I think the secret lies in between the two.
Kevin was obviously what in religious terms would be called a "learned" man. He was amazingly aware and apprised of what was happening culturally; he had "foundation." He seems to have read everything, seen everything and heard everything to such a degree that a profoundly subtle take on things became his form of expression whether it was music, writing or painting. In his earlier life as a student, then a curator and writer in Illinois or later in 1979, when he and Kay moved to Sarasota to live, work and start a family, this omnivorous cultural aspect was always at the heart of his activity.
His first critical writing in the area was for the Longboat Observer. It surprised those who held high standards in the art community here, because it was hard to even believe that an actual bona-fide art mind had decided to settle here and publicly submit such erudite and often quite incendiary opinions about art in what was thought would always be a rather mediocre milieu for art viewing and reviewing. Kevin's column "The Hell You Say" was a very welcome addition to the art community and he was taken in by all the pillars the second they read his first review. My parents, Syd and Annie Solomon, embraced Kevin and Kay immediately, and that has never changed.
Before long, Kevin was ensconced at Ringling College, teaching, and then in the furtherance of his growing dominion he came to run the Selby Gallery. Under his directorship the gallery became an international-level noncommercial art venue, and he brought just about everything that was happening out in the greater art world to Sarasota in the years he ran it. In some years it certainly competed with and often exceeded the nearby Ringling Museum, as well as most of the museums in the state.
But back to the artist Kevin Dean...
So, here we have this firebrand in a professor's frock, a bearded rebel who, rather than shouting slogans, inaudibly mumbled incredibly clever ironies. He taught his students the intricacies, the quirks and cracks in cultural history even as it was the mandate to give them the basics, which he did as well.
So here is Kevin Dean, loaded with course work and syllabi, exhibition plans that run into years in the making, dealing with famous artists (some with very infamous egos), and on top of it all, he's also an adamantly devoted family man, who loves his wife and the raising of his children, Ian and Molly. So with all this, I ask you, where is there room and time for the artist Kevin Dean?
People know that being an artist can be very hard, especially when one has a vision and ethos. So many with the responsibilities that Kevin had slowly get crushed and eventually give up making their own art. This is, sadly, quite a typical path among young artists who go into the profession of teaching art. There are thousands whose desire to make work fades into oblivion as the years progress. But this didn't happen with Kevin.
What did happen instead was that he was quietly working all along, working things out in his head, in his studio, making images and connecting meanings of the things he thought about and taught and exhibited at the Selby. Most importantly, for the survival of his work, he came to conceive of a course of action that could free him psychologically from all his other identities so that he could work and be seen independently from all his other art-related activities and identities.
Kevin's full genius as an artist engages when he invents the Whitcomb character. How absolutely brilliant it was to create a character to function both as a firewall to protect the purely creative side of his artist-self and also to be "Kevin Dean's" art surrogate, one who can be seen or at least identified without all the complexities of Kevin Dean the teacher, the curator, the director, the husband and the father.
Whitcomb, then, is a survival mechanism for the artist Kevin Dean, a way for him to find that space to create and to be appreciated unencumbered by all the other identities he carried as man. Whitcomb is at once a literary device and real life shield, a protector, in the shamanistic sense, a vehicle for the fine sensibilities that we see evident in all of Kevin's art work, an art doppelganger. It is an amazing way of enabling the artist within to survive the demands of such a life he led, and should indicate to us the kind of layers of meaning, of viewpoint and of intricacy and subtlety he embedded in all his work. Whitcomb is the keyhole into which we can peek to see the artist Kevin Dean, working away.
The proof, they say, is in the pudding, and there's tons of proof in this show. Below are some of my favorites.