Article
The Players' You Should Be So Lucky
Arts editor Kay Kipling reviews this Charles Busch comedy.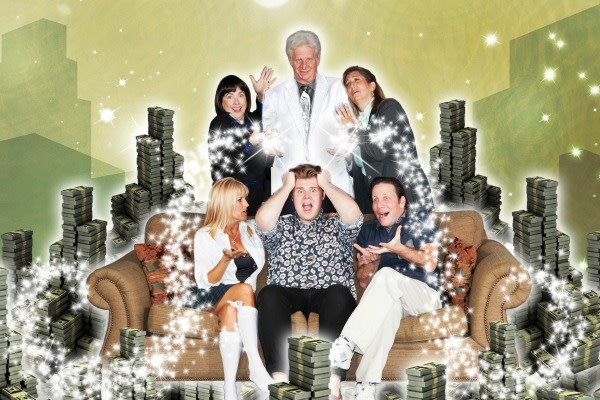 By Kay Kipling
When you think of playwright Charles Busch, you tend to think of outrageous camp. He's well known for his drag queen performances and his gay characters, in frequently hysterical shows that attract devoted audiences. But his You Should Be So Lucky, now onstage at the Players, is perhaps a little sweeter, a little softer, and—dare we say it?—a little sappier than his usual material.
It's also firmly set in the 1990s, which means references to Michael Jackson, Saddam Hussein and SCUD missiles that may just come off as dated rather than topical. But then Busch's main character in this show, Christopher (Parker Lawhorne), is not really of that decade so much as he is of an earlier era (there are allusions to the classic films Laura and I Want to Live as being among his influences). He's a shy, gay, orphaned electrologist living in Greenwich Village who seldom goes out but makes friends instead with the senior citizens in his building. He's constantly overshadowed by his very actressy actress sister, Polly (Jennifer Eddy), and he's barely paying his bills.
That all changes from the day Good Samaritan Chris helps out the elderly Mr. Rosenberg (Neil Kasanofsky), who fainted outside the building. Rosenberg, who's estranged from his greedy but neglected daughter, Lenore (Cara Herman), takes a shine to Chris and it isn't long before, in fairy godfather fashion, he's buying Chris a tux and renting him a Rolls to attend a charity ball—where, yes, Chris meets his Prince Charming, a neurotic Jewish publicist (Joshua Brin).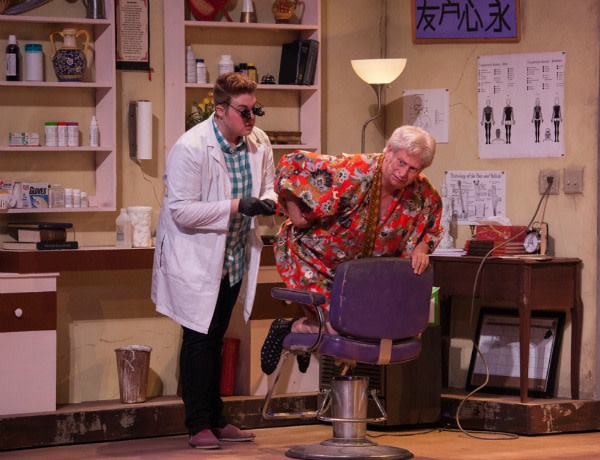 Then one of those tragic electrology accidents you hear about so often occurs, and Mr. Rosenberg is dispatched to the other world—where he won't stay, turning back up as a ghost only Chris can see. In the meantime, though, he's left Chris a fortune in his will, which means Lenore is ready for a battle.
There are some funny bits in You Should Be So Lucky (my favorite scenes are the ones where Chris/Lawhorne is possessed by various departed souls), but there are also scenes that seem to be more suitable as brief skit material than anything else, as in the Act II appearance of Chris and Lenore on a no-holds-barred talk show hosted by Wanda Wilson (Donna DeFant). (We've sure seen that before.) Director Bob Trisolini works hard to squeeze whatever comic juice he can out of the material here, and the cast works hard, too, to achieve the right over-the-top tone (with mixed results).
All in all, You Should Be So Lucky is intermittently entertaining, and Lawhorne is likable enough as Chris that you connect with him throughout. The show continues through May 3; for tickets call 365-2494 or go to theplayers.org.