Article
FSU/Asolo Conservatory's The Cherry Orchard
Arts editor Kay Kipling reviews this Chekhov classic.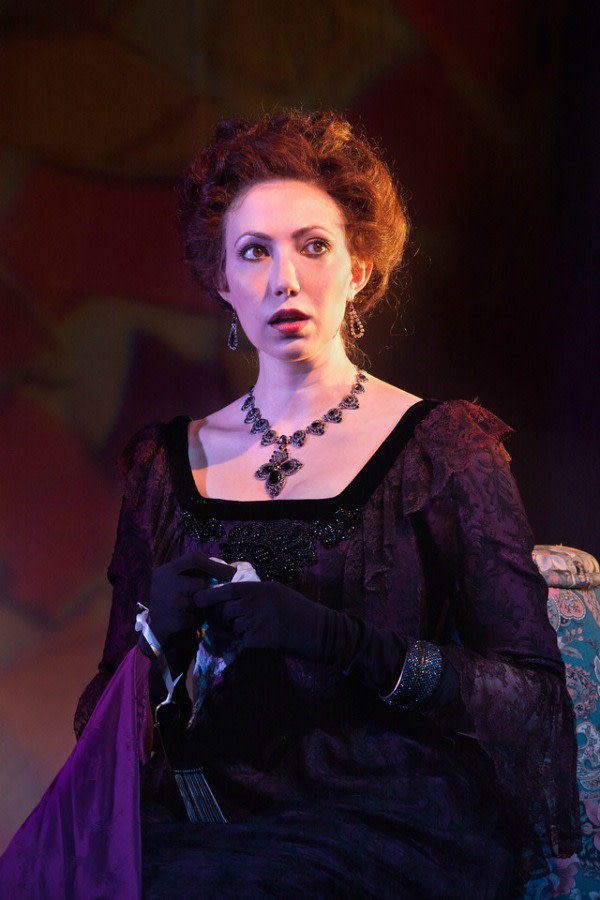 By Kay Kipling
Striking the right note with Chekhov plays is notoriously difficult. Are they comedies, or tragedies? Should we laugh, or cry? Or both? The playwright, of course, said The Cherry Orchard (his final play), now onstage in an FSU/Asolo Conservatory production, was a comedy, but its first director, Moscow Art Theatre eminence Constantin Stanislavski, differed, and the battle has been waged in productions ever since.
Certainly there are elements of both, as there are in life itself, and that can make The Cherry Orchard challenging even for mature, experienced actors to find a successful tone. It's asking a lot of the second-year students of the Conservatory, who not only have to (mostly) play characters quite a bit older than themselves here, but also mine the historic background and influences of the play's time and setting—1904, just before the first Russian Revolution.
They don't embarrass themselves, although, under the direction of Andrei Malaev-Babel, and before a 2015 American audience, certain scenes or lines of dialogue can veer uncomfortably close to a parody of what outsiders might think of as a typical Russian play, with characters occasionally delivering longish monologues while staring mournfully off into the distance. Enough of Chekhov's genius survives intact for us to appreciate his work, however.
The story begins when the long-absent Madame Ranevskaya (Lisa Woods) returns with her young daughter, Anya (Ally Farzetta), and valet, Yasha (Kevin Barber), from Paris to her home in Russia, which she fled after losing first her husband and then her young son. Awaiting her is her faithful, hard-working adopted daughter, Varya (Kim Stephenson), along with her billiard-playing brother, Leonid (Jordan Sobel), her cadging neighbor Simyonov-Pishchik (Josh James), and longtime servant Firs (Mark Comer), who seems to long for the good old days of serfdom.
Adding to the ensemble: servant Dunyasha (Kelsey Peterson), torn between her clumsy suitor, Yepikhodov (Evan Reynolds White), and the more dashing but cruel Yasha; perpetual student Petya (Chris Alexey Diaz); and Lopakhin (Joe Knispel), a formerly poor, lower-class citizen who's since made a lot of money.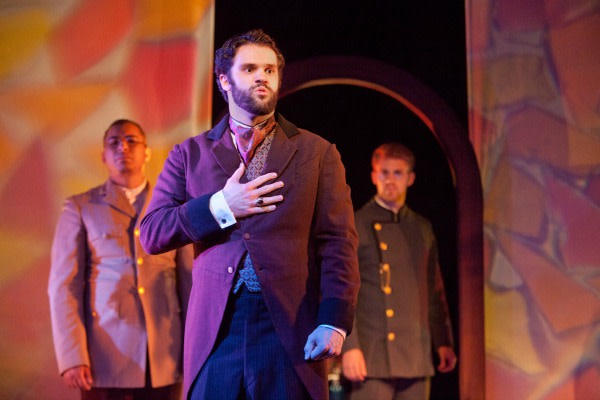 It's Lopakhin who suggests the only feasible way to save Ranevsyaka's beloved property and orchard, in danger after years of profligate spending, by dividing up the land and building vacation homes. But, in a classic case of fiddling while Rome burns, the aristocratic Madame and her brother cannot rouse themselves to take his advice, or do much of anything else besides spend more money. "Maybe we shouldn't have hired the orchestra [or had the party]," Ranevskaya sighs at one point in Act II, the evening after the orchard has gone up for auction. Well, yes.
In their attempts to portray characters that must have seemed pretty foreign when first approached, Knispel, Stephenson, Sobel and James (who's almost unrecognizable from past performances here) come off best, although White and Diaz also have their moments. Woods can be touching as Ranevskaya, but it's a stretch to imagine her with the past her character has.
More mystifying is the transmogrification of the governess, Charlotta, the offspring of circus performers who can't resist doing a few tricks still, into a man, played by Tom Harney. Mostly masculine clothes are worn (the entire cast looks good in costumes by Becki Leigh Stafford), but the character is still referred to as a woman. That may be a matter of practicality (not enough females in the class) or some deeper statement about gender; you decide.
The Cherry Orchard continues at the Cook Theatre through April 26; for tickets, call 351-8000 or go to asolorep.org.