Article
Manatee Players' Jesus Christ Superstar
Arts editor Kay Kipling reviews this rock musical with staying power.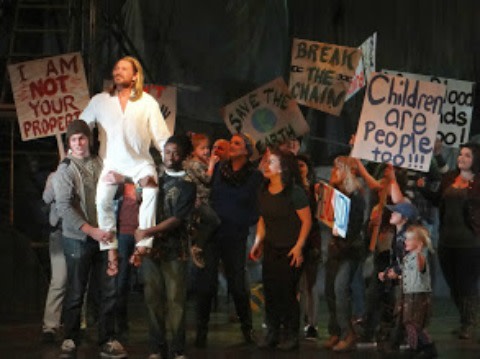 By Kay Kipling
Can it really be 45 years since the rock opera album Jesus Christ Superstar came out—and nearly that long since the stage version debuted on Broadway? Yes, and that's one of those statistics that can make a critic who remembers those days feel old.
But it's necessary to observe that although this Andrew Lloyd Webber-Tim Rice hit would seem to be pretty firmly rooted in a certain place and period—Israel, 4 B.C. or so—the story of Christ, or a Christ-like figure, is timeless. And Manatee Players guest director Norm Small demonstrates that, with varying degrees of success, with the current production onstage here. (I attended a preview performance on Wednesday night.)
Jesus Christ Superstar is one of those shows that allows for a pretty wide range of directorial freedom. Small has chosen to place his story and characters in a more contemporary street scene, where the possible Messiah's ragtag band of followers appears to be a mix of homeless/urban/ghetto types often dressed in secondhand wear. Bill Booth's scenery is definitely gritty looking, with metal steps and railings, plastic tarps hung over the midsection of the stage and, ultimately, a metal crucifix that descends ominously from the heavens.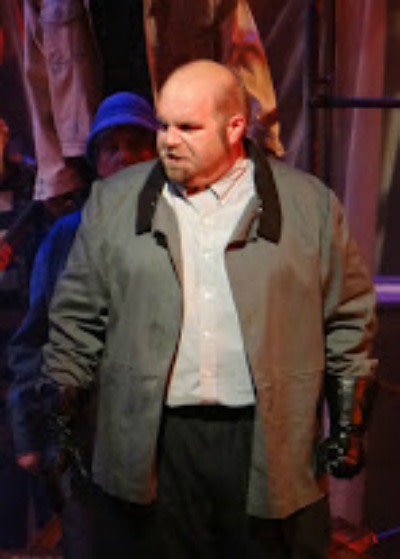 This production features a large ensemble to portray those apostles and hangers-on, and at times they are focused (as in the Temple scene, with players utilizing a jackpot machine, roulette wheel and other symbols of gambling); other times, more aimless. Not every physical action here is convincing, and some drag on with too much repetition.
But the performances of the main actors, and the alternately propulsive and gentle score, buoy the show and can make it truly emotional. It's just that you want that emotional connection to exist throughout, instead of coming and going. And you also long for the band, led by Aaron Cassette, to rock out a little more. It does on the show's title number, but that's late in the evening. On other songs, the musicians can feel too removed from the action onstage.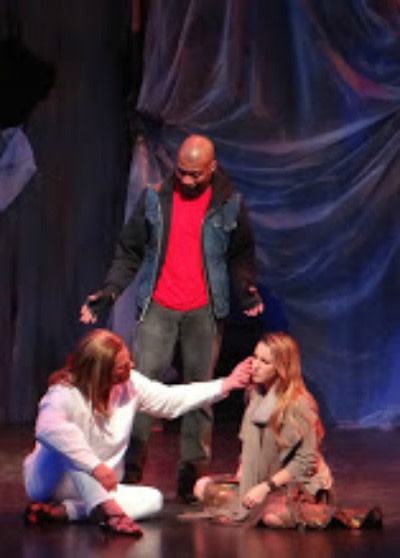 Getting back to the actors, though—Kristofer Geddie as Judas, Bill Shideler as Jesus, and Melanie Bierweiler as Mary Magdalene all deliver strong vocals and mostly compelling performances. Geddie as Judas is given all too many chances to overdo it, and occasionally does, but he can also be convincing in his agony over his forced betrayal. Bierweiler sings passionately on her numbers, I Don't Know How To Love Him and Could We Start Again, Please; her demeanor does not suggest the life of the former harlot Jesus has forgiven, though.
As Jesus, Shideler is impressive. He's been onstage at the Manatee Players more than once lately, but in more conventional musicals like Brigadoon and Dames at Sea, where he sometimes seemed an uncomfortable fit as the male romantic lead. Here, though, wearing all white, with a beard and long dirty-blond hair, he makes for a believable man-God torn between life and death, and really soars to meet the musical demands of his songs, especially on the powerful Gethsemane.
This production also boasts noteworthy turns by Bradley Barbaro as the hand-washing Pontius Pilate, attired in a military uniform, unable to watch the flogging of Christ he himself has ordered, and Kris Thoresen as the menacing Caiaphas, determined to remove the threat he perceives in Jesus. There is also, of course, the always welcome comic appearance of King Herod (Mark Eichorn), a preening, sequin-jacketed fop accompanied by a retinue of spangly dancers.
Not all of director Small's choices work here, but some do, and the material still delivers some jolts, all these years later. Jesus Christ Superstar continues through April 5; for tickets call 748-5875 or go to manateeperformingartscenter.com.