Rowing Fever
Boston Globe's Alex Beam on Why He Loves Rowing in Sarasota
Beam on why he rows here, there and everywhere.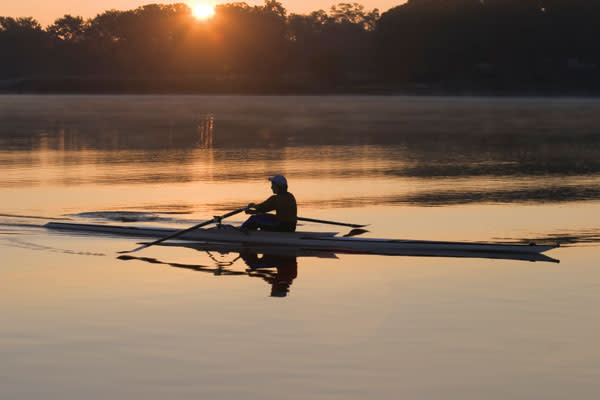 I can't even remember when I started rowing; it was about 13 years ago, I think. I'm now 61. But I remember why I started rowing. I wanted to be that person in the shell. It just looked so cool.
Almost any movie or TV show that wants to say "Boston" opens with a brief clip of a man or woman in a single rowing shell, gliding effortlessly on the still waters of the Charles. Inevitably, one of Harvard's statuesque, red-brick "river houses"—Lowell, Kirkland, or Leverett—looms in the background. Indeed, in an opening scene of the film The River Wild, we see Meryl Streep piloting her shell through the stanchions of the Eliot Bridge, with Harvard's dorms and Boston's trademark fall foliage behind her. (It's a long shot, so you don't notice that longtime Harvard-Radcliffe crew coach Elizabeth O'Leary is rowing the boat, but never mind that.) 
There is an equally alluring promotional video for rowing in Sarasota, which shows realtor Tamara Currey sculling on the Intracoastal Waterway in the roseate glow of a Florida sunrise … with two dolphins crossing her stern. How great is that?
I wanted to be that person in the boat. And in my late 40s, I set out to become just that. 
I'm not what I would call a fast learner, but I did forge a Red Cross lifesaving certificate and presented myself at Boston's Community Rowing, Inc., which teaches novices how to row. I never took CRI's notoriously challenging "captain's test," because I knew I would fail. Instead, I found a tiny club well upstream from the university boathouses and Boston's posh membership rowing clubs that "took me as I am," to use that lovely Joni Mitchell line from California. An ex-M.I.T. rowing coach watched me flounder (but not founder!) around in a clunky old shell and figured I probably wouldn't drown and create an intractable insurance problem for the 12-member Cygnet Rowing Club.
Ah, Cygnet! Since disbanded, ultra non-posh Cygnet. For starters, there was really no club at all; it was just a couple of containers welded onto the back of a structure abandoned by Boston College decades ago. It's the only club I've ever joined, my beloved Club of Broken Toys. My first rowing partner—at my skill level, it was advisable to have a buddy on the river—used to joke about "the pros from Dover" (an obscure Elliott Gould line from M.A.S.H), the super-elite scullers with their hand-crafted Spanish cedar shells who never spoke to us, on the dock, or on the river. Except to tell us to get over to the left, or port, except starboard and port are reversed when you are rowing backwards, well, forwards, well, never mind.
I loved the landscape. We weren't sashaying in front of any fancy Harvard river houses, we were rowing under the three highway bridges of the spaghetti interchange where I-90 enters Boston. After maneuvering under rush hour traffic—yes, we generally rowed at first light—we entered Boston's so-called "lakes district," about two miles of meandering river, coves, inlets, peninsulas and islands passing through Brandeis University, Waltham, Mass., and leading to a dam that separates my upstream Charles River from the better-known lower Charles of Harvard, the M.I.T. basin, the elite Union, Cambridge and Riverside boat clubs, and so on.
It's not the roseate glow of the Florida dawn, to be sure. But… Boston, you're my home. I really do love that still quite dirty water. 
I've had many peak experiences in a rowing shell. One morning in Boston, half-awake, I was piloting my Peinert Elite (we'll talk gear later on) through a hundred-foot wide channel, when I saw what looked like a herd of elephants directly in front of my bow. Because one rows facing backwards, I use a bicycling mirror to see "in front" of me, as it were, and all I could see was a huge, gray churning of beasts in the water ahead. It turned out to be three deer, crossing the river from Newton to Waltham. I "weighed up," or stopped in my tracks, to avoid catastrophe.
I had a different epiphany right here in Sarasota. Two years ago, a friend introduced me to Midnight Pass, a tiny line of sand separating the Intracoastal Waterway north of the Sarasota County Rowing Club from the Gulf of Mexico. You may know this stretch of water. You row north about one-and-a-half miles towards Bird Key, then heave to port to enter a thousand-yard channel that takes you right to the Pass. There is no road there; you have to either walk, boat, or row in to enjoy the Pass.
The approach channel is quieter than a vacuum chamber, and then you rest your bow on the eastern slope of the sandbar and walk the 50 feet or so over the dune, to discover … the Gulf. "Like stout Cortez when with eagle eyes/he star'd at the Pacific." It's true, I really thought of that John Keats line when the Gulf breeze blew in my face. It was wonderful.
Yes, I've rowed in Sarasota. I love it here. The people are friendly, and everyone is happy beyond description not to live in Boston, to which I inevitably return after a few short days. I've seen dolphins in the channel south of Blackburn Point Park, but, alas, no manatees. This January, I managed to crash into a "Seagrass Protection Area" sign. Hey—who put it in the middle of the channel? Rowing in salt water has its own demands. In Boston, we clean the Charles River filth off the bottoms of our hulls. Here the water is clean, but you have to douse both boats and oars to protect the rowing surfaces from the ocean water.
Is it time to talk about gear? I'll say briefly that I've owned five rowing shells in my 10-plus years on the water, all purchased used, with three now out of commission. The SCRC introduced me to the amazing Maas-25 open-water shell, supposedly engineered by Chris Maas for use in San Francisco Bay. (Will it get to Alcatraz? I've often wondered…) I keep a Maas-25 at a lake in New Hampshire, and in Boston I row the aforementioned  Peinert Elite, which I got for a song when Cygnet went out of business. 
My wife rows, too. She and I attended the famous weekend learn-to-row program in Craftsbury, Vt. ("Have you been to Craftsbury?" is the rowers' equivalent of "Have you been to Bonnaroo?" for latter-day stoners—sorry, music aficionados) and within about 36 hours she was rowing an elite—i.e. sleek and narrow—shell, the kind it took me at least seven years to get into. This is one of my Elaborate Rowing Prejudices, by the way. I think women take to rowing much more easily than men. They find their center of gravity more naturally. Maybe it's the ballet lessons, or the horseback riding, I don't know. But they often set up quickly in rowing shells, and leave me in their wakes. 
I have at least two other odd rowing prejudices. I won't row in an artificial body of water. So I disdain the famous Florida Rowing Center in Wellington, which I've heard so many good things about. This turns out to be a hard and fast "rule" more honored in the breach than the observance. The Intracoastal Waterway, which I adore, is as much the work of man, in the form of the Army Corps of Engineers, as of God. I've also rowed out of the magnificent, manmade Olympic rowing stadium in Long Beach, Calif., which is open to the ocean, so I consider it to be "natural."
Final prejudice: I don't "erg." In fact, I think "erging" not only sounds stupid, but is stupid. Erging means rowing indoors on a machine, and it's a very big deal for rowers in the Northeast, not all of whom can fly into SRQ and luxuriate at the Sarasota clubs. In Boston there are even erg "races," which, frankly, are beneath contempt. 
I love rowing. Now I am that guy piloting a stick-thin shell down the Charles, or under the swivel bridge that links Casey Key to the mainland. I love being outdoors; I am a Wind in the Willows rower. ("The afternoon sun was getting low as the Rat sculled gently homewards in a dreamy mood, murmuring poetry-things over to himself, and not paying much attention to Mole.") I've never raced, and I never will. I like gliding past the swans/deer/buffleheads on the Charles, talking to the early-rising loons in New Hampshire, or watching the osprey circle overhead as I leave the SCRC beach on Blackburn Point Road. 
And I love rowers, too. Not because they are universally genial—far from it. But they share my odd compulsion. We enjoy the clammy dampness of the boathouse, we can debate for hours the merits of the hatchet, as opposed to the Macon, rowing blade. (I'm a hatchet man, of course; I'm a journalist.) 
My rowing friends and I share a dark secret. When you pull your boat out of the water around 8 a.m., rinse it off and rack it, and then walk towards your car with every muscle in your body alive and happy—that's as good as you are going to feel all day. It's all downhill from there.
Alex Beam is a columnist for The Boston Globe who has also worked at Newsweek and BusinessWeek. He is the author of the 2014 book American Crucifixion: The Murder of Joseph Smith and the Fate of the Mormon Church.