Article
Author David Baldacci Visits Sarasota
Party Girl Loren Mayo takes us behind the scenes of author David Baldacci's recent visit to Sarasota for the Library Foundation Luncheon.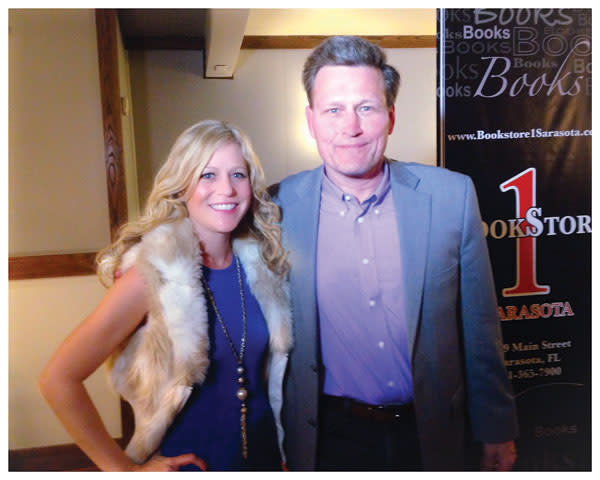 Three days have passed since I completed the Sarasota Music Half Marathon. Three whole days of excruciating pain in my quads, calves, feet and back. But today, because I knew I would meet the incredible best-selling master of suspense and literacy advocate, David Baldacci (who will turn out to be pretty easy on the eyes and funny, too), I manage to squeeze my swollen feet into a pair of champagne-colored Diana Kelly Elizabeth heels.
I'm waiting, quite impatiently, to pull into The Devyn for the Library Foundation for Sarasota County's sold-out Third Annual Author Luncheon, and cringing as I watch a black Mercedes nearly escape the wrath of oncoming traffic. Suits and dresses are parading down U.S. 41 from nearby parking lots (having avoided the disastrous valet line in which I all too quickly find myself sandwiched), and in the words of Sarasota attorney Morgan R. Bentley, who will soon speak to us about securing the future of our libraries, seeing that parade tells you this event has "arrived."
Space is tight inside The Devyn's Carlisle Room, where 380 library, literacy and Baldacci lovers alike are eagerly waiting. Just to move between the tables one practically needs to be anorexic. As I take a seat, Library Foundation president Linda Getzen approaches the podium and shares with us the foundation's mission of securing the future of our nine county libraries as an indispensable (and constantly evolving) community resource.
Founded in 2011 on the belief that great communities deserve great libraries, the foundation raises donations to complement county tax dollars and to keep our libraries on the cutting edge of technology, resources and services. My favorite of the programs it's supported is the Imagination program, which mails a new book every month to disadvantaged students. As a bookworm, I can relate when the speaker describes the excitement the kids feel when each month's new book arrives.
Following Linda is Teri Hansen, president and CEO of the Gulf Coast Community Foundation, who says it was she who begged for Baldacci to be the luncheon's keynote speaker.
"Shannon [Staub] called and told me she got him and I was really excited, but then I paused," Teri says. "If he's here, he's not writing, and I have needs!"
(Teri—I think the same goes for everyone else in this room.)
Before Baldacci takes his place onstage, Veronica Brady, GCCF senior vice president, and Bentley get guests fired up when they announce that today's largest donor will have the opportunity to be included in a future Baldacci thriller.
"We can't say whether you will be a saint or a sinner—you'll have to read the book," Brady says. (We learn at the end of the lunch that Keith and Linda Monda will receive that extraordinary honor, and although donations were still being counted, the foundation had already raised just under $95,000 at this event.)
Baldacci grabs the microphone and dives into tales of his life on the road. The self-described library rat—who has published 27 best-selling novels for adults and four novels for younger readers—tells us about his childhood, family, book signings and travels, including a trip to his grandfather's hometown in Italy. On that trip, he and his wife, Michelle, and their two children arrived at the little village to find—surprise!—that the mayor had proclaimed it David Baldacci Day. ("Oh, no!" his wife said when they realized what was happening. "Look what we're wearing—shorts and flip-flops!") And no David Baldacci celebration would be complete without 1,100 new friends, a marching band  and a lifetime supply of olive oil.
My favorite Baldacci story takes place while he's traveling via Amtrak to New York. Sitting across from two other commuters, he phones a forensic expert to ask her how to plot the perfect murder by poison. He makes statements such as "No one must know" and "It must not show up in the autopsy report." As he ends the call, Baldacci looks up to find one of the commuters has spilled coffee all over himself and is staring at him in horror. The other has his hands in the air and is muttering, "Oh, my God." Baldacci says the Amtrak police showed up within minutes and detained him as a person of interest. Needless to say, he did not make it to New York that day.
After the talk, he signs books for fans, which they're holding by the arm—and bag—full. (I must thank sweet Sue Seiter, consultant to the Library Foundation, for leading me to the front of the book-signing line while repeatedly shouting, "Excuse me! Media coming through!") Then he heads to the new Gulf Gate Library to host a discussion about his new young adult book, The Finisher, with a group of adorable teenagers who attended the luncheon. And as the newest member and cardholder of the Sarasota County libraries (there were 18,422 new cardholders just last year alone), Baldacci has now become an official Sarasota library rat.
To see more photos from the Library Foundation Luncheon, click here. >>