Article
National Geographic Fellow Dan Buettner Speaks at Ringling Town Hall
The author spoke at two sold-out lectures in Sarasota today, part of the Ringling Town Hall Lecture Series.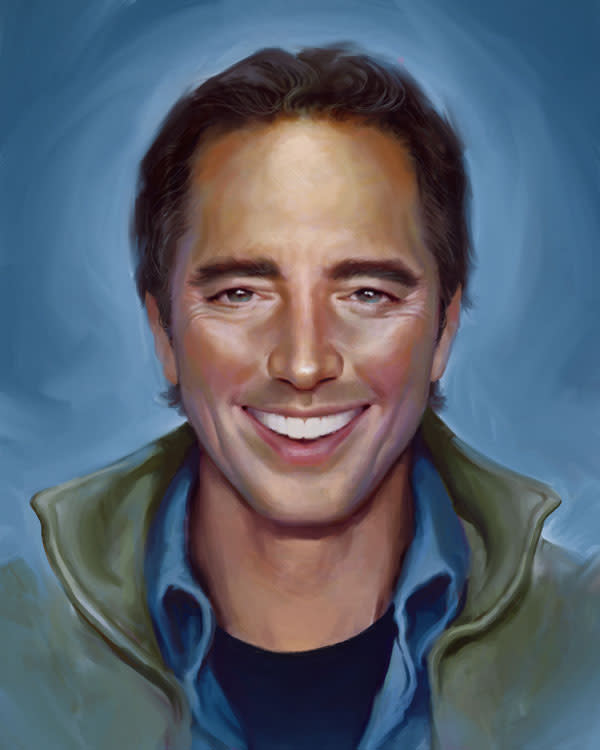 Want to live life to the fullest till you're 100 or more?
Then take a lesson from the extraordinary centenarians chronicled by National Geographic Fellow Dan Buettner, who spoke to two sold-out Ringling Town Hall audiences at the Van Wezel Monday about the research behind his bestselling books, The Blue Zones: Lessons for Living Longer from the People Who've Lived the Longest and Thrive: Finding Happiness the Blue Zones Way. (His latest book, The Blue Zones Solution: Eating and Living Like the World's Healthiest People, comes out April 5).
Sporting bright blue sneakers, Buettner walked the audience through the five Blue Zones—communities around the world with the highest concentration of active, vital centenarians—that he and his team of scientists and demographers have identified: Sardinia, Italy; Okinawa, Japan; Nicoya, Costa Rica; Ikaria, Greece; and, believe it or not, Loma Linda, Calif.—whose mainly Seventh Day Adventist population and the healthy behaviors the religion  espouses have raised residents' average life expectancy to 89 for women and 87 for men (vs. the American average of 80 and 76). Buettner elicited a gasp from the audience when he shared a photo of a 97-year-old Loma Linda man who'd just spent three days building a fence around his property, then went into the hospital, not as a patient but as a heart surgeon to perform one of 20 surgeries he does each month.
Take Sardinia, for example—not the entire island but a group of some 14 villages situated in the highlands, where there is 12 times the number of male centenarians as the general Italian population. That's partly because the two main occupations, farming and sheepherding, require physical activity (five miles a day of gentle walking, in the case of the shepherds), and partly because residents adhere to a mostly plant-based diet with a glass or two of red wine daily. But mostly, Buettner says, it's the attitude in their culture. "People continue to work and contribute [well into old age]," he says, and "the older you get, the more celebrated you are." Conversely, in America, says Buettner, "There's a threefold spike in mortality the year you retire."
Among the fundamental lifestyles all Blue Zones share, he says, people walk. They have daily rituals to reduce stress, whether it's meditation, a nap or even Happy Hour. They have a purpose to life and a vocabulary for stating it. They eat a mostly plant-based diet and drink on average two glasses of wine a day. And they put their families and loved ones first, and keep their aging parents nearby.
"Twenty-five percent of how you live is dictated by your genes," Buettner said. "The rest by lifestyle and environment. Healthy behaviors are as contagious as catching a cold."
Portrait of Buettner by Victor Louis Maury, Ringling College of Art and Design illustration major, class of 2015