Article
Venice Theatre Stage II's God of Carnage
Arts editor Kay Kipling reviews this barbed comedy by Yasmina Reza.
[caption id="attachment_1779" align="alignnone" width="488"]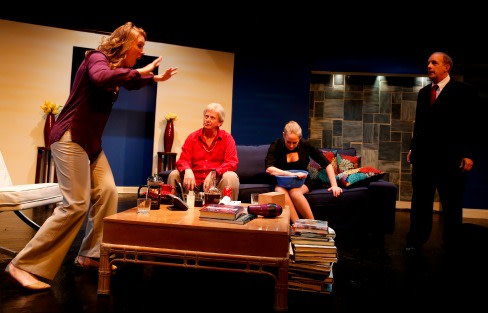 Amity Hoffman, Neil Kasanofsky, Laurie Colton and Matt McCord in God of Carnage.[/caption]
By Kay Kipling
Four civilized, upper-middle-class Brooklynites gather over coffee to discuss a recent playground incident involving their young sons—and all hell breaks loose. That would be the 30-second pitch for God of Carnage, the Yasmina Reza comedy now onstage at Venice Theatre's Stage II.
After all, what could go wrong when Alan and Annette (Matt McCord and Laurie Colton) meet Michael and Veronica (Neil Kasanoksy and Amity Hoffman), following the aforementioned playground dispute? All are agreed, it seems, that the aggressor in the case must apologize to the wounded one after striking him with a branch and breaking two teeth. Shocking behavior it is—but as the course of the evening proves, the parents' behavior turns equally shocking.
There's tension in the air from the first, exacerbated by the constant annoying intrusion of Alan's cellphone with its Star Wars/Darth Vader theme music, and it isn't long before the cross currents are in full force, with shifting alliances and enemies between spouses, between male and female, and every which way you can imagine.
It's to director Peter Ivanov's credit that the production, which marches along briskly in about 75 minutes with no intermission (and with some necessarily strong language), never feels static given the limited setting—a living room crowded with books—and the conversation, which begins fairly banal but escalates rapidly into onslaughts both verbal and physical. As master-of-the-universe-type Alan says, the only god he believes rules is the god of carnage; we're all savages underneath a thin veneer, and it's easy to ignite the flame that sets us off.
Ivanov's cast of four keeps pace with the ever-changing insults and accusations well. As is sometimes the case in community theater, the females here seem better cast then than the males; Colton, with her character's need to throw up belying her surface calm and well-made-up appearance, and Hoffman, whose fury at her husband eventually overcomes just about any other consideration, are totally believable. Hoffman in particular gets the chance to demonstrate convincing rage and frustration; it's fun to watch her literally hurl herself at hubby when he lets slip something particularly egregious.
McCord and Kasanofsky may not seem such natural choices, casting wise. When you consider that James Gandolfini played the McCord role on Broadway, McCord isn't really aggressive or threatening enough, and Kasanofsky is older than ideal for his role (although it's true that his character is older than his wife). But they definitely enter into the spirit of Reza's play, with high marks for energy and an ability to handle physical comedy as they come close to destroying that artfully composed living room.
God of Carnage continues through Nov. 30 at Stage II; call 488-1115 or go to venicestage.com for tickets.