Article
Sarasota Chalk Festival Kicks Off This Week in Venice
Your guide to the 2014 Sarasota Chalk Festival.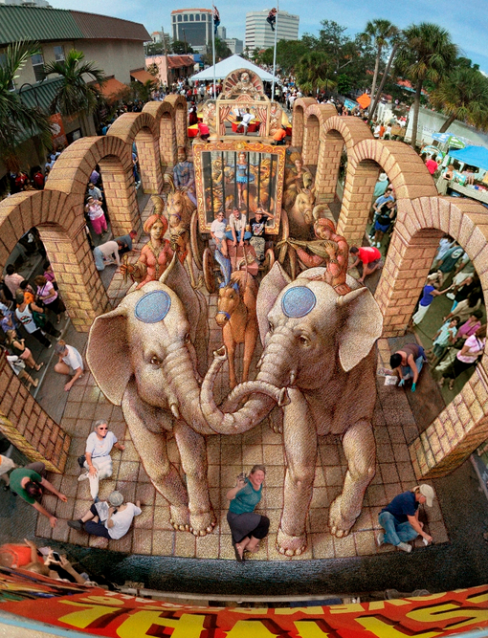 This weekend, street artists from all over the world will gather in Venice for the seventh annual Sarasota Chalk Festival. Founded in 2007, the event is a culmination of local, national and international artists from more than 28 different countries, and will run from Friday, Nov. 14 through Monday, Nov. 17.  Over the course of the week, artists will design works that represent this year's theme, "Extinct and Endangered Species," and compete for awards and prizes.
Here's a guide to this year's events:
Festival-goers can attend the Opening Gala on the Nov. 13 to meet this year's artists while indulging in food, drink and entertainment. In honor of the theme, guests are encouraged to wear faux fur and feathers.
Starting on Friday, Nov. 14, visitors can witness history while artists collaborate to create the world's largest 3D pavement painting in a Guinness World Record Book attempt. Kurt Wenner, founder of anamorphic pavement art, will be designing the 42-by-450-foot pavement painting. The painting will depict the extinct Megalodon shark, one of the largest and most powerful vertebrate predators in history, to recognize Venice as the shark tooth capital of the world.
Throughout the week artists will be creating 3D chalk art at the Venice Cultural Campus and the Venice Municipal Airport Festival Grounds. Each piece takes three to seven days to complete, allowing visitors to experience the artists' process and design techniques.
For those who more enjoy traditional chalk art, featured painters will begin chalking on Friday, Nov. 14 and continue over the next two days. Each artist will spend an average of 36 hours working on their "Chalk of the Town" piece. Local student and children's works will also be featured from the 15th-16th, and visitors will be able to see young chalkers learn from professionals and create their very own masterpieces.
The festival's Closing Ceremony will wrap up the festival on Sunday, Nov. 16. This is the last chance for festival-goers to meet and talk with the artists while awards are given out. There will be live music, a video featuring the events of the week, and food and drink will be served.
Monday, Nov. 17 will be the last day to view the completed artworks. Even though the artworks are only temporary, guests are encouraged to take pictures, buy t-shirts to immortalize some of their favorite works. Some artist will be on-site to talk to patrons and sign autographs. The festival will wrap up with the curated show "Re-Imagining Chalk" at the Venice Art Center on Nov. 18.
For more information about the 2014 Sarasota Chalk Festival, click here.