Article
Review: Venice Theatre's "The Full Monty"
Arts editor Kay Kipling reviews this revealing musical.
[caption id="attachment_1769" align="alignnone" width="488"]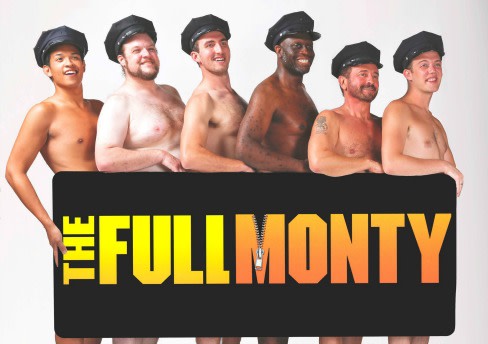 The guys of The Full Monty.[/caption]
Every time I see the musical The Full Monty (now onstage at Venice Theatre) I'm freshly amazed by the guts of its performers, willing to bare themselves both physically and emotionally in this tale of six men looking to regain their self-respect—and earn some fast bucks—by stripping for a crowd of lusty women. It's especially impressive when you consider the fixation most of us have with our bodies' imperfections in light of the airbrushed, streamlined images we see constantly in the media. You gotta hand it to the guys who face their own, er, shortcomings, night after night, in this stage version of the 1997 British film.
The musical, with book by Terrence McNally and music and lyrics by David Yazbek, is also a challenge technically at times, and, on opening night, VT's production (directed and choreographed by Brad Wages) struggled with some of those challenges. Ryan Mueller's set requires a lot of sometimes visible backstage moving around; miking, at least in the first act, caused issues; there was some difficulty with a balky costume at one crucial point; and even the band, led by Michelle Kasanofsky, at first sounded ragged on Yazbek's rockish score (that improved as the evening went on). Thank goodness, the final light cue of Act II—surely one of the most critical to get right in modern theater, as the male performers really do bare all—is right on time.
In McNally's book, the out-of-work guys from Sheffield, England, have been transplanted to Buffalo, N.Y., and after months of unemployment from the area's mill, they feel like Scrap, as the first number demonstrates. Adding insult to injury: Their wives, some of them still gainfully employed, are willing to toss their money at a male stripper to satisfy their frustrated sexuality. Talk about hitting a guy where it hurts.
No wonder Jerry (James Bock) comes up with the idea of stripping himself, with a group of buddies, to hit a big payday in order to keep his joint custody of his young son (Nate Oss). Neither he nor his longtime pal, Dave (Rik Robertson), has much clue about what it takes, so they end up seeking a leader with dance experience, Harold (Joseph Giglia), along with a piano-playing show biz vet (Lynne Buhle) and some other guys with special "assets" of their own, including Horse (Edwin Watson, whose Big Black Man number is guaranteed to get some slightly shocked laughs), Ethan (Mark Vincent Mansilungan), whose male member has a notable "glimmer," and Malcolm (Brian Graziani), a near-suicide rescued by Jerry and Dave who lives with his mother but has dreams of his own.
[caption id="attachment_1770" align="alignnone" width="488"]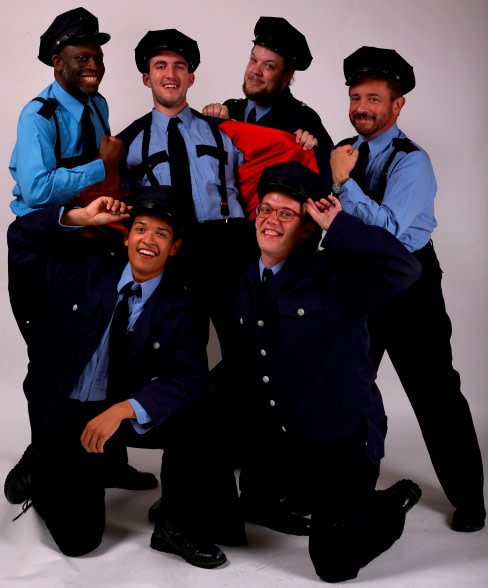 Back row, Edwin Watson, James Bock, Rik Robertson, Joseph Giglia; foreground, Mark Vincent Mansilungan and Brian Graziani.[/caption]
The women in their lives range from the ballsy Georgie (Cara Herman), Dave's supporting wife, to Pam (Rhonda Sudik), Jerry's sort of understanding ex, to Vicki (Kim Kollar), Harold's seemingly materialistic spouse. They get a chance to turn the tables on their sometimes sexist men on the number The Goods, which has the guys realizing what it's like to be measured physically the way they've always done with women.
In the cast, Robertson, Graziani, Watson and Buhle (whose dry quips are delivered to perfection) stand out, with Bock right physically for the role but straining occasionally vocally. He fares better on the softer Breeze Off the River than in the edgier numbers, but he also seemed to gain some confidence as the evening progressed. And there's no doubt the audience was enthusiastic well before the show's rousing Let It Go closer.
The Full Monty continues through Nov. 30; for tickets call 488-1115 or go to venicestage.com.