Article
The Players' The Addams Family
Arts editor Kay Kipling reviews the musical about that ooky, spooky clan.
[caption id="attachment_1764" align="alignnone" width="488"]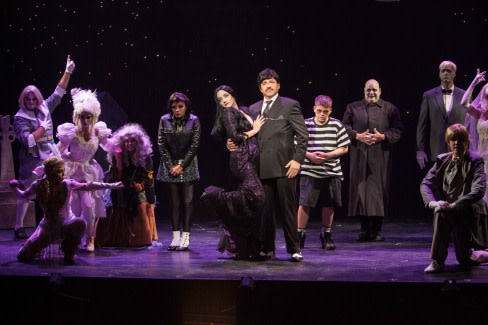 The Addams Family, with ancestors. Don Daly Photo[/caption]
By Kay Kipling
Some shows are fortunate to have both audience and critical acclaim; some have to settle for one or the other. Most producers/directors are probably quite content to bask in good box office, whether or not the reviews match up.
The Addams Family Broadway musical seems to fit squarely into the latter camp. The show, with book by Marshall Brickman and Rick Elice and music and lyrics by Andrew Lippa, was largely pilloried in the New York press when it bowed, but no matter; the crowds came anyway. And they'll most likely do the same with the Players' version, a local theater debut. (The touring production did play at the Van Wezel some months ago.)
Professional critical opinion aside, some Addams Family fanatics may find fault with the creators' version here, which claims to be based more on Charles Addams' original cartoons than the popular TV or film adaptations. There's a fine line to tread in keeping the macabre nature of the Addams clan and their relationship to the rest of the "normal" world as darkly amusing as Addams himself intended.
For example, some people will just not like the fact that in the musical, Wednesday Addams (Sabrina Bowen) has grown up and fallen for a boy from that "normal" world, a lad named Lucas (David Anderson). She's actually bringing him and his family home for dinner with great trepidation, enlisting father Gomez (Chip Fisher) to keep her wedding plans secret for the time being from mother Morticia (Eve Caballero). No, this is not the Wednesday we know and love, even if she is still willing to torture younger brother Pugsley (Brett McDowall), who delights in the treatment at her hands. Instead, she's all caught up in a mother-daughter battle with delayed teen rebellion thrown in. And what do she and Lucas really see in each other initially, anyway?
I confess those things bothered me a little, as did some of the choices made to reach the lowest comic common denominator here with fart and pee jokes courtesy of Grandma Addams (Ruth Shaulis). At times, no doubt, The Addams Family is too broad and predictable for my tastes.
But—and this is a big but—the Players have such a strong cast, both in the leads and the ensemble, and director Jared Walker has such a firm hand on the shenanigans going on here, from the opening number (When You're An Addams) to the Tango de Amor that brings a passionate if divided Morticia and Gomez to the dance floor, that I was willing to throw most of my quibbles to the wind. Aided by appropriately spooky set design (by Jeff Weber) and costumes (designed by Walker, who also is assistant choreographer, with Eric Gregory officially in charge of the dance numbers) and a special effect or two, the show demonstrates impressive production values, along with a good orchestra led by Alan Jay Corey.
[caption id="attachment_1765" align="alignnone" width="488"]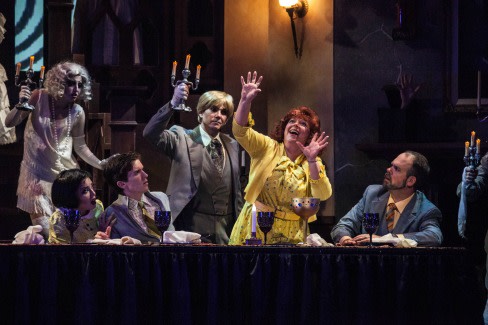 Foreground: Sabrina Bowen, David Anderson, Andrea Keddell and Mark Athridge. Don Daly Photo[/caption]
Caballero and Fisher are natural playmates as the loving matriarch and patriarch, Bowen has a strong voice to display on her solo Pulled, Bill Sarazen gets some hilarious moments as Uncle Fester (who's got a love thingy going on with the moon), Ted Palazzo is a believable Lurch, and Mark Athridge and Andrea Keddell make the most of their roles as Lucas' parents (Keddell certainly pulls out all the stops as a woman released from conventionality by a sip of something special at the Addams' dinner table).
The audience on opening night was definitely entertained; I suspect other performances will have the same result. The Addams Family continues through Nov. 16; for tickets call 365-2494 or go to theplayers.org.