Article
Aubrey Plaza Visits Ringling College Studio Lab
Aubrey Plaza, zombie star in "Life After Beth," visited Ringling College Studio Lab to talk about her new movie.
After revealing last March that he was dusting off a 10-year-old script, director Jeff Baena (I Heart Huckabees), along with actor Aubrey Plaza (Parks and Recreation), returned to Ringling College Studio Lab on Tuesday. The lab, founded by Sam Logan of Future of Films LLC and David Shapiro of Semkhor Networks Inc., brings top film talent to Sarasota to meet and work with students. At the Tuesday night session, Baena and Plaza discussed their new zom-com-rom-dram Life After Beth.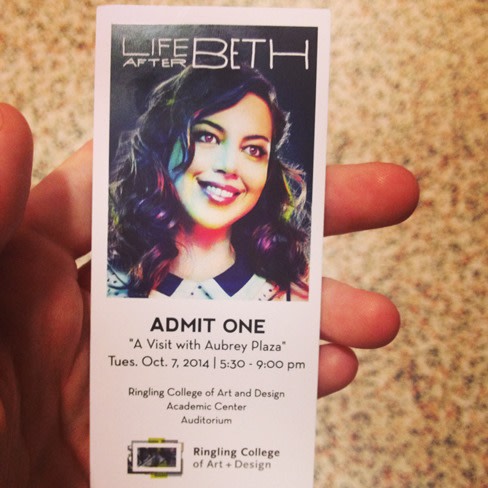 "I did not prepare [for the role] at all," said Plaza. "I thought I was going to binge watch a million zombie moves and get in that mindset, but I decided to do the opposite because every zombie is someone else's interpretation, so I thought I should dig down deep and see what dark forces came out of me and just make my own zombie."
In the film, Plaza plays Beth, the returned-from-the-dead girlfriend of Zach (Dane DeHaan). Zach, elated, confused and a little afraid of this "new" Beth, has to choose between protecting her from the knowledge that she is a zombie and saving the town from a full-on zombie outbreak. The deadpan comedy strikes a tone that is familiar to Plaza's fans. Plaza admitted that her Parks and Recreation character April Ludgate is very much herself, and the straightforward no-bells comedy comes naturally.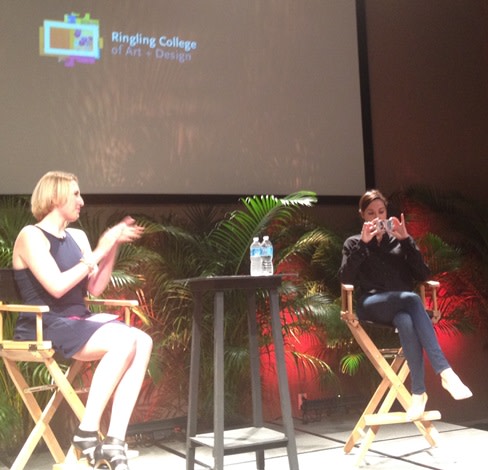 "Until I'm Daniel Day Lewis--and I will be--I'm always going to bring a little bit of myself into every role," she said. "Comedy has been a safety zone for me. Any time I have to be vulnerable, in a movie or in real life, that's a challenge for me. But I want to get to a place where I can do both."
Baena admitted he didn't know Plaza when the script was written, but when she approached him about it he "couldn't think of anyone better than Aubrey for the part."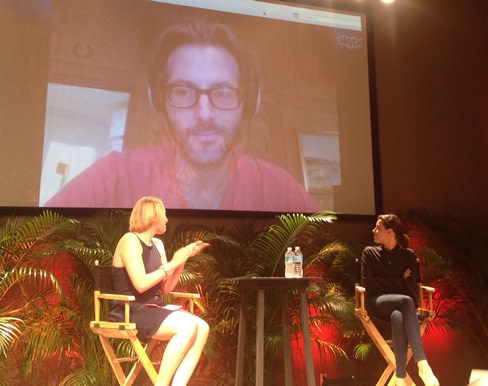 The duo (who are dating in real life) answered questions from the audience about creativity, the Sundance Film Festival, filmmaking and what it's like to work on a budget. "I'm not sure where ideas come from," Baena said, "and I think as creative people, it can be dangerous to overanalyze that, but it's important to just keep working and keep writing, because, like this film, you never know which ideas might pan out."
Plaza noted that two Ringling students contributed to the film as interns (one in set design and the other on camera), shedding some insight on to how the school can help its students succeed in the workforce: "They were excited to be there and they totally blended in; they seemed like they'd been doing it for years. [Internships are] all about relationships," she said, "You meet people and you make a good impression and they'll choose you [for a project]."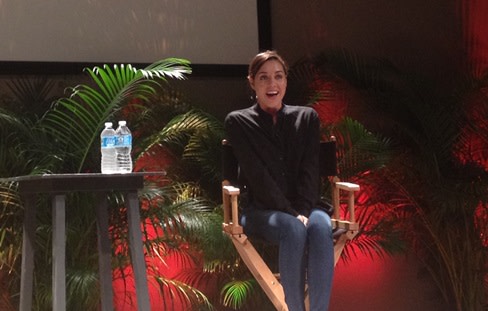 When asked what her future plans are, Plaza responded, "I'd love to work with the Coen brothers," but more immediately on the horizon is her voiceover work for Grumpy Cat, star of a Lifetime Christmas film, which comes out on Thanksgiving.
Click here to read past Ringling College Studio Lab interviews, including Dylan McDermott, Anna Paquin and Luke Wilson. >>