Article
FST's Becoming Dr. Ruth
Arts editor Kay Kipling reviews this one-woman show about the famous sex therapist.
[caption id="attachment_1686" align="alignnone" width="488"]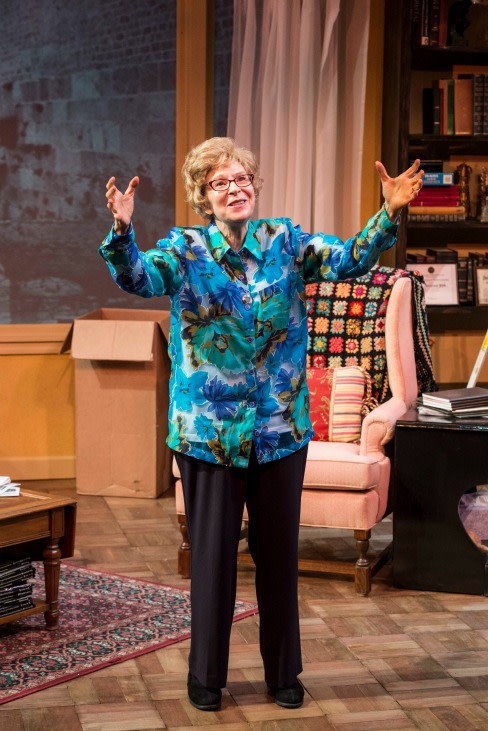 Susan Greenhill in FST's Becoming Dr. Ruth.[/caption]
By Kay Kipling
If you're watching a play about Dr. Ruth Westheimer, it might occur to you to wonder how long it will be before there's a reference to sex uttered onstage. My guess, while taking in Mark St. Germain's play Becoming Dr. Ruth (now playing at Florida Studio Theatre's Keating Theatre): about 90 seconds.
But if all you know about Dr. Ruth is her career as a radio and television sex therapist, then this one-woman show, starring frequent FST performer Susan Greenhill, should offer a number of surprises as well as frank sexual talk. It all comes spilling out in the course of about 100 minutes (with no intermission), as the actress (not quite as diminutive as the original, but still conveying an impression of compactness) welcomes the audience to Westheimer's New York apartment circa the late 1990s, where the 70-something but still impish-looking therapist is currently packing for a planned move.
The reason for that plan comes out in due time, as we hear about Ruth's three marriages, two children, beloved grandchildren, and travels through Europe from her native Germany before arriving in her long-desired America. But St. Germain and his heroine take their own sometimes circuitous route in depicting Westheimer's long and full life—a life as crowded with incident as the apartment designed by Klyph Stanford is with mementoes.
Greenhill, directed here by Kate Alexander, is believable as the famous woman she portrays, whether she's helping one of her moving men with his sex life via the phone, recounting her childhood loneliness once separated from her parents after Hitler's rise to power, or speaking frankly about the ends of her first two marriages. She's aided by images projected through the "window" of her apartment, images taking us from a children's home in Switzerland to a kibbutz in Israel (it's true, she was a sniper for the Israeli Army) to the Paris of her first marriage.
It really is a fascinating life, and Greenhill is up to the challenge of conveying its many emotions (as well as delivering Westheimer's familiar accent), with St. Germain equally adept at switching tone from dark to light when needed. If there is a problem here, it's one common to biographical shows; even with the monologue occasionally broken up by phone calls or other voices on recordings, there is still a torrent of words and facts pouring forth from one person's lips, and occasionally Becoming Dr. Ruth feels overstuffed.
But it's also enlightening, entertaining, and frequently touching. Becoming Dr. Ruth continues through July 27; for tickets call 366-9000 or go to floridastudiotheatre.org.