Article
Party Girl: Asolo Rep's 2014 Annual Gala
Loren Mayo spends a night in the Rainbow Room.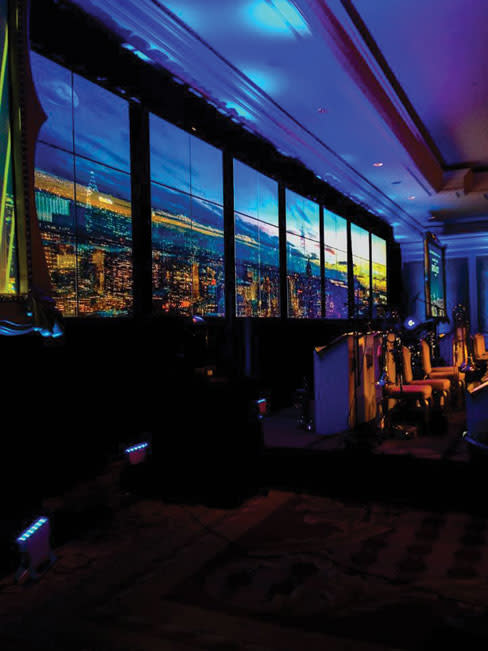 All day long I'd been a car-show coordinator, clad in a purple T-shirt, jeans and sweaty side ponytail. But that night I stepped into a sultry charcoal evening gown, three strands of pearls and a few glamorous curls for the Asolo Repertory Theatre's 2014 Annual Gala: A Night at the Rainbow Room. It really was quite the Saturday.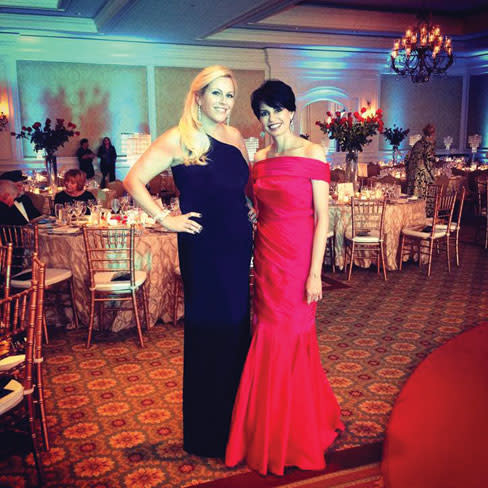 During my six years attending Sarasota events, I've learned that if the invitation states "Black Tie Optional," you should almost always stick with black tie—especially if you're spending an evening at the Ritz, especially if you're attending the Asolo gala, and especially if you're Nikki Taylor, Carol Phillips or Nikki Sedacca. All three co-chairwomen (co-chair Chris Cogan was ill and couldn't make the event) looked absolutely stunning in their floor-length gowns. But had I not texted Nikki Taylor asking her what she was wearing, after my exhausting (but fun!) day under the sunshine, it's entirely possible that I might have taken the "option" and gone with a short, lacy cocktail getup.
The cocktail reception, held just outside the ballroom doors, was madness as per usual, with 400 Asolo supporters milling about the auction tables, using their Bid Pals for items ranging from jewelry to wine and waiting in line for cocktails.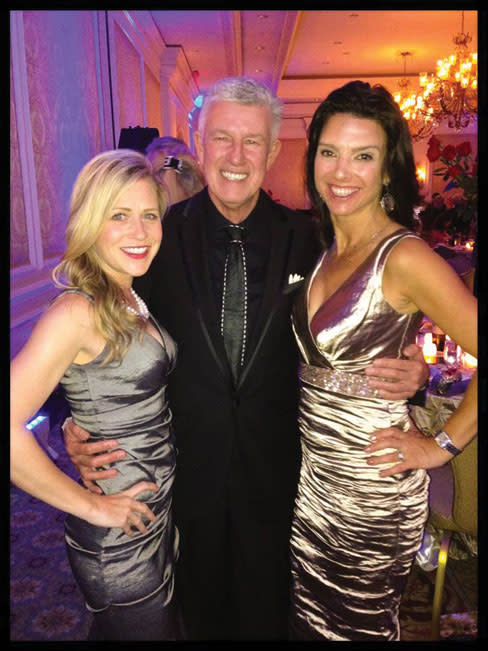 First, I caught up with Asolo's special-events manager, Laura Wood, just back from a stint working for an event company in New York City. I almost didn't recognize her, as her dark pixie cut has grown out into a pretty near-shoulder-length 'do. She and Sasha Fields, Asolo Rep's public relations manager, gave me a sneak peek at the ballroom. As soon as they opened the doors, my eyes froze on the mesmerizing display of the New York City skyline that filled almost an entire wall.
"It replicates the original Rainbow Room on top of Rockefeller Center, which had windows that surrounded the entire room, so you had multiple views of the city," Laura told me. "The LED projections we used were north views of Central Park and south views showing the Empire State Building. We changed the images as the sun went down outside, so as guests entered the ballroom at 7 p.m., it was sunset. By the time Marissa [McGowan] performed, it was nighttime in 'the city.'"
As Jane Thompson was introducing me to her friends from the Roskamp Institute, photographer Gary Sweetman—married to Asolo Rep's managing director Linda DiGabriele—made his way through the crowd, conjuring up a childhood memory. My sister was 5 and I was 8, and my mother forced us into matching white lace dresses with peach ribbons, drove us to the Ringling Museum, and there was Gary, standing by the banyan trees with his camera. Instead of posing properly, I proceeded to disobey my mother and swing from the tree, and I'm pretty sure I am the main reason signs warning guests not to swing from the trees now exist. I definitely ate lunch in my bedroom that day.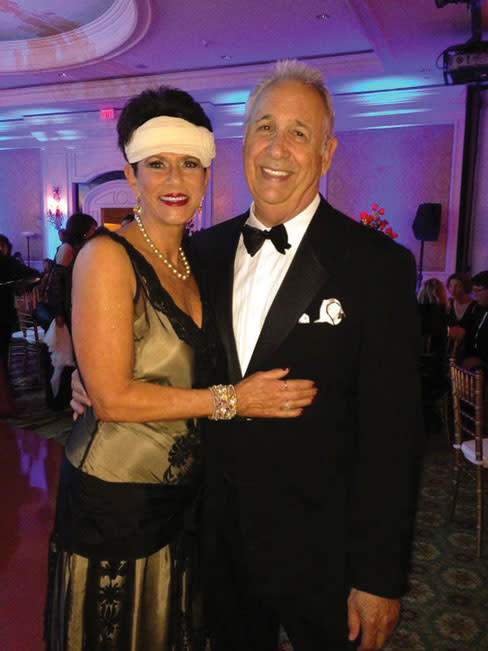 Next I bumped into friends Mandy and Thomas Arthur, who tied the knot last August and shared that they are expecting their first child, along with Wendy and Jerry Feinstein, who just returned from a trip to New Orleans to purchase masks for the Jewish Federation's Purim Masquerade Ball. Then I settled down at Table 7 with its divine long-stemmed red roses, satin napkins and ruched tablecloths. Nothing spells glamour like roses and satin, and nothing gives me goose bumps like Marissa McGowan.
It was her spellbinding performance of Almost Like Being in Love as well as Make Believe (the latter from Asolo's season-opening musical Show Boat) that captivated the audience and left me breathless. Marissa explained that following the Show Boat cast's recent student performance, artistic director Michael Donald Edwards overheard one male student say to another, "This makes me believe in love again."
As I fed myself spoonful after spoonful of heavenly salted chocolate ice cream, I was definitely beginning to feel a little lovey-dovey myself. When the paddle raise started and in less than 10 minutes raised $66,000—$25,000 of it matching funds from Carole Crosby and Larry Wickless and Chuck and Margie Barancik in partnership with Gulf Coast Community Foundation—to benefit Asolo's season and its education and outreach programs, I suspected the Asolo guests were feeling the love, too.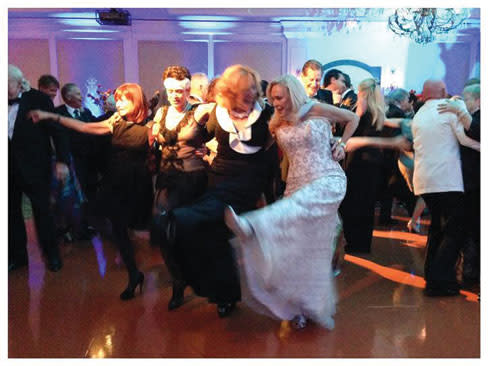 Margaret Wise must have been feeling it, because as former real-life Rainbow Room headliner Michael Andrew & The Atomic Big Band began New York, New York, she grabbed three of her girlfriends and headed to the dance floor to perform one heck of a Rockettes-style kick line. (Yes, I got it on video—click below to view.)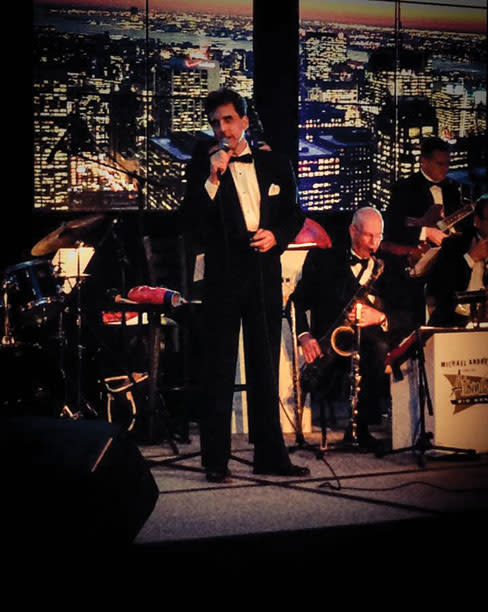 As I stood in the Rainbow Room watching evening gowns sweep the dance floor while snowflakes fell over New York City, I smiled. I may have experienced an evening of enchantment, elegance and allure, but what I really remember most is the loving generosity of the Asolo's many fans.
Follow Loren on your social network of choice, including Instagram.
Click here to see our Limelight photos from the Asolo Rep Annual Gala. >>
This article appears in the May 2014 issue of Sarasota Magazine. Like what you read? Click here to subscribe. >>