Article
Mr. Chatterbox: What Sarasota Was Like 35 Years Ago
This month: Let's take a little time-travel tour and visit Sarasota 35 years ago.
I seem to have read somewhere that this is Sarasota Magazine's 35th anniversary, which is a big surprise to me as I thought it was much older than that, maybe 60 or 70, like most of the people in this town.
But the more I think about it, that really was a long time ago. Thirty-five years. I can actually remember Sarasota back in those days and boy, was it different. So much hadn't happened yet—the boom, the bust, the transformation of the town from a sleepy, off-the-beaten path beach resort into a mecca for the world's richest people, a power center of Republican politics, and—perhaps most important—a place that finally has some decent restaurants.
What was Sarasota like back then? Well, let's go on a little "time-travel tour." Set the dial back to 1980, pack a bag, and we'll explore Sarasota in the olden days.
Chances are you'll arrive on People Express. That was a fondly remembered budget airline, where you actually bought your ticket onboard. (It was $69 from Newark.) There was often a wacky atmosphere en route. The flight attendants turned the announcements into stand-up comedy routines, and I once won a bottle of champagne for guessing how heavy the plane was.
The first shock you'll receive when landing in Sarasota is the airport. It's an ugly shoebox of a building, rather like a bus station, where you have to walk outdoors to get on and off the plane. Look around and you'll see plenty of DC-3s. It's like an airport from another century—which, come to think of it, is exactly what it was.
The second shock you'll receive is the people. If you think Sarasotans are old today, you should have seen them back then. The general impression of the populace is lots of white hair, moving very slowly. This was before the days of fitness regimens and cosmetic surgery, and the old people really looked their age. So unlike today, where us old people look so young and vibrant.
Where to stay? Back in the old, old days tourists used to stay at those motels on the North Trail, or in hotels downtown. The beach was a place you went to for the day. But around 1955 things changed. Places were built on Siesta and Lido, fondly remembered hotels and motels like the Lido Biltmore, the Three Crowns, and the Gulf Beach. I suggest we check into the Azure Tides. It has a late Art Deco vibe and the best tiki bar in town. A room will cost around $25, kind of pricey, but we'll be right on the beach.
Time for dinner. Back in those days, there were a few good restaurants, but no one ever came to Sarasota for the food. And the lack of Yelp and social media meant you had no idea where to eat. Upscale chains had yet to be invented. Your only recourse is to read the ads in the paper or ask the desk clerk.
Hopefully, he'll point you to one of the "gourmet" restaurants—Euphemia Haye, the Colony, Café L'Europe—some of which are still going strong. But I suggest a more fun vacation-type dining experience, like Pete Reynard's up on Anna Maria. It's on the Intracoastal—you can arrive by boat—and the entire restaurant revolves. And to make it even more exciting, the salad bar also revolves, but in the opposite direction. Oh, the fun we used to have, particularly after a few drinks.
What to do? Back in those days, people came to Sarasota for one reason—the beach. Siesta, then as now, was the choicest, with its famous sand. But you'll probably start hearing rumors about our nude beach. Yes, it's hard to believe now, but North Lido permitted topless sunbathing and the wearing of those new-fangled thongs. On a good day you could see actual nudity. To make things even stranger, the beach was most popular with the Amish and Mennonites was directly to the south, since it was the closest—by city bus—from Pinecraft. You'd see the naked people and the fully clothed Amish, co-existing side by side. Things changed in 1987 when the city banned nudity and toplessness, after much public debate about "areolas" and "anal clefts." Phil Donahue—remember him?—even did a show about it.
Nightlife? There were a lot of bars, everywhere, and that's what people, or at least those who were awake, did at night. The younger crowd went to the Pizazz Room at the Magic Moment or the Beach Club, both on Siesta. The slightly older crowd, those who could still dance without the help of a walker, preferred that bar upstairs at the Summerhouse. Gay people were particularly well served—there were five gay bars to choose from. Today? One.
As far as culture goes, the big player was the Van Wezel, which back then boasted proudly how it programmed "old"—the 1978 line-up included Guy Lombardo, Lionel Hampton and Rosemary Clooney. You might check out the Asolo and Sarasota Opera, doing good solid work but nowhere near the powerhouse institutions they have since become. A much more happening place would be the Golden Apple Dinner Theatre, where you might see Morgan Fairchild or Betty Buckley before they became famous.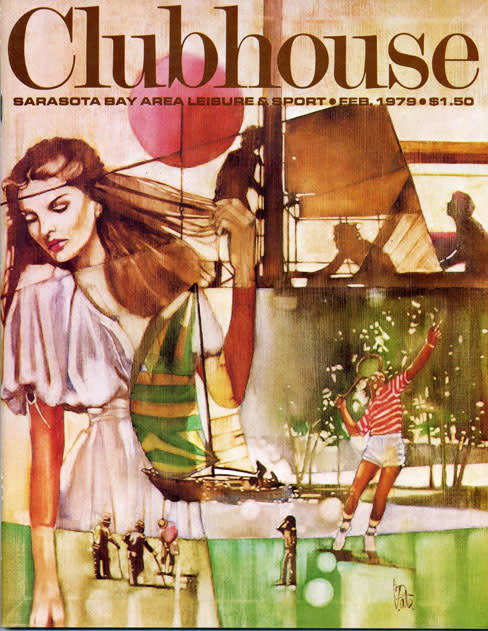 What were the people like? In a word, great. Everybody knew everybody, and they all read columnists Helen Griffith and Marjorie North in the Herald Tribune. They were, literally, the social media of the day. Most of the social life revolved around dinner dances and fashion show luncheons at the various golf and yacht clubs. In fact, Sarasota Magazine began life in 1979 as something called Clubhouse, which was sent free to the membership lists of the town's top clubs. There was a smattering of charity balls, but the big explosion of high-powered partygoing came later—as did the splintering into groups based on money and political views, an occurrence that was vastly exacerbated by the unhappy presidential election of 2000.
And finally, a word about real estate. Like all tourists, after a day or so you'll start thinking "Gee, this is a nice town. Maybe I should buy a place here." Back then the median price of a home in Sarasota was $42,000. You could get a very decent condo for $30,000. Anything over $200,000 was considered "luxury." There was virtually nothing over a million, except for a couple of showplaces on the water with a lot of land.
And the Azure Tides? It was torn down to make way for the Ritz-Carlton Beach Club, a combination high-rise condo and beach club for people staying at the Ritz downtown. But oddly enough, they kept the tiki bar, now the Lido Key Tiki Bar. The public outcry was such that class warfare was threatened. The common people knew what was happening—the rich were stealing their beach bar and they wouldn't have it. So it's still here, an example of what angry beach bar lovers can accomplish. So much of that era has vanished, not just the buildings but the informality and the small-town feeling.
It's too bad the people didn't rise up and save more of it.
Click here to read Bob Plunket's "Real Estate Junkie" blog. >>
This article appears in the May 2014 issue of Sarasota Magazine. Like what you read? Click here to subscribe. >>