Article
Asolo Rep's Hero: The Musical
Arts editor Kay Kipling reviews this new show by Aaron Thielen and Michael Mahler.
[caption id="attachment_1661" align="alignnone" width="488"]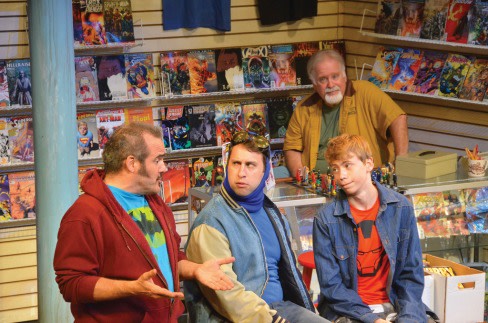 Norm Boucher, Ian Paul Custer, Don Forston and Owen Teague in Hero: The Musical. Photo by Gary W. Sweetman[/caption]
By Kay Kipling
The Asolo Repertory Theatre steps into the spring/summer season with a definite change of pace in its just-opened production of Hero: The Musical. It's a new show, revised after an earlier production in Chicago; it's one with a pop/rock score, as opposed to more traditional Broadway; and it's got a youth vibe in its story of a young man trying to move on in his personal life and his career.
The young man is in fact dubbed Hero; he's Hero Batowski (Brian Sears), 28 years old and living with his dad (Don Forston) in Milwaukee after a tragedy when he was 18 left him emotionally broken and stalled. An aspiring comic book artist, Hero works in his dad's comic book store as well as part-time at a bar where he hangs out with his friend, Kirk (Matt Mueller, totally believable as a guy marching to his own drummer), and occasionally pines for his ex-girlfriend, Jane (Laurie Veldheer), who left town shortly after the aforementioned incident. Now Jane is back, and she might be ready to rekindle their flame, if only Hero can get up the courage to try again—and to pursue his drawing dreams.
It's an engaging story, and it gets off to a quick start with an ambitious score (by Michael Mahler) that immediately places us in Hero's world. (That's also much aided by a set design by Scott Davis that moves us swiftly and pleasingly from store to bar to Wisconsin back yard with barbecue grill). And the cast is strong, both vocally and dramatically—or comedically, in the case of second leads Mueller and Dara Cameron as the uptight woman he loosens up in his own goofy way; she's a lot of fun to watch as she clutches a fruit salad bowl to her body as a shield or lets herself go at a karaoke bar).
[caption id="attachment_1662" align="alignnone" width="448"]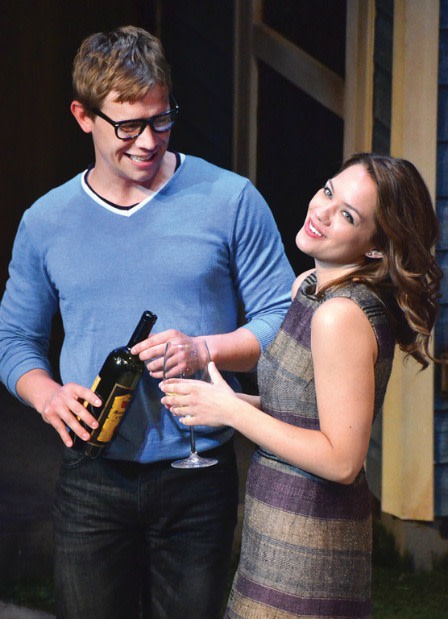 Brian Sears and Laurie Veldheer as Hero and Jane. Photo by Gary W. Sweetman[/caption]
Sears and Veldheer are compelling, too (although the book, by Aaron Thielen, is not 100 percent convincing about what broke them up in the first place and kept them apart so long), with excellent work by Forston as Hero's loving dad and an ensemble cast, particularly Ian Paul Custer and Norm Boucher as a couple of comic book nerds and young Owen Teague as Hero's rather lost teenage cousin, Nate.
[caption id="attachment_1663" align="alignnone" width="448"]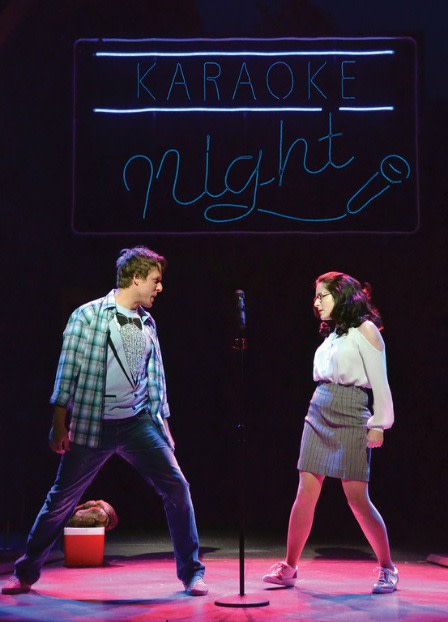 Matt Mueller and Dara Cameron in Hero. Photo by Gary W. Sweetman[/caption]
Mahler's songs range from clever and amusing (Phone Booth) to anthemic (Lower Your Shield) to romantic (That's My Kryptonite) with skill, and he leads the band with lots of verve (although the overall sound is occasionally too loud). It's a little puzzling that we don't see more of Hero's illustrations here; when we do, they make a great addition to visualizing this comic book-oriented story.
Hero: The Musical continues through June 1 at Asolo Rep; call 351-8000 or go to asolorep.org for tickets.