Article
Theater Review: The Players' "Urinetown"
Kay Kipling reviews The Players' production of "Urinetown."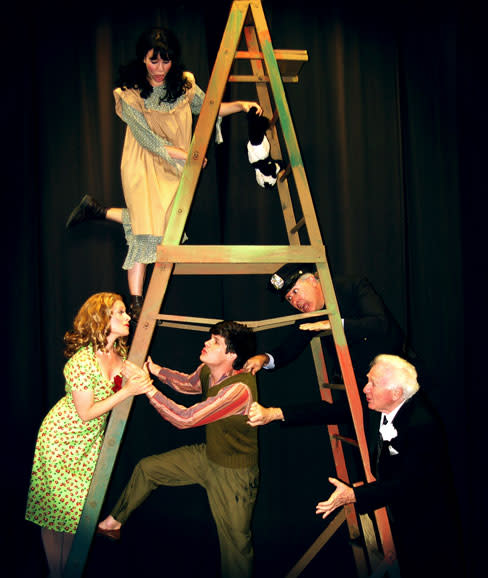 The regular season for the Players is going out on a strong note with the current production: Urinetown is one of the better shows of the year there, and maybe even of the several past seasons.
In case you haven't seen the show before, and are put off by its title, the creators—Mark Hollmann and Greg Kotis—are way ahead of you on that one, addressing the unpleasant nature of the title early on. The musical also deals with water shortages, corporate greed and political corruption—matters you might not think are funny in real life but will definitely entertain you here.
Urinetown is built on the maybe-not-so-far-out premise that a long drought has made it necessary to ration water and, therefore, private toilets are a thing of the past except for the rich and powerful. Ordinary down-and-outers have to pay for the privilege to pee at an "amenity" you wouldn't want to see the inside of.
Penelope Pennywise (Alana Opie) is one of the employees of the company—UGC, or Urine Good Company—that owns such amenities and charges for their use. She's tough, but kind enough to her co-worker, young Bobby Strong (Jason Ellis), whose father, Old Man Strong (Berry Ayers), makes the mistake of peeing without paying and promptly gets carted off to the dreaded Urinetown by the cops—all two of them—Officers Lockstock (Chris Caswell) and Barrel (JD Carter).
That puts Bobby and his cohorts on the street in the mood for a revolution. But matters get tricky because Bobby's also fallen into instant love with the young, innocent daughter (Sarah Cassidy) of the man who runs UGC, the avaricious Caldwell B. Cladwell (Robert Turoff, who also played this role several years ago at the Golden Apple Dinner Theatre).
Everyone mentioned in the cast so far is excellent, and they're joined by Ashley Jai as Little Sally, a streetwise urchin whose comic exchanges with Lockstock often knowingly refer to the Broadway musical formula (Urinetown makes good use of numbers that seem familiar from shows like Fiddler on the Roof or Les Miserables) and an ensemble cast that delivers big time.
Kudos go to both musical director Rick Bogner and director/choreographer Kyle Turoff, who knows how to make every one of the performers onstage have something to do that's believable for their characters and to work as a unit as well. Her choices set the absolutely right tone of heightened melodrama for comic effect.
The production also benefits from effective lighting by Nick Jones and costuming by Kaylene McCaw as well, along with a dingy, depressing set originally designed by Michael Newton-Brown for that Golden Apple production.
Funny, unusual, and maybe even with something of a message (shudder), Urinetown is a show you shouldn't miss seeing just because of the name. It continues at the Players through April 27; for tickets call 365-2494 or go to theplayers.org.