Article
FSU/Asolo Conservatory's Antigone
Arts editor Kay Kipling reviews this production of Jean Anouilh's version of the Greek tragedy.
[caption id="attachment_1626" align="alignnone" width="488"]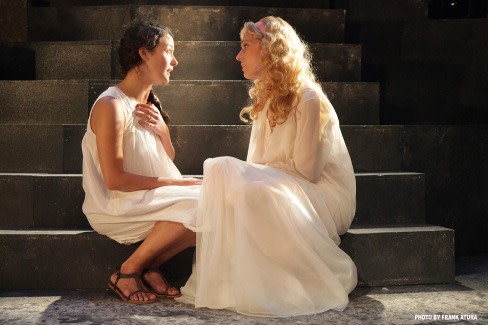 Andrea Adnoff as Antigone and Gracie Lee Brown as Ismene in Antigone. Photo by Frank Atura[/caption]
By Kay Kipling
On occasion, the FSU/Asolo Acting Conservatory has presented seldom-seen plays from the classical repertoire—or equally rare contemporary versions of them—that are worthwhile acting exercises for the MFA acting students, but not always as enthralling for the audiences. Not so with the Conservatory's current production, Jean Anouilh's retelling of the Greek tragedy Antigone; it's a frequently riveting piece that is as relevant now as it was in Athens, or in the Nazi-occupied Paris where this version first played.
Led by the strong vision of director Andrei Malaev-Babel, this Antigone mixes time periods successfully, with costumes by David Covach that could be from several periods and a set design by Richard E. Cannon that fuses the Greek and modern world. Lewis Galantiere's translation of the work likewise features speeches that can sound oratorical at one moment and almost jarringly slangy the next. The result could be a mishmash, but instead it works to keep us aware of issues and consequences that reverberate through time.
The immediate issue at hand: Young Antigone (Andrea Adnoff), daughter of the late King Oedipus, wants to bury her brother, who has died in a raging civil war brought to a conclusion by her uncle, the new King Creon (Brian Owen). Creon has forbidden the burial, as a lesson to rebels and his citizenry, but Antigone, and to some extent her sister, Ismene (Gracie Lee Brown), believe that their brother's soul will wander endlessly without rest or peace unless his body is properly buried. Creon's son, Haemon (Paul Herbig) is engaged to Antigone, and thus drawn into the struggle by his love for her.
[caption id="attachment_1627" align="alignnone" width="488"]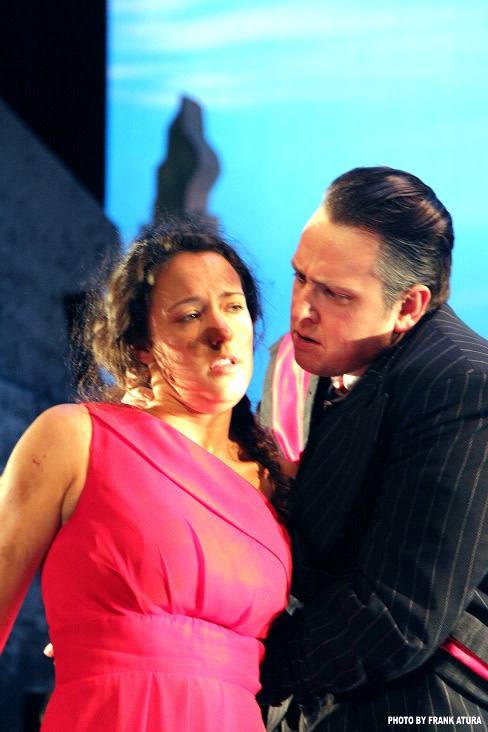 Adnoff with Brian Owen as Creon. Photo by Frank Atura[/caption]
We are introduced to all of these characters by Chorus (Olivia Williamson), who in Anouilh's construct deliberately sets up what we are about to see as a play, with actors playing determined roles and meeting predestined fates. Through her mouth, Anouilh also explains to us the difference between a melodrama and a tragedy, saying there is something "restful" about a tragedy, because we know how it will turn out and there is no escaping it.
But Creon, for all of his faults, wants to try to prevent Antigone from throwing away her life for what he cynically (but perhaps rightly) sees as a pointless gesture. In the play's crucial extended scene (the show runs for 110 minutes with no intermission), he and Antigone face off in some of Anouilh's most thoughtful and compelling dialogue. And as played by Owen, who's highly eloquent here, it's easy enough to see Creon's point of view, as an older, wiser man faced with the burdens of leadership.
But Antigone, feelingly played by Adnoff, is a match for him, although at one point almost breaking down. With a resolution that must have eluded the Nazi censors at the time of its debut (but also provided inspiration to French Resistance fighters), she says simply that even if her actions cannot defeat oppression and lead to her own death, "What a person can do, he ought to do." Meanwhile, the ordinary man—as represented by three black-clad guards who follow their orders no matter what—play on with their games of cards.
This is an Antigone that engages both the mind and the heart. It continues at the Cook Theatre through April 27; for tickets call 351-8000 or go to asolorep.org.