Article
Ringling Town Hall: Leon Panetta
Ringling Town Hall welcomes the former Secretary of Defense.
By Kay Kipling
Former Secretary of Defense (and former CIA director) Leon Panetta closed out the Ringling College Library Association's Town Hall 2014 series with an appearance this morning (and one this evening) at the Van Wezel Performing Arts Hall. It's a day that also saw the announcement of the 2015 speakers (more on that in a moment).
[caption id="attachment_2096" align="alignnone" width="488"]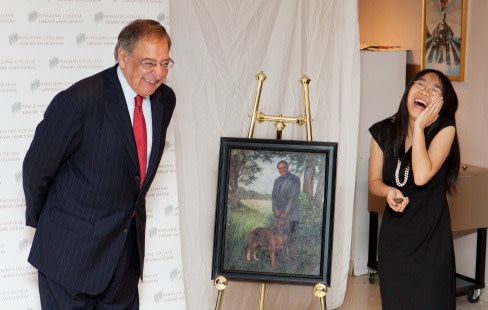 Leon Panetta with Ringling College student Grace Cheung. Robert Pope Photography[/caption]
Panetta met with a group of reporters, sponsors and the young Ringling student (Grace Cheung) who painted his portrait with his dog, Bravo, backstage before taking the stage, answering a handful of questions. About the recent speech by U.S. Sen. Dianne Feinstein alleging CIA spying on the Senate Intelligence Committee, Panetta said, "I don't know what led to the present situation, but it's regrettable. As the director of the CIA, I thought it was incredibly important to have a close relationship with the Senate Intelligence Committee….it's not a good time to have that dispute, as it's still a dangerous world with regard to terrorism and threats from North Korea, Russia, China and cyberterrorism. I deeply regret what's taken place and hope we can concentrate on the future."
Panetta also addressed, both in the briefing and in a Q&A session after his speech, the attacks on the American embassy in Benghazi, saying that mistakes were made—"the biggest of them being the talking points afterwards; I can't imagine how we could say it was a spontaneous demonstration there. With the weapons involved, there had to be Al-Qaeda" involvement as well.
In speaking about Russian leader Vladimir Putin and the Crimean situation, Panetta said we need "four things: strong sanctions, military aid and assistance to Ukraine, to continue to deploy and support NATO countries, because any time one of them is invaded, we all are, and to begin to develop alternate energy resources" to decrease any dependence on Russian oil.
[caption id="attachment_2097" align="alignnone" width="488"]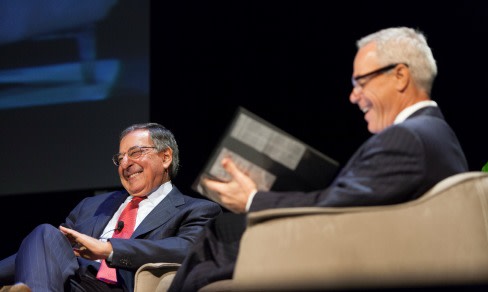 Panetta with Town Hall 2014 chair Jay Logan. Robert Pope Photography[/caption]
Once he took the stage, Panetta also talked about political gridlock in Washington, saying that in his 50 years of public service he's never seen things so divided, and adding that if "change doesn't come from the top, it has to come from the bottom up," urging young people to get more politically involved—something he also encourages with his California-based Panetta Institute for Public Policy. He drew laughs from the crowd on several occasions, especially when relating how his father, a walnut farmer, told Leon he was well equipped for Washington because, as a youngster helping on the farm, he'd been "dodging nuts all your life." And another story that brought laughs, related to his call for action from the public to fight to change things in government, centered on a rabbi and a priest who go to a boxing match, to learn more about each other and their faiths.
Said Panetta, "So one of the boxers makes the Sign of the Cross, and the rabbi asks the priest, 'What does that mean?' The priest responds, 'It doesn't mean a damn thing if he can't fight.'"
Prior to Panetta's talk, Town Hall 2015 chair Nancy Morgan announced the slate of upcoming speakers:
Conservative political columnist Charles Krauthammer (Jan. 13)
Former Utah Gov. Jon Huntsman Jr. (Feb. 2)
Writer and explorer Dan Buettner (Feb. 23)
Somali-born advocate for women Ayaan Hirsi Ali, who will be interviewed by Katty Kay on March 4
Cosmos show host Neil deGrasse Tyson (March 23)
Former Federal Reserve chair Ben Bernanke (March 31)
A Platinum Appreciation Dinner speaker and date are still TBA.
Of that line-up, Krauthammer, Bernanke and Tyson seemed to draw the most reaction from the audience. For the first two, that interest is political or financial; for Tyson, it may be because he's been dubbed "the sexiest astrophysicist alive."
[caption id="attachment_2098" align="alignnone" width="488"]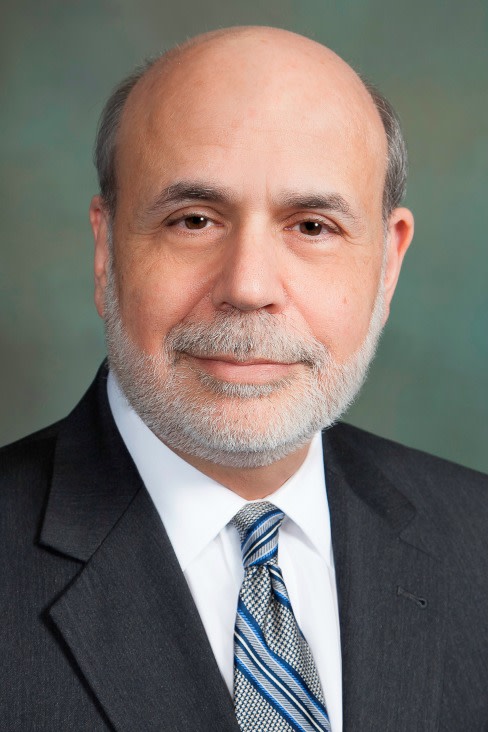 Ben Bernanke[/caption]
[caption id="attachment_2099" align="alignnone" width="488"]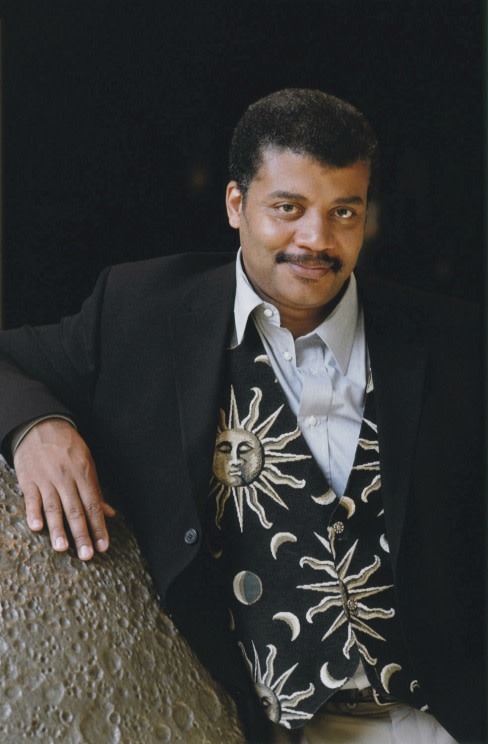 Neil deGrasse Tyson[/caption]
For information about subscribing to the Town Hall series, visit rclassociation.org or call (941) 925-1343.