Article
Manatee Players' Man of La Mancha
Arts editor Kay Kipling reviews The Impossible Dream musical.
[caption id="attachment_1178" align="alignnone" width="488"]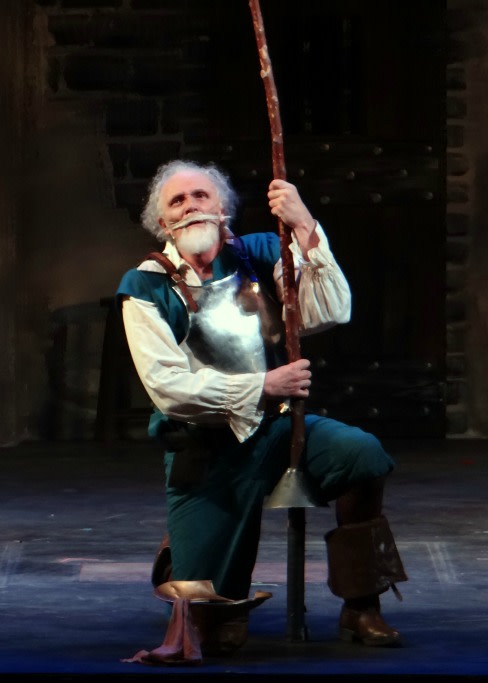 Robert Austin in Man of La Mancha.[/caption]
By Kay Kipling
Never underestimate the power of a song. Ask people what they remember about the Broadway musical Man of La Mancha (which originally bowed in 1965) and they will tell you: The Impossible Dream. It seemed a fitting anthem for much of the era, and that song still serves to lift the spirits, as it does in the Manatee Players' current production of the Dale Wasserman/Mitch Leigh/Joe Darion show.
Not that there aren't other good numbers in this piece about Miguel de Cervantes and his creation, Don Quixote, many of them with a fittingly Latin rhythm. But Dream is the song that the Knight of the Woeful Countenance makes his own, and the one that wins over the doubters and detractors he has in this version of the Cervantes classic.
Cervantes (Robert Austin) lands in prison during the Spanish Inquisition, for the unwise move of pursuing a monastery to pay its taxes, and he finds himself on trial there, not only by the Catholic Church, but by his fellow prisoners, most of them thieves, murderers, prostitutes and the like. So, with the help of a trunkful of props, the snap of a finger for special lighting effects, and his faithful companion (Quixote's Sancho Panza, played by Stephen F. F. Pustai II), he introduces his jury to his alter ego, Don Quixote, to see if they'll find him innocent—or guilty—of being a stupid man.
There were some technical issues in the production the night I attended (including a contrary moustache-beard contraption that gave Austin some trouble early on), but this was a preview (on Wednesday night), and some of those problems may have been solved by Thursday's formal opening. In any case, this Man of La Mancha has several strengths to override those quirks.
Austin has the physical nature and the vocals to play Cervantes/Quixote, and he's touching when singing the show's aforementioned theme song. He's got some strong backing from Michelle Anaya as his niece, Betty Robinson as his housekeeper, and Philip Alexander as his priest, who with Heath Jorgensen as the niece's doctor fiancé, do a nice turn on We're Only Thinking of Him—their excuse for trying to get the errant knight back home. (Alexander also does a nice job on To Each His Dulcinea (To Every Man His Dream). And Pustai as Panza is also right physically and comedically as Sancho.
[caption id="attachment_1179" align="alignnone" width="488"]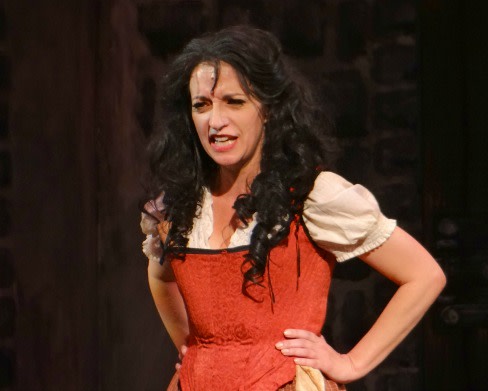 Eve Caballero as Aldonza.[/caption]
But the strongest dramatic performance may come from Eve Caballero as Aldonza, the scullery maid/trollop Don Quixote (naturally) sees as his fair and innocent Dulcinea. That view places her in an awkward position, especially with the low-life muleteers who regularly taunt and pursue her, and Caballero is impressive both vocally and in her acting on defiant songs like It's All the Same and Aldonza, the latter telling her true, sad story.
Overall, the lighting, set, costumes and music direction (and the direction and choreography, by Bob Trisolini) lend a great deal of atmosphere and interest to the production, and while there are rough patches along the way, most audience members will find themselves uplifted by the end of the evening. Man of La Mancha continues through April 6 at the Manatee Performing Arts Center; call 748-5875 or go to manateeplayers.com for tickets.