Article
Photographer Platon Speaks at the Van Wezel
Photographer Platon was the latest speaker in this year's Ringling Town Hall lecture series.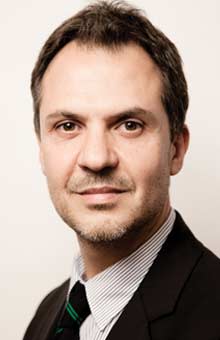 World-renowned photographer Platon has taken myriad portraits, from familiar faces such as actor Al Pacino and President Bill Clinton to lesser-known but equally important individuals like American soldiers and Burmese refugees. Platon's lecture at the Van Wezel on Jan. 28, part of this year's Ringling College Library Association Town Hall series, allowed the audience an opportunity to hear firsthand some of the more fascinating stories behind the photographer's striking images.
"I'm not a photographer. I'm a storyteller," said the photographer, whose portraits range from larger-than-life celebrities to widows of American soldiers. Platon, however, offered the audience a more in-depth story during his talk, riddled with fascinating details that unveil how his photographs came to life in the first place.
With his images blown up on the projector screen behind him, Platon paced the stage and took the audience on an adventure, recalling behind-the-scenes moments like the time he captured the infamous Bill Clinton photograph for the cover of Esquire. Of the president, Platon asked, "Will you show me the love?" And it was in that moment, with a wide-angle lens attached to his camera, that Platon captured Clinton leaning back against his chair, legs spread, hands on knees. Platon had been told to photograph Clinton as tastefully as possible, since the shoot took place during the aftermath of the President's Monica Lewinsky scandal. But Platon, figuring he would never get the chance to photograph another president, decided to take advantage of what he assumed would be a once-in-a-life-time opportunity. (Little did he know he would be given the chance to photograph many more powerful political figures in his career, including President Barack Obama.)
It is this daring, seize-the-moment mentality that has helped make Platon the acclaimed photographer he is today, though he was quick to remind his audience that he is, in his own words, "just a normal person, like anyone else." But not everybody would be gutsy enough to run from Burmese police after secretly photographing opposition politician Aung San Suu Kyi. Nor would just anyone be comfortable enough to casually ask Russian President Vladimir Putin, "Do you like the Beatles?" in an otherwise icy atmosphere during a photo shoot.
After the talk, Platon participated in a short Q&A, during which he regaled the audience with another story about his very first photo shoot in which he was to photograph Anthony Hopkins, just days after the actor was reported to have attacked a photographer. Platon remembered how he felt the day he was set to photograph Hopkins: "I didn't realize at the time, but I was having a panic attack." Nerves took over as Platon attempted to set up for the shot, and just as he was deciding that perhaps the photography industry wasn't quite for him, Hopkins politely demanded a hug of the then-green photographer, helping quell Platon's nerves.
Next up in the Ringling Town Hall lecture series is New York City police commissioner Raymond Kelly, who will be replacing previously scheduled speaker Lara Logan. All tickets for Logan's talk will be honored; for more information and to purchase tickets to hear Kelly speak, click here.