Article
Venice Theatre's Boeing Boeing
Arts editor Kay Kipling reviews Marc Camoletti's popular farce.
[caption id="attachment_1107" align="alignnone" width="329"]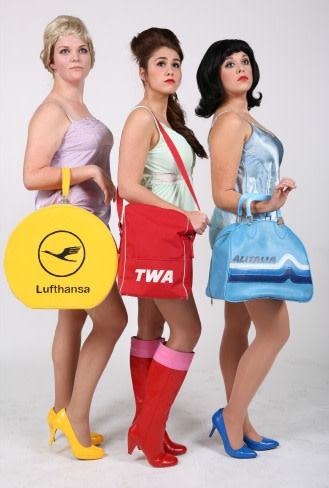 Alison Prouty, Arianna DeCecco and Tarah Hart in Boeing Boeing.[/caption]
By Kay Kipling
An apartment in Paris, a maid, a high-flying lifestyle that includes hot-and-cold-running stewardesses—what could go wrong with a setup like that?
Well, in Marc Camoletti's durable farce, Boeing Boeing, now onstage at Venice Theatre, plenty—else there wouldn't be a show, would there? With its swinging bachelor and his juggling of three sexy "fiancees," this is clearly a piece dating from the 1960s, but it's found new life in the past few years, in London, on Broadway, and around town, too. Audiences typically respond to farces well (perhaps better than critics, in general), and the cast of the show works hard to earn their laughs.
We open on a set (by Jeffrey Weber) that accurately represents a comfortable but not very personal bachelor pad (complete with all the doors requisite for any farce). It belongs to Bernard (Ronald Krine Myroup), who's found what he believes is the perfect formula for happiness with three women, all flight hostesses, each of whom believes she's his one and only.
There's his American one, Gloria (Arianna DeCecco, who adopts a Brooklyn-y accent that quickly grows grating), his Italian one, Gabriella (Tarah Hart), who's passionate and voluble, and his German one, Gretchen (Alison Prouty), a tall Teuton who likes to give orders. With the help of his long-suffering maid, Berthe (Candace Artim), and his carefully consulted timetables of the women's flight schedules, Bernard has been able to manage his menage. But two things upset the apple cart: the arrival of his old (and naïve) friend, Robert (Kristofer Geddie), who gets reluctantly caught up in all the subterfuge, and the advent of a new, faster airplane that's going to play havoc with Bernard's schedule.
In the way of farce, excuses and explanations get rapidly more outrageous as the women get suspicious and Robert, in particular, gets nervous. Geddie is pretty high-pitched in the role from the get-go, seeming anxious even before he has any reason to be. But as things get more desperate, his changing emotions and expressions can be fun to watch. Myroup is at his best toward the end of the second act, when the size of his problem really hits him.
Of the three young women, Prouty gets the most fun role, as she alternately abuses and seduces the willing Robert. (They're all pleasing to look at, in their color-coded, miniskirted uniforms designed by Becky Evans.) And Artim (although her seemingly French accent comes and goes) delivers an entertaining mix of frustration, manipulation and exhaustion as the maid overtaxed by her duties in deception.
For me, there were not as many laughs as I'd hope to find in a show that runs nearly two-and-a-half hours (with intermission). But part of that may be the feeling of having seen it all before. For a newcomer to the show (or the genre), Boeing Boeing may be a more exhilarating flight.
Boeing Boeing continues through Feb. 2; for tickets, call 488-1115 or go to venicestage.com.