Article
Former President George W. Bush Opens 2014 Ringling Town Hall Lecture Series
Bush spoke to two sold-out and enthusiastic crowds.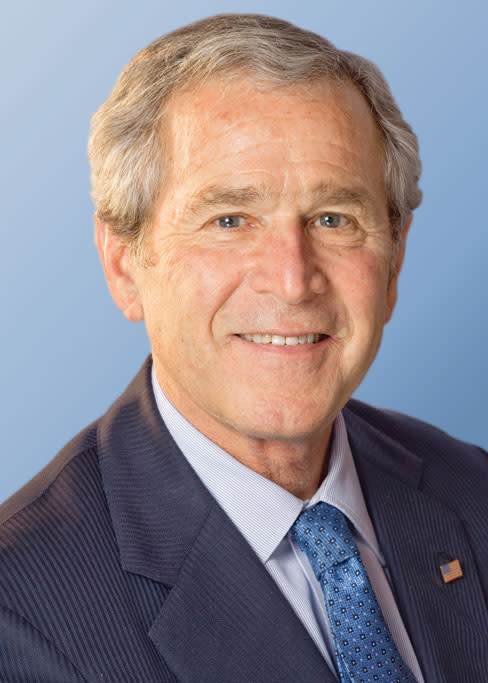 Former President George W. Bush opened the Ringling College Library Association's Town Hall lecture series Tuesday with two sold-out talks before enthusiastic audiences at the 1,731-seat Van Wezel Performing Arts Hall in Sarasota.
Security was heavy. Lecture-goers had to pass through screening machines and pocketbooks were inspected; stage signs admonished no photography, videotaping or note-taking; and media was allowed in the auditorium for the first three minutes only.
Bush displayed self-deprecating wit and expert comic timing throughout his 30-minute speech as he talked about bringing his lifelong friends from Midland, Texas ("Ever been to Midland, Texas?" he asked. "It's the exact opposite of Sarasota") to tour the Oval Office, and how his first executive decision was what rug to select. ("I don't know anything about rug design, and if I did, I wouldn't want anyone to know it," he said.) He talked about the art he selected for the Oval Office walls (images of Texas and portraits of past presidents). "I carry my father's portrait in my heart, but I chose 16, Abraham Lincoln, for the wall." He said he chose his desk, the Resolute—originally gifted to President Rutherford B. Hayes by England's Queen Victoria and used by both FDR and John F. Kennedy—as a constant reminder that his own presidency was "part of something much bigger."
Bush, of course, had been in Sarasota, sitting in a classroom at Emma E. Booker Elementary School listening to children read to him, on the morning of Sept. 11, 2011, and the most gripping part of the half-hour post-speech question-and-answer session with Town Hall chair Jay Logan was his recounting of that terrible morning. When he heard about the first plane, "I didn't know how big a plane and being a pilot, I thought somebody had had a heart attack," he said. When chief of staff Andy Card whispered in his ear that a second plane had hit the World Trade Towers, Bush says, "I knew it was an act of war, and I was boiling mad." Then he looked at the young child reading to him and "my attitude changed. I knew I had to protect him and his family and all the families out there."
Although Bush admitted that, "I said a lot of stupid things during my presidency," he displayed certitude about certain issues like the war in Iraq. Getting rid of Saddam Hussein, he said, was "the right thing to do."
Since his speech was sponsored by an art school, he also talked about how, inspired by Winston Churchill's mid-life pursuit, he took up painting as a post-presidential hobby. "I didn't want the Presidency to define my life," Bush said. "I want to keep living. Painting has changed my life; it's changed my perspective on everything."
Click here to read writer Bob Plunket's account of his time with President Bush in the hours leading up to September 11. >>