Article
Hermitage Artist Retreat's Trip to New York City
Some of us flew in together from Sarasota.
As president of the board of the Hermitage Artist Retreat, I've just returned from a happily head-spinning four-day trip to New York, where Hermitage Artist Retreat executive director Bruce Rodgers led 25 board members and supporters on a remarkable arts adventure with many of the New York-based visual artists, playwrights and composers who have had residencies at the Hermitage.
2013 Hermitage Greenfield Prize winner Trenton Doyle Hancock at the James Cohan Gallery, talking to us about his newest work.
How's this for an itinerary? The trip started with a cocktail party at the beautiful Park Avenue apartment of a board member of the Peterborough, N.H.-based MacDowell Colony—the mother of all American artist retreats, founded in 1907—where four Hermitage Greenfield Prize winners—playwright Craig Lucas, painter Trenton Doyle Hancock, and composers Eve Beglarian and Vijay Iyer (he just won a MacArthur Foundation "genius" grant)—filled us in on their latest creative endeavors. Kamala Sankaram, a young Indian-American composer who worked on her contemporary opera, Thumbprint, at the Hermitage earlier this year, sang a brief preview of the work.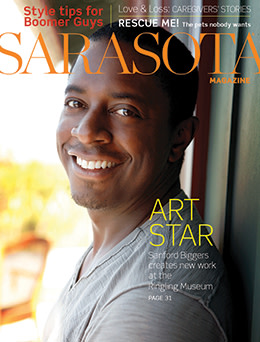 Next morning, it was off to Harlem and the studio of Hermitage Greenfield Prize winner Sanford Biggers. (Movie-star handsome; when we featured him on the cover of our March 2012 issue, pictured above, two women emailed us, asking if he's married.)
We also visited the nonprofit Elizabeth Foundation in Tribeca, which gives working studio space to some 75-plus artists at greatly reduced rent. Like the Hermitage, the foundation invites artists to participate based on the quality of their work. Hermitage artist Michael Eade, who has called the Elizabeth Foundation his creative home for seven years, coordinated tours of his studio, and the studios of David Collins and Susan Frecon (she was featured recently in Arts and Antiques). All completely different in their approaches and all hugely interesting to talk with. The famed Robert Blackburn Printmaking Workshop is also based there, and we got a lesson in printmaking from its director, Phil Sanders—a graduate of Englewood Elementary, if you can believe it.
At the Brooklyn Academy of Music—whose executive director, Joe Melillo, chairs the Hermitage national committee—we saw the thrilling New York premiere of French choreographer Angelin Preljocaj's, And then, one thousand years of peace. Part of BAM's famed Next Wave Festival, it was a daringly original 110-minute work about the Apocalypse performed by his company of 21 gifted dancers. In the last moments, bathed in soft light, two of them led a pair of innocent lambs on stage. The sold-out house of 2,000-plus went wild.
Lunch in Tribeca at Bottino's.
We also spent an evening at Symphony Space, whose executive director, composer Laura Kaminsky, is on our board. She and Bruce Rodgers had invited some 60 Hermitage artists to contribute essays, poems, music, video and artwork around the theme of November 21, 1963: The Day Before. My personal highlight of the multimedia event was playwright John Guare reading a gripping memoir of being stationed at Lackland Air Force Base in San Antonio on the fateful day of JFK's assassination. Please develop it into a play, Mr. Guare, and I'll be the first to buy a ticket.
And then—to end the trip on a high note—we took in the groundbreaking Metropolitan Opera production of Two Boys, a collaboration between composer Nico Muhly and librettist Craig Lucas, composed in large part during their stays together at the Hermitage. Afterwards, Nico—irrepressibly articulate and energetic at just 32 years old—attended our cocktail reception and talked about working on Two Boys in the old pump house at the Hermitage.
Do I feel proud of what the Hermitage has accomplished in a short 10 years—giving precious creative time and space to now hundreds of accomplished artists? You bet.
-Ilene Denton, senior editor