Article
Five Fun Spots Where You Can Shake It in Sarasota
Cooper Levey-Baker reports back on five fun Sarasota nightclubs.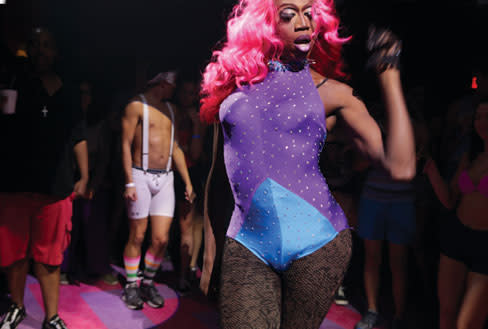 As Ecclesiastes (or was it the Byrds?) reminds us, to every thing there is a season. Some nights are made for chin-stroking at the theater, others for absorbing the nuances of abstract art, still others for politely applauding the genius of the Goldberg Variations. And then there are those other nights—made for dancing, for shaking a leg, hoofing it, getting down, gamboling, gyrating, thrusting, twerking.
Here are five spots where locals love to cut loose, each with a crowd, atmosphere and vibe all its own.
Throb Nightclub
Throb's address says Industrial Boulevard, and you'd better believe it. Tucked inside a north Sarasota district dominated by warehouses and machine shops, the place is almost impossible to find after dark. Your only guidepost: the brightly lit chandelier hanging outside the front door.
Owner Brian Zickafoose opened the gay- and lesbian-friendly club in January 2012; he says the out-of-the-way location means zero complaints about noise. "Downtown, there's always an issue with sound and parking, and just people in general being crazy after leaving the club," he says. No such issues at Throb, where the pulsing dance beat is audible even before you park.
There's a second chandelier dangling above the dance floor inside, where young'uns grind away. Slender go-go boys in tuxedo-themed undies gyrate on raised platforms and cruise around serving customers booze from test tubes.
At midnight begins the drag show, and the night's performer comes out lip-synching to a disco track and accepting tips and pics from eager fans. The DJ spins a never-ending house groove, a kind of music I've never liked. But out there dancing, it makes a whole lot of sense. With no pause between songs, there's no excuse to stop dancing. By night's end, my calves are aching. 2201 Industrial Blvd., Sarasota, 358-6969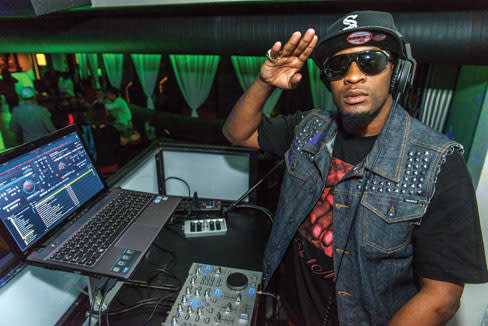 Prana owner William Lopez, who ran the restaurant Two Amigos just down U.S. 301 for 17 years, says he jumped into the nightclub game because he always wanted to own a place that had a full liquor bar. He seems to be still in the process of defining what his club will be. It sometimes hosts special events, like a recent party for the debut of a local woman's new music video. He's also launched some Mexican-themed Friday nights that will feature Tejano music. Lopez recently added a lunch and dinner menu, and while I'm too late for both, he promises "old favorites" from the Mexican tradition. But as for entertainment, he's open to pretty much anything.
Most nights, there's no special theme, just a DJ spinning tunes that send pulsating electro rhythms that get the mainly young crowd up and dancing. Tonight the crowd is light, but the venue is beautiful, full of soft lighting that gradually shifts hues. Think James Turrell gone clubbing. Guys in jeans and pretty, cleavage-popping ladies gather around buckets of beer. I may not know everything the DJ is playing, but I can recognize people having a good time. 1118 N. Washington Blvd., Sarasota, 343-2614 or facebook.com/pranasrq
It's Saturday night, and the parking lot at Sarasota's White Buffalo is spilling over into side streets. Surely, I think, this place must be wall-to-wall people.
But no. The White Buffalo is above all massive, and while the crowd tonight is enormous, there's plenty of space for everyone. That's true even on the dance floor, where dozens of honky-tonking ladies in jean shorts, boots and tank tops are grooving left and right to the tunes coming from The White Buffalo Band, the house septet on stage. To call these guys (and one gal!) a cover band would be a grave insult. The unit blazes through a wide variety of popular country tunes with impressive showmanship. And you gotta love nightly traditions like "holler and swoller," which consists of, you guessed it, screaming loudly, then guzzling whatever beer you're fisting.
White Buffalo, the brainchild of Evie's moguls Steve and Mike Evanoff, opened in November 2012, and has already earned a spot in Sarasota's country-loving heart. Where else can you hear a band shout out the virtues of coming from Fruitville, the town? "Finally, there's real country music in Sarasota," one of the guitar players tells the crowd. Amen. 5377 McIntosh Road, Sarasota, 927-6655 or thewbsaloon.com
Captain Curt's Crab & Oyster Bar
When it comes to karaoke, everyone knows the regulars at Siesta Key's Captain Curt's take it seriously. Dave Holland, who's been running the boards for more than four years, says any given night can feel like American Idol. No joke. One dude in a camouflage baseball cap has no trouble hitting every high note in a Hall & Oates ballad, while a young lady swaggers away to the Fugees' Killing Me Softly cover.
Even tourists know Captain Curt's is where you go to sing your heart out. Holland sees the same faces come into the bar from year to year. True, recognizing someone can sometimes be a bad thing. "Some, you cringe a little bit," he says. (Luckily, he doesn't recognize me as the guy once booed offstage after not one but two lackluster Kanye West imitations.)
Holland credits the impressive top-shelf equipment at Captain Curt's for the popularity of karaoke nights. He's worked a lot of venues where karaoke has been an afterthought, but not here. Here, it's the real deal. 1200 Old Stickney Point Road, Sarasota, 349-3885 or captaincurts.com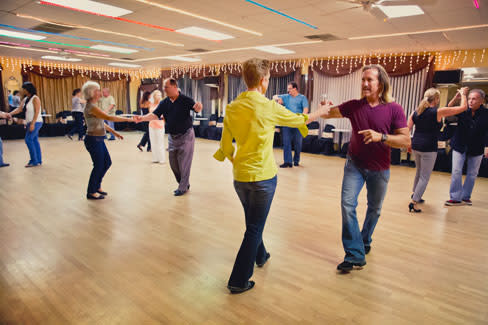 "Five, six, ready and..." Sabrina Paxmann prowls Sara Dance Center's wooden floor, watching her 14 students at work. Paxmann, a German-born world-champion line dancer (for reals), is in the midst of a beginner's lesson in West Coast Swing, an increasingly popular form of dance both competitive and social. She says the West Coast style is perfect for a wide variety of genres, from blues to hip hop, and is popular because "It's a lot more casual than ballroom."
Paxmann is one of several instructors who teach a variety of dance styles at Sara Dance. The teachers are responsible for establishing their own clientele and running their own classes. The studio is one of the few places in town where you can dance every night of the week. Beginner's classes typically start at 7 p.m., with intermediate lessons later.
And then there's the free dance portion. At 8, Paxmann kills the studio's overhead fluorescent lights and pumps Al Green's Love and Happiness, which, come on, would get anybody in the mood. Paxmann's students—most of them here solo—try out the moves they just learned, give each other tips and laugh about missteps. Yes, they're here to study, but what's the point if you can't have a little fun, too? 5000 Fruitville Road, Sarasota, 377-1751 or saradance.net
For more news from around Sarasota, read our Hot & Happening blog.
This article appears in the November 2013 issue of Sarasota magazine. Like what you read? Click here to subscribe to Sarasota magazine. >>