Article
Asolo Repertory Theatre's Show Boat
Arts editor Kay Kipling reviews the Asolo Rep production of this classic musical.
[caption id="attachment_1053" align="alignnone" width="488"]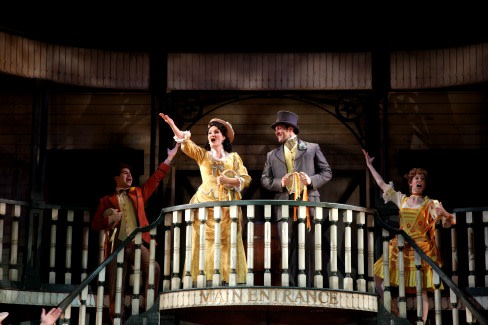 Denis Lambert, Daniella Dalli, David Sattler and Elisa Van Duyne in a scene from Show Boat. Photo Frank Atura[/caption]
By Kay Kipling
Any doubts I may have had about whether or not the Asolo Rep's musical Show Boat, which first bowed in 1927, would still seem timely or appealing today vanished quickly once the show began on opening night.
The season-opening production, directed by Rob Ruggiero and scaled down in size somewhat from the original (or the 1994 revival), still tells a grand story of life and love along the Mississippi River on the Cotton Blossom, one spanning nearly 40 years and a range of moments both amusing and tragic. Edna Ferber's novel, from which the musical sprang, had something for everyone: the star-crossed lovers Gaylord and Magnolia (Ben Davis and Marissa McGowan), the comic relief (arising largely from song-and-dance team Frank and Ellie May, played by Denis Lambert and Elisa Van Duyne, along with the sassy Queenie, portrayed by E. Faye Butler with elan), and the feeling of that "big, happy family" the boat's Captain Andy (an engaging Joel Blum) refers to often, even when squabbles or jealousy take over.
And, perhaps most remarkably for the time period, it has the ever-poignant story of Julie (Daniella Dalli), the mixed-race wife of a white man (David Sattler), whose happiest moments are aboard the Cotton Blossom with her beloved Nola, singing along with her fellow females as they admit they can't help "loving dat man," no matter what his failings. That number, performed with zest in the pantry of the Cotton Blossom, is one of Act I's highlights, as of course is the moving Ol' Man River, delivered with strength and emotion by Joe (Michael James Leslie) and the hard-working stevedores whose lives are shaped by the color of their skins and the demands of the river.
These songs and others in the Jerome Kern-Oscar Hammerstein II score feel fresh and potent as ever, as delivered by the orchestra under the direction of F. Wade Russo.
[caption id="attachment_1054" align="alignnone" width="488"]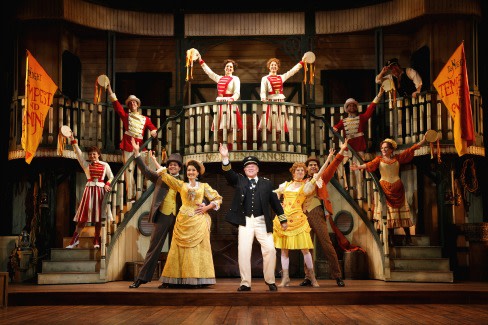 The cast of Show Boat. Photo Frank Atura[/caption]
In Ruggiero's imagining of the show, the Cotton Blossom set (designed by Michael Schweikardt) places us in the audience not just of Show Boat, but of the Cotton Blossom performances itself. Actors frequently wend their way on and offstage through the theater aisles, and we feel very much a part of the action.
Ruggiero has streamlined some of the Act II transitions here, as we move from the Gay 1890s to 1927 and from the boat to hotel rooms and nightclubs in Chicago, where Magnolia eventually seeks work. It's there that (unbeknownst to Magnolia) the long-lost Julie spots her old friend (after performing a scorching rendition of the torch song Bill) and makes the generous gesture that determines both their fates.
But we don't have a feeling of missing anything, thanks to the eye-beckoning costumes (by Amy Clark), the choreography by Noah Racey (which smoothly transitions between "staged" musical numbers and those where the movement feels more spontaneous), and the commanding performances, especially by Dalli, Leslie, Blum, Davis (a true leading man type), Dorothy Stanley as the sharp-tongued Parthy, and McGowan, who matures believably from a starry-eyed girl to an older and wiser woman.
More than 80 years after its debut, Show Boat remains a musical with undeniable impact. It continues through Dec. 29; call 351-8000 or go to asolorep.org for tickets.