Article
Venice Theatre Stage II's Frankenstein
Arts editor Kay Kipling reviews this incarnation of Mary Shelley's famous story.
[caption id="attachment_1013" align="alignnone" width="488"]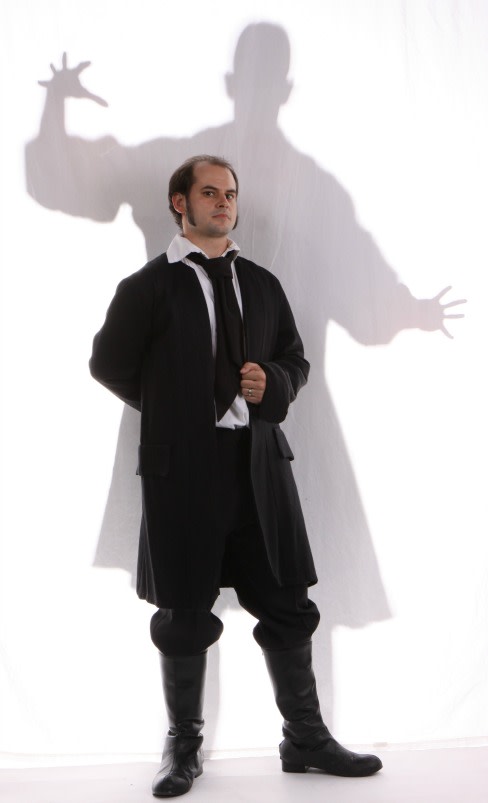 Jeremy Guerrero as Victor in Venice Theatre's Frankenstein.[/caption]
By Kay Kipling
You may think you've seen Frankenstein many times, and chances are you have seen several versions of the classic horror tale, from the 1930s James Whale film version with Boris Karloff to Mel Brooks' musical spoof, Young Frankenstein. But you probably haven't seen many versions that hew as closely to Mary Shelley's original novel as the one currently onstage at Venice Theatre's Stage II, by playwright Bo List.
List begins his tale of Dr. Victor Frankenstein on board a ship in the far North, where the ailing scientist (Jeremy Guerrero) is telling his terrible tale of misguided ambitions to the captain (Rik Robertson), who himself has the ambition of reaching the North Pole no matter what the cost to his men. Frozen in ice, the two men have time to look back over the sad history of an idealistic young man who wanted to prevent death from taking those he loved—only to wind up losing everything.
That we all know how this ends doesn't detract from the power of Shelley's still relevant story, as we meet Frankenstein's loved ones—his cousin/fiancée Elizabeth (Alison Prouty), father Alphonse (Jim Walsh), little brother William (Carson Rudolph), best friend Henry (Jose Cruz) and family friend and helpmate Justine (Vera Samuels)—and feel the foreboding that surrounds them thanks to Victor's strange ideas. He shares these with a teacher (Rick Kopp) who himself has known the anguish of working with reanimation in the past and advises the young Victor against such follies. But Victor will not be deterred.
One of the most important differences between the creature of Shelley's book and the most famous film rendering of him is that her creature, like the one here (played by Steven O'Dea), though fearsome when first brought to life, is able to learn and become articulate after his desertion by his creator, thanks to the care of (naturally) a blind man (Herbert Stump), who cannot see his features but can see his soul. But when his life with this caring individual comes to an end, the creature (who's been reading Milton's Paradise Lost and knows all about Satan and hell) is bent on exacting a terrible revenge.
There's actually a lot of action, and a lot of words (sometimes too many) to cram into about two hours and 15 minutes (plus intermission) in the play. But there are many pluses: director Kelly Wynn Woodland (with the assistance of fight choreographer Peter Ivanov) has managed to make most of that action convincing in the smallish confines of the Pinkerton Theatre, and she elicits strong performances from many in the cast. O'Dea is both menacing and sympathetic as the Creature, Stump is affecting as the blind De Lacey, and newcomer Jose Cruz a stalwart friend as Henry. Prouty is fine as Elizabeth, but Vera Samuels as the doomed Justine is even better, making the shift from a dry humor at the outset to true pathos at the end.
As Victor, Guerrero is saddled with much of the more challenging dialogue here, and at times we long to see more variety in his delivery, and more depth and breadth to explain the lasting loyalty of those around him. But he doesn't veer into making Victor more mad than any of us might be once we seize upon an idea so fervently it's hard to see where it's taking us. In the end, we do feel his tragedy.
Frankenstein continues through Oct. 27; for tickets call 488-1115 or go to venicestage.com.