Article
Motivational Speaker Linda Larsen Will Appear at Women's Resource Center 2013 Fall Gathering
Larsen will give a speech titled "You: Superstar, Superhero, Superexhausted" at the Women's Resource Center on November 8.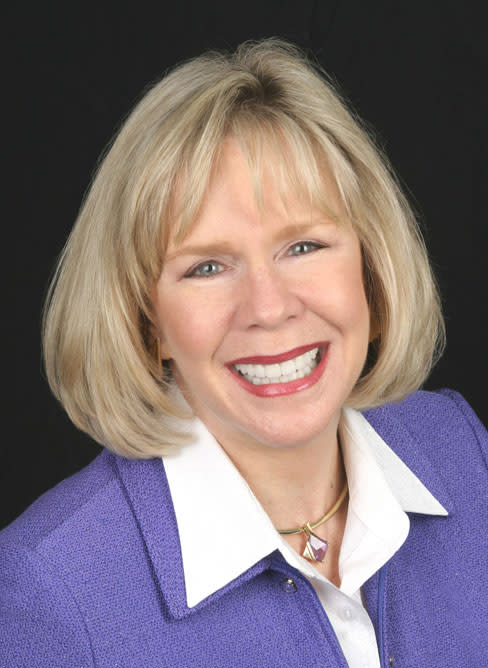 Sarasota native Linda Larsen is a former professional actress-turned-motivational speaker who now spends her time giving speeches across the globe for organizations like Kellog's, eBay, Chevron and Pfizer. On November 8, she'll be speaking at Sarasota's own Women's Resource Center Fall Gathering; we caught up with Larsen to find out more about her WRC presentation, her professional background and why humor is so important to her presentations.
You started your career as an actress. What drew you to acting?
There are certain little children out there who are little performers from the get-go—who put on shows with their imaginary friends—and I was one of them; I was drawn [to acting] from the beginning. It was just a natural thing for me to continue to follow that path. I acted non-professionally in community theaters here in Sarasota, Bradenton and Venice, then turned professional in 1978.
And then you transitioned into a role as a trial consultant, teaching lawyers how to more effectively communicate. What was that like?
I worked professionally as an actor up until 1987, and then I went back to graduate school because I realized that I had a lot of natural ability as an actor, but I didn't have any training to support me when I didn't know what I was doing. So I went back to graduate school, and that's when I realized that many of the skills I learned there were applicable to anyone who wanted to get up on his or her feet and communicated more effectively.
So I created a one-day course for trial lawyers and did that for 10 years; I was an adjunct professor at Stetson Law School, I spoke for legal groups—and the more I spoke, the more I got requests to speak in other industries, because great communication skills are useful in so many other areas. So I turned full-time to speaking.
Not all motivational speakers are humorists—why does humor resonate so much with you?
My greatest love when I was doing theater was comedy—I worked with some great comedic actors, so that's one reason, and the second reason was that I discovered that if you add humor to your presentations, people enjoy them more—they remember it more, and then they go back and talk about it and apply it more.
But your life hasn't always been funny—can you talk about how your experience being held hostage, at gunpoint, affected your work and the way you see the world?
It was such a tremendous, life-altering experience—anyone who has had some big event in her life like that knows that they can use it to help them grow, or that it can push them back. I was fortunate enough to have the perspective to see that it was actually a gift in my life. I thought, "Wow, maybe I have some purpose for being here," and that continued to push me forward.
What do you tell people who want to get into the same field you do?
There's a blog post on my website totally dedicated to this, with tons of information. I get at least two people per week saying, "I would make a great motivational speaker, can you tell me how to do it?" And at first I would sit down and go into great detail, but finally—after hearing the same questions so often—I wrote it all down. But I want people to see that this is a business like anything else, and you need to get adequate information about it.
Click here to read Linda's blog post, "How to Become a Wildly Successful Motivational Speaker."
What draws you to speaking to women's groups?
I love women—I love how open they are, how responsive they are, how willing they are to jump in and play from the get-go. I love how they want to embrace happiness and joy, to look at their "stuff" and question themselves and laugh. And when I have 1,500 women in a room and they bring that positive energy with them, it makes my job ridiculously easy. A speech is not a one-sided event—in my opinion, it's an elevated conversation. And women are great at conversation—we build relationships, we converse, we communicate, we talk.
I love my men's groups, but the experience is 100 percent different than working with women. It took me awhile to realize that men love my presentations, too, they just love them in a different way—it's inside their heads. They often sit there perfectly quietly and just nod once in a blue moon. It's way more work for me—I don't have that buoyant cushion of joy and fun and energy and emotion—so I just have to trust that they're going to love it. It's totally up to me to manufacture all that—often after a presentation to a men's group, I think, "I'm exhausted"—whereas with the women's groups, I'm more energized.
How did you get involved with the Women's Resource Center?
I've lived in Sarasota County for 50 years and have always been aware of the good work of the Women's Resource Center; I've spoken at their events a couple of other times, and I'm always happy to contribute to the best of my ability.
For this particular event [on November 8], I'm doing a presentation called "You: Superstar, Superhero, Superexhausted." It's fun and funny, and it lets these women know what a difference they make—I want them to know how great they are, that they're making a huge difference, and that if they're not careful, they'll burn out. Women have huge to-do lists, but often we're not even on those lists. There's never a single line item that says "stop and breathe for three minutes all by yourself." So I can come in, make them laugh and give them some ideas to help them do what they love without burning out—and have a great time in the process.
To purchase tickets to the Women's Resource Center's 2013 Fall Gathering, "Chair-It for Chair-ity" on November 8, visit www.thewomensresourcecenter.org.