Article
Sarasota Magazine's Veronica Pastore Will Debut New Single, "Too Hott Too Fast," on Friday
Our "Party Girl" will perform her new single live at a blowout at Prana Restaurant and Lounge, benefitting Designing Women Boutique.
[caption id="attachment_1474" align="alignnone" width="488"]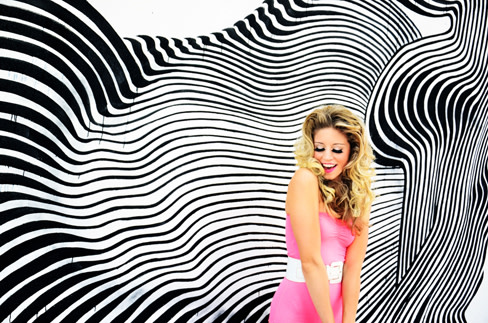 Photo by InStudio E Photography[/caption]
You might know Veronica Pastore from her popular "Party Girl" column in Sarasota Magazine or her company, VP Social Consulting, which aims to help local businesses up their social media ante. But what you might not know is that Pastore is also an aspiring singer-songwriter who's set to debut her first single, "Too Hott Too Fast," this weekend at Prana Restaurant & Lounge. We caught up with Pastore—in between choreography sessions at the dance studio and putting the final touches on the details of the party—to get the scoop on the event, the song and the inspiration for all of it.
Have you always loved performing?
I've never really done it in front of anyone, but I have always loved to sing—when I'm alone in my car and I'm driving, that's when I get down.
So how did this all happen?
EJ Porter at Drummerboy Studios said to me, "Hey, we should record a song," and asked me if I could sing—and I said, "Actually, yes!" So I got to the studio and he had this whole vision for me, and we ended up having a great time.
Watch a video of Veronica and EJ in the studio, below.
[iframe][/iframe]
What was the process like?
We talked about a concept—we both wanted something really upbeat and fun, kind of an end-of-summer-blowout feel—and then we talked about ideas for lyrics during our second session. At that point, EJ pretty much had the structure of the song finished and we started putting the rest of the pieces together. I wrote the lyrics and he gave me some input on the process; he wrote the music and I gave him some input. We did six different sessions over the course of a couple of months—we started recording in June and wrapped it up in early August. My whole goal was just to get in [to the studio] and have fun and do something I've always wanted to do, and everything has been really well-received.
And you're filming a music video to go with?
Yes! We've been shooting the music video over the last several weeks, and we're going to incorporate parts of the live performance Friday into it.
Tell us what people can expect at Friday's event.
It's from 10:30 p.m. to 2 a.m., and there'll be a live DJ and drink specials all night. Prana Restaurant & Lounge is a cool venue; it has a New York club feel and there's a balcony section upstairs, booths, nice tables, an open dance floor, a stage and several bars. And I want people to feel free to dress up and have fun—playful, skimpy, sexy but still classy.
And it benefits Designing Women Boutique?
Yes—Designing Daughters just opened a section in Designing Women Boutique that's a little younger and trendier, and it's not something Designing Women had before. So we want to raise awareness for this new part of the store, and we're doing a clothing drive at the event on Friday. Anyone can bring up to three pieces of lightly loved, good-quality clothing to donate and they'll receive $5 off the price of the ticket for each item.
What's been your favorite part of this whole process?
My very favorite part was the recording process and the creative aspect—we made something from scratch, that didn't exist before, and that's really cool.
So would you do it again?
Absolutely.
For more information and to purchase tickets to Friday's event, go to www.toohotttoofast.com. 
Click here to read Veronica's "Party Girl" columns.