Article
Theater Review: Florida Studio Theatre's And the World Goes 'Round
Kay Kipling reviews FST's The World Goes 'Round.
[caption id="attachment_935" align="alignnone" width="488"]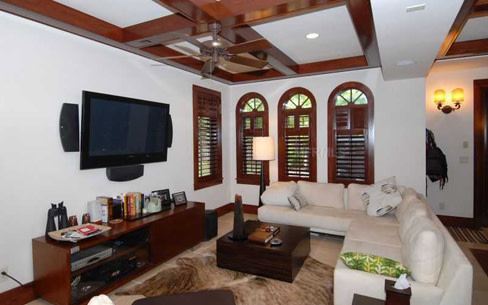 The cast of FST's The World Goes 'Round.[/caption]
By Kay Kipling
Before heading to Florida Studio Theatre's Gompertz Theatre to see The World Goes 'Round, it's possible to have two trains of thought. One: Is there really a reason to reprise this revue of songs by John Kander and Fred Ebb, which has been performed by FST before? Two: There's always a good reason to hear again songs created by this longtime successful writing team.
Once the show begins, however, there's only one way to feel about it: good. While it's true the songs here are mostly familiar (granted, there are a few lesser-known ones for those who mainly know the duo from Cabaret and Chicago), they are performed with fresh new staging and contexts by a highly professional cast of five, under the inventive direction of Gabriel Barre.
The tone is set right from the beginning with a powerful rendition of the show's title tune by Taprena Michelle Augustine that assures us that no matter what ups and downs there are in life, the world does in fact go 'round for another season, and another. That attitude is echoed in other songs in the show, which are sometimes introduced by brief repetitions from the first number.
The mood or subject of those songs is likewise suggested by April Soroko's straightforward set design: The mostly bare black stage is adorned with words like "memory," "romance," "friend," etc. Carey Anderson's performance of Colored Lights is one song dealing with memory; she's touching as a woman longing to somehow recreate the magic she's lost since her childhood.
Not all the songs here are melancholy, by any means. Zak Edwards is a lot of fun on the Sara Lee number (an anthem to baked goods) and also just right as the hapless Mr. Cellophane. He and Lauren Blackman also have a great duet in Act II, a blend of tap and tango (choreographed by DJ Gray) that aptly captures a lot of the excitement, doubt and hope of love. And Augustine and Anderson pair memorably on Class (decked out like a couple of Jersey girls complete with spike heels and animal print clothes as they chew gum and swig beer while lamenting the lack of manners today) and on the rather rueful The Grass is Always Greener.
While the choreography may occasionally be a little overdone (I'm thinking of Blackman's gymnastics on Arthur in the Afternoon and All That Jazz), in general it's lively and clever, as in the very enjoyable Act I closing number, The Rink, and another number, Pain, that actually sends up the choreographer's art.
Actor Peter Gosik has some of the show's less lively numbers, which perhaps makes his onstage persona feel different from his cast members'. But he delivers impassioned vocals on dramatic songs including I Don't Remember You and Kiss of the Spider Woman. And the band, led by music director Frank Lindquist, switches gears and genres as easily as the cast.
The World Goes 'Round continues through June 23; for tickets call 366-9000 or go to floridastudiotheatre.org.