Article
Local Saxophonist Kenny Soderblom Celebrated at Surprise Party
Local saxophonist Kenny Soderblom's musical accomplishments are celebrated at a party in his honor.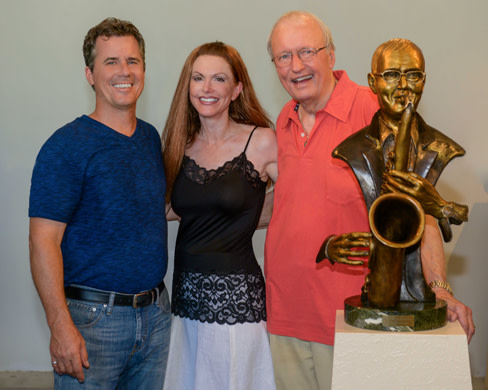 If you like jazz and have lived in Sarasota long enough, you have certainly met Kenny Soderblom, a gifted saxophonist and all-around good guy who has been a mainstay of the Jazz Club of Sarasota and has played its concerts and festivals for decades.
For 25 years, Kenny was a freelance woodwind player on thousands of television and radio commercials. A native of Winnetka, Ill., he was musical director of the inaugural Chicago Jazz Festival Orchestra, where he backed Benny Goodman and Mel Torme 35 years ago. Through the years, he's also backed legendary singers like Frank Sinatra, Sammy Davis Jr., Liza Minnelli, Nancy Wilson and Diana Ross and the Supremes. And for years, he played the Jerry Lewis Telethon in New York with the late drummer Bobby Rosengarden, another jazz luminary who ended up making his home in Sarasota.
Lately, Kenny and his wife Leah, a multilingual jazz vocalist with a wonderfully smoky tone, have been making beautiful music together. They're about to release their sixth, still-to-be-titled, CD later this summer. (You can read more about them, and hear snippets from their past CDs, at kennyandleah.com.)
Leah stealthily commissioned Scott Moore of S.M.art Castings & Sculpture to create a bronze bust of Kenny that she presented to him at a surprise party Tuesday evening. Lots of old friends and fellow musicians were there to pay tribute to his lifetime of accomplishments. And the beat goes on.