Article
Sarasota YMCA's Sharks Masters Swim Team Hosts 2013 Pan-Am Championship
The Sarasota Sharks swim team will host the 2013 Pan-American Masters Swimming championships.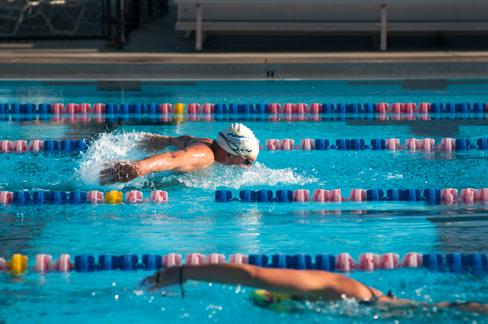 At 4:30 a.m., even the pool is still asleep, tucked in and motionless underneath covers that give the illusion of a giant outdoor tumbling mat.
Rick Walker arrives at the Evalyn Sadlier Jones YMCA in south Sarasota, as he does every Monday through Friday, to set things in motion.
The coach of the Sarasota YMCA Sharks Masters Swimming team since its inception in 2005, Rick, a Sarasota native, scribbles the day's workouts on a whiteboard—copying handwritten notes he made at home, breathing the familiar scent of chlorine. He is weathered but lean and youthful at 62, with a short, white crew cut and features that might seem gruff if they didn't melt so easily into wry smiles. A handful of teammates arrive to help pull off the pool cover, and then they all head into the locker room to change. In addition to coaching, Rick trains with this, the earliest and often most competitive group of the day.
By 5:30 a.m., the pool—part of the Selby Aquatic Center known to most as "the Shark Tank"—is a rolling boil of pumping feet and propeller arms moving back and forth across the water.
Each lane swirls in an independent rhythm: steady kicks, arm up, breathe, arm over and forward, reach, flip-turn, push-off, dolphin kick, breathe, stroke, kick, touch the wall and breathe.
Technically speaking, swimming is nothing more than this: a method for cutting the fastest path through the water.
But for the Sharks, a lap or two (or 200) in the pool is only the beginning. Most people don't just join this team; they are submerged in it. And they wouldn't have it any other way.
As the sky lightens, the earliest group swims on. Between reps, the swimmers hang onto the wall, adjust their goggles and catch their breath. During this month's Pan-American Masters Championship, more than 2,000 swimmers from 21 countries will compete in this very pool, and the Sharks in the 5:30 a.m. group, in addition to around 70 of their teammates, aim not just to participate, but to fiercely compete. Several join Rick to train four or five days a week.
The most observant swimmers, eying the whiteboard and the massive digital clock that overlooks the pool, announce the next set's start time—top of the minute or bottom.
"OK, another 100, going at the bottom!" The clock hits 6:13:30, and they're off again.
The Sharks Masters team is a member of the 28-year-old U.S. Masters Swimming organization, which organizes and oversees 18-and-up amateur teams and regular competitions throughout the country. Though relatively new, the Sharks are among the largest teams in the country with more than 200 members. They're also among the most competitive, having earned U.S. Masters and YMCA national championships in recent years, as well as a number of individual accolades. Of course, it helps to have several former Olympians on your team. In March, Bumpy Jones, who swam in the 1952 Helsinki Olympics, celebrated his 80th birthday by setting seven national records in his age group in a single meet. "Bumpy's kind of our star," Rick explains.
One big draw is the facility. The Shark Tank maintains a water temperature between 78 and 82 degrees and features a nifty moveable bulkhead, which separates the dive well from the swim lanes, and a state-of-the-art lightning detection system, as well as an impressive scoreboard and brand-new starting blocks, both paid for in part by Masters fund raisers.
Perhaps most importantly, although they share the facility with the national champion Sharks youth program, the Sharks Masters enjoy ample pool time. Easy access to an excellent pool (plus the weather, of course) makes this team the envy of Masters organizations throughout the country—something the Sharks are frequently reminded of by the snowbirds and seasonal visitors who swim with the team when they're in Sarasota. (In fact, many out-of-towners end up joining the team and participate as Sharks in meets around the country, regardless of their primary residence.)
But the facility is only a fraction of the Sharks' magic. The 200-some-odd members include writers, dentists, law enforcement, teachers and many other professions. This is just what they do for fun. Ages range from early 20s to late 80s. Some people have been swimming competitively since elementary school; others didn't jump in the water until age 65. Some swim to stay fit; others to set records.
The magic is that team members are as varied as they are passionately loyal to one another. "There are the same differences in personality that you would find in any group," says Laura Hamel, a Sharks swimmer, single mother and communications director for U.S. Masters swimming, which moved its headquarters to Sarasota in 2008. "But when the chips are down, the swimmers become fiercely protective of and devoted to their own."
Sharks who swim together socialize together, hang out after practice, meet each other for drinks and movies. Injuries and personal tragedies are met with casseroles and carpooling. "Someone close to the swimmer in trouble will start an email campaign for help, and everyone piles on," says Laura. "It's remarkable, really."
Likewise, personal celebrations like birthdays and new babies are amplified by a hundred congratulatory, gift-bearing Sharks. Water-themed weddings are popular, including one that took place on the sandbar at New Pass and featured a bridal procession by kayak. Rick has been best man for two different Sharks; both ceremonies were officiated by another teammate.
It's a kinship not often found in the 9-to-5 world. The Sharks' motto: "For the team."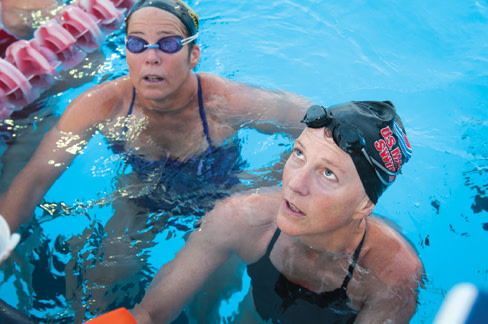 Dr. Jonathan Fong, a genial 48-year-old cardiologist, likes to joke, "We have so many physicians on the team, we could start up a multi-specialty practice." Another devotee of the 5:30 a.m. practice, Jonathan was a high school swimmer who stayed out of the pool for 14 years during his medical training. Now, when dealing with older patients who are too eager to accept the limitations of age, he cites his teammates in their 70s and 80s who are in prime physical condition.
As the 5:30 a.m. group finally finishes, having swum nearly three miles, Jonathan lingers in the water for a moment—long enough for a young woman in the next lane to flash a grin and challenge him: "OK, Jon, what you got?"
"She knows that's all she has to do," he explains, yielding to the challenge. They're on for one last 50-yard race, and then Jonathan is off to the O.R. for work. Others head together to Panera Bread for their regular breakfast klatch.
Rick showers, dresses in khaki shorts, a long-sleeve white shirt and a big floppy hat, and returns to the pool deck. The next group starts at 7.
These morning swim groups—5:30, 7, 8:15 and 8:30 a.m., Monday through Friday—follow similar workout plans each day, but Rick adjusts the pace and intervals for each group. (In response to demand, there are afternoon practices, too, led by another Sharks member.) The later morning swimmers are no less dedicated: stay-at-home parents, newbies and retirees who may still manage to swim five days a week. Every group has its own mindful clock-watchers shouting the upcoming start time and throwing in a little friendly trash talk, too: "Jeff, you're doing the next one all 'fly, right?" a woman calls to a man six lanes away. "No? How you gonna beat me, then?"
Rick supervises, cross-armed and straight-faced—at least, until the chatter from the pool makes him crack a grin. He takes his coaching seriously and prides himself on training the team hard, from national champions to once-a-week fitness swimmers. But Rick is also a figurehead for the team's friendly, welcoming persona.
"If I see something in someone's stroke, I'll help out," he says of one of his coaching duties. But the swimmers also take a lot of responsibility for their own self-improvement—for instance, changing strokes throughout the workout depending on the events they race and the things they know they need to work on.
As Jonathan the cardiologist says, "No one's forcing you to be there. The amount of effort [is what] gets results."
As they get closer to major competitions, Rick will taper off the intensity of the workouts and allow more practice time for specialty work like getting off the blocks at the start of a race. Many Sharks participate in smaller meets—sometimes as many as two or three a month—in order to tweak technique and game plan. They take buses together to St. Petersburg or Fort Lauderdale, pumping each other up on the way and laughing all the way back. Not everyone competes, but everyone supports.
Swimming is unusual in that it asks competitors to share a locker room. But in Masters Swimming, by and large, rivalries stop at the water line. Swimmers support, console and congratulate other swimmers, regardless of affiliation. In the locker rooms, where the coordinated swim caps are removed, it's impossible to tell who's on which team.
Each swimmer describes the intensity of the exercise as well as its calming effects. Their motivations are balanced between the love of teammates and the thrill of the race. It is the yin-yang of Masters Swimming: both rush and release, competition and camaraderie.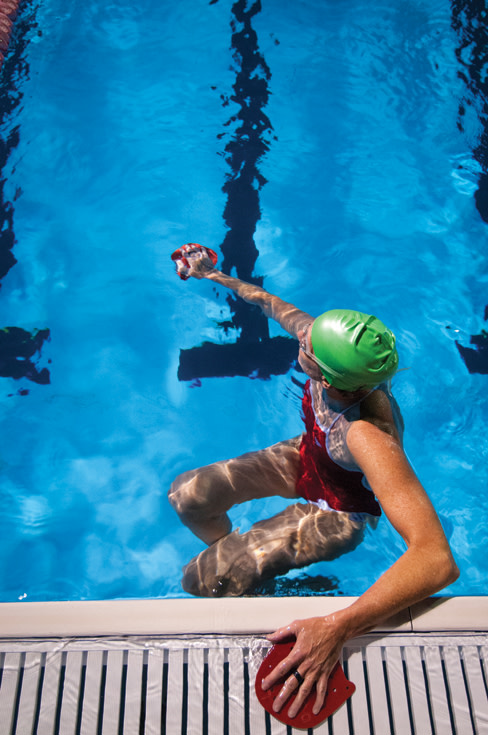 The 8:15 a.m. group includes a number of older swimmers, some with very limited experience. "We're not the fastest people," explains Colette Lafuente. At 71, Colette is still the energetic, outgoing comedienne you'd want to sit next to on the school bus. The former mayor of Poughkeepsie, N.Y., she began swimming at age 67, and soon thereafter quit smoking. "Can't smoke in a lane," she says.
Given the opportunity to chat during a workout, Colette and her lane-mate, Carol Mitchell, 64, play off each other like Abbott and Costello, except they're both treading chin-deep in water and laughing through nose plugs.
They still have a few laps to complete, but they can't help themselves. Every time they start to swim off, they come back with another raucous anecdote: missed races, forgotten goggles, other people's struggles to don the super-tight, state-of-the-art, competition swimsuits—"like massive girdles," Colette says. A teammate once split the back of his suit right as he jumped off the blocks at the start of a 1,000-yard race. "But he finished," Colette adds with pride.
Carol recites with glee someone's observation that "Masters Swimmers are like eight-and-unders with Gold Cards." Or, as Laura Hamel points out, many coaches and administrators "just think of us as larger children with pocketbooks and discretionary income."
Certainly, no one in the group worries about growing old. In fact, because the races in Masters meets are divided by age, milestone birthdays—which usher you into a new age group—are met with enthusiasm: All of a sudden you're younger than all of your competition.
At 10 a.m., one by one, the last swimmers of the morning climb out of the pool and pad dripping back to the locker room, smiling and thanking Rick as they pass. Colette towels off and joins a few other swimmers, including a couple of 20-something "whippersnappers," she says, for coffee at the Starbucks in nearby Target. "You don't just talk about swimming," she adds. "You talk about everything. You talk about life."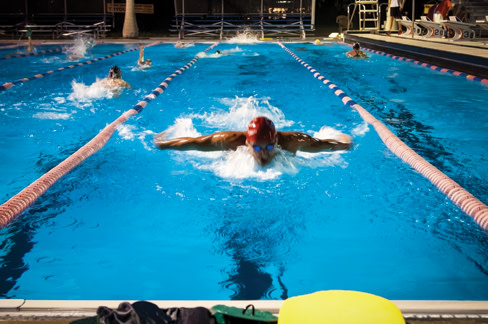 Every spring, just before the USMS nationals, the entire Sharks Masters organization gets together for a cookout and potluck. This year, with added anticipation for the Pan-Am Championship, the party takes place around the 10th-floor rooftop pool at downtown Sarasota's Plaza at Five Points. It's a fun juxtaposition—people who spend so much time underwater now standing 100 feet above the city.
There are burgers and chicken breasts on the grill, salads, deviled eggs and crockpot meatballs—and plenty of beer and wine. It's a Saturday, and some folks are only a couple hours removed from their weekly open-water swim off Siesta Key Beach. Lots of people know each other from the pool and from other gatherings, but in such a large group, lots of people don't. Encountering an unfamiliar teammate, Sharks shake hands and break the ice with, "What time do you swim?"
Everyone from 5:30 a.m. veterans to once-a-week newbies agrees that swim culture in general—and the Sharks team in particular—offers a special and unusual social bond. But everyone's got a different theory for why that is. Some chalk it up to chance—that the team just happens to be filled with warm and welcoming people, and hyper-competitive jerks (who do show up from time to time) don't stick around for long. Others have philosophical or scientific explanations—that water is not a natural environment for humans, and learning to thrive in it encourages brains to develop more openly.
With just four years experience, 71-year-old Colette still possesses the zeal of the convert, always eager to describe things she's learned, from freestyle technique to illegal swimsuits. Contemplating her enthusiasm for the sport, she lists a number of factors, including the encouraging teammates and the fitness benefits. Then, she concludes, "Water is just nice to be in."
The 2013 Pan-American Masters Championship
June 5-13
The international, biennial swim meet includes athletes from across the U.S., Canada, Mexico, Central and South America and the Caribbean. Age groups begin at 18-24 and increase in five-year increments as high as necessary (several competitors are registered for the 90-94 group). This year's event at the Evalyn Sadlier Jones YMCA in south Sarasota (as well as an open-water swim off Siesta Key Beach on June 13) marks the first time the Pan-Am Championships have been held in the U.S.; past hosts include Rio de Janeiro, Brazil (2011), Veracruz, Mexico (2009), and San Juan, Puerto Rico, 2007.
For a schedule and more information, go to panamericanmasters2013.org.
Read Hannah Wallace's weekly Health and Fitness blog here.