Article
Theater Review: Venice Theatre Stage II's A Behanding in Spokane
Arts editor Kay Kipling reviews Stage II's A Behanding in Spokane.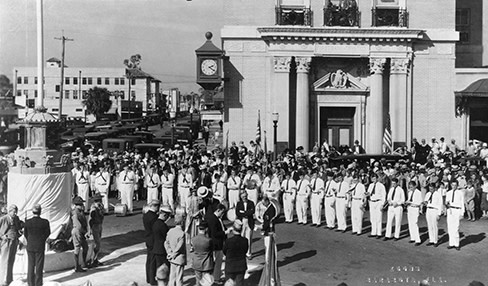 Followers of playwright Martin McDonagh's work (The Lieutenant of Inishmore, The Pillowman) know about the dark places he likes to go—albeit with that trademark, twisted McDonagh humor. So they won't be too surprised to learn that the current McDonagh work at Venice Theatre's Stage II, A Behanding in Spokane, contains "offensive language" or "adult situations." Yeah, that's pretty much a given.
This play is not set in McDonagh's usual Ireland; it takes place in America, in an extremely seedy motel room (complete with filthy carpet, holes in the wall, and a bed you wouldn't want to touch, in John Michael Andzulis' set design), where a man named Carmichael (Steven O'Dea) has come on a quest. That quest is for the missing hand he lost in a gruesome incident (if he's telling the truth) 27 years earlier. A pair of pretty clueless crooks, a white girl (Alison Prouty) and her black boyfriend (Kristofer Geddie), have promised to deliver it to him for $500.
But—no spoiler alert here—turns out their offering is not the right hand; it's not even close. That upsets the gun-and-gasoline-can-wielding Carmichael no end. And they can't count on help from the motel's reception clerk (Jeremy Guerrero), who seems, in his own way, just as psychotic as Carmichael.
That's the setup, and you can kind of guess, in general, where things are going to go from there. But it's the details that make Behanding slyly entertaining, whether it's a phone call from Carmichael's mother, who's got problems of her own, or the suitcase filled with—ahem—hands Carmichael has collected along the way. (Wait until you see the hand-flinging fest that takes place.) Since each of the characters here has his or her own demented logic, their interactions are bound to be highly frustrating for them, while provoking laughs for us.
Director Kelly Wynn Woodland has staged the action at a fast comic pace, with occasional pauses for emphasis or realizations. (The play lasts only 80 minutes, with no intermission). And her cast is well chosen, whether it's O'Dea, properly single-minded and menacing in his long black coat; or Guerrero, full of manic energy as he delivers a monologue about his life's disappointments; or Prouty, wearing many-hued hair and an air of innocence, and Geddie, who can spout obscene epithets at a rapid and impressive clip.
It all adds up to something less than McDonagh's best work, but it's still a fun ride. A Behanding in Spokane continues through April 28; for tickets call 488-1115 or go to venicestage.com.