Article
Astronaut Mark Kelly Visits Sarasota
Astronaut Mark Kelly, husband of former U.S. Rep. Gabrielle Giffords, visits Sarasota to talk about his career, his wife's shooting and--in a press conference before the lecture--gun control.
By Beau Denton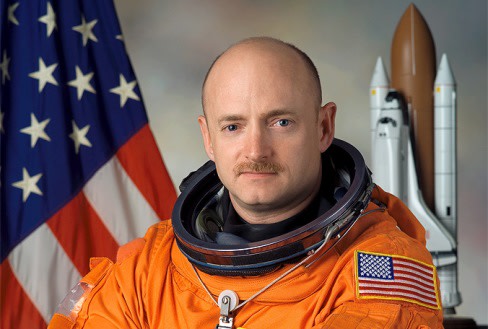 For the fourth date in this year's Town Hall series, the Ringling College Library Association welcomed Captain Mark Kelly—astronaut, retired U.S. Navy captain, prostate cancer survivor and husband of former U.S. Rep. Gabrielle Giffords, who was the victim of an assassination attempt in January 2011.
Kelly's life reads a like a well-written novel, and the packed Van Wezel audience soaked up every word Monday morning. He spoke self-deprecatingly about how he almost failed his first aircraft carrier landing: "Top Gun had just come out, and let me tell you—I was no Maverick. I think Tom Cruise could have flown better than me. Not just his character in the movie, but Tom Cruise himself." He described the moments surrounding a space shuttle's blastoff with exhilarating detail, slowing down so the audience could share his awe of floating through space and looking back on his home planet. He marveled about the time he sat between Neil Armstrong and John Glenn at dinner. He joked about his wife's crush on Bono, the lead singer of U2, who keeps a picture of Giffords on his desk.
The tone changed dramatically when Kelly discussed his wife's shooting. He talked about the first phone calls, finding out that one of the shots was to the head, and later—midair, on a flight with his kids to the Arizona hospital—listening as the media started reporting that Giffords was dead. Even with the hindsight of knowing that the congresswoman survived the incident, the audience gasped audibly as Kelly paused and remembered those moments.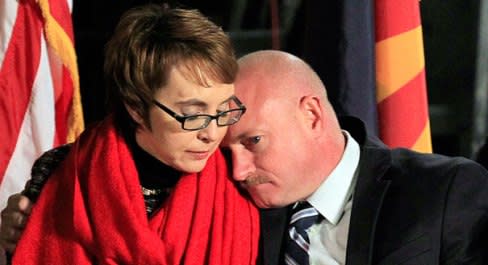 Despite the sometimes-heavy subjects, Kelly's talk was optimistic. He movingly reflected on life as a caregiver and outlined the progress of his wife's recovery so far. He traced positive themes through all of his experiences: the value of patience, the unlimited potential of a goal, a plan and hard work.
While his main talk avoided the subject of gun control, for which Kelly and Giffords have been in the news lately, that was the primary topic of a brief media roundtable before the event. While lobbying for tighter regulations and enforcement, Kelly has recently been criticized for owning a number of guns himself—including the controversial AR-15 assault rifle. Today, Kelly was quick to clarify that he only purchased the AR-15 so he could speak more comfortably about background check requirements; he plans to turn the gun over to his local police department soon. On a broader scale, he noted that he is a hunter and a vocal fan of the second amendment, but that there are certain changes—like universal background checks—that he thinks most Americans can unite on.
It seems appropriate, though, that policy discussion never entered Kelly's main talk. This was his personal story, from the high of space flight to the low of the tragic Tucson shooting. He made it clear, too, that—with privatized space exploration on the horizon and his wife's recovery still ongoing—he is far from finished.