Article
What to do in Sarasota This Weekend: 2/1/2013
Sarasota events: What to do in Sarasota this weekend, 2/1/2013.

Your Weekend Top 5
1. A triple treat from the supremely talented Sarasota Ballet this weekend: five performances of works by Sir Frederick Ashton (Birthday Offering), the company's own Jamie Carter (Between Longing and Yearning, shown here) and Changing Light, a world premiere by Royal Ballet star Will Tuckett. At the FSU Center.
2. "Hot stuff" is how one major newspaper described violinist Philippe Quint. The sizzling soloist will perform Samuel Barber's Violin Concerto with the Sarasota Orchestra in this weekend's Masterworks concerts. Guest conductor Daniel Hege will also conduct Stravinsky's Firebird Suite and Haydn's Symphony No. 90.
3. '70s folk-pop icon Jonathan Edwards  (everybody remembers Sunshine) stops by the Fogartyville Community Center in Kumquat Court Friday night for a benefit concert for WSLR community radio.
4. Here's your chance to wear that kilt in the back of your closet, as the Sarasota Highland Games & Celtic Festival returns to the Sarasota County Fairgrounds. Friday night's a Celtic Rock Festival with the City of Sarasota Pipe Band, Paul Duffy (of the late, great Irish Rover Pub in Gulf Gate), and more. Tickets are just $5. Then Saturday, all kinds of athletic competitions (Scottish hammer throw, anyone?), piping and drumming, Highland dancing and even a shortbread contest.
5. Ready for more political drama? Florida Studio Theatre opens The Columnist Friday night, the story of political columnist and kingmaker Joseph Alsop and his fall from decades-long power. Through April 7.
Next Week
Acclaimed pianists Robert Levin and Ya-Fei Chuang team for "One Piano, Two and Four Hands," a Sarasota Music Festival benefit concert Wednesday night at Holley Hall. Masterworks by Rachmaninoff and Wagner are on the playbill.
Chef Paul Mattison presents a cooking class and three-course gourmet lunch Wednesday at Mattison's Forty-One. The theme: Flavors of The Italian Riviera, Lucca and Bologna.
Meet new friends while you stay in shape, and earn a free T-shirt as a bonus, when you participate in Sarasota County's Wednesday morning sunrise beach walks, starting at 8 a.m. Feb. 6 at Siesta Public Beach and Nokomis Beach. Your $1 entry fee gets you a punch card; complete four walks and get a free T-shirt.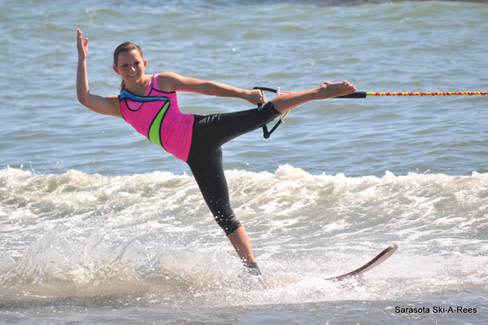 Free & Freeish Fun
Attention, thrill seekers:  The Ski-A-Rees' first free water-ski show of the winter season is Sunday afternoon at the Ski-A-Rees Stadium behind Mote on City Island. The award-winning water-ski show team has been a Sarasota tradition since 1957. Free shows every Sunday afternoon through May 12.
To subscribe to Sarasota Magazine's free Weekend Insider, click here.