Article
Holiday Gift Guide: Gifts for Foodies
Chef Christian Hershman of Sarasota's State Street Eating House shares his recipes for homemade gifts for foodies.
By Heather Dunhill
Make-it-yourself gift ideas from chef Christian Hershman.
Chef Christian Hershman's State Street Eating House feels like an alchemist's lab as well as a chic neighborhood bistro. The bar shelves are lined with Mason jars of Hershman's edible infusions, which he uses in many of the menu items, including specialty cocktails. We asked him to share a few recipes that would make delicious holiday gifts.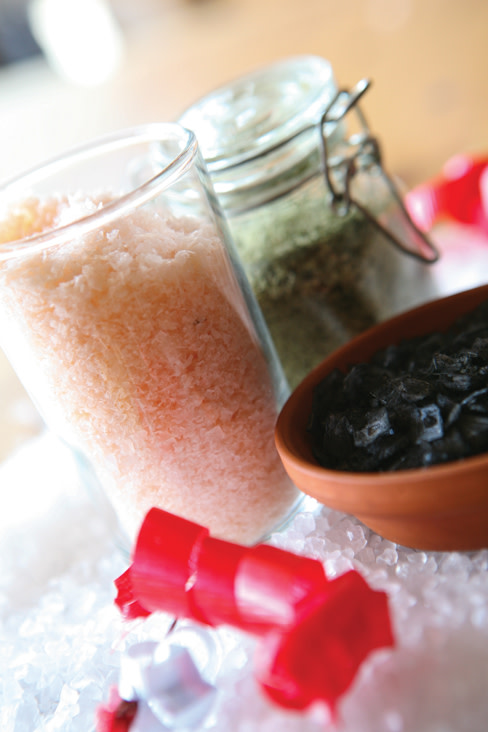 Flavored Salt
We're way beyond the days when salt always meant a shake from the Morton's container. Designer salts are the rage with chefs and gourmets, and Hershman says they're easy to make with readily available dried spices. "It's such a flavorful way to season dishes," he says. Plus, they're pretty!
1 cup fresh herbs (such as basil, rosemary or truffles) or spices (such as sumac berries, chilies, lemon zest or wasabi root)
3 cups sea salt
Lay out salt and herbs on wax paper and bake at 225 degrees for 30-45 minutes. Do not allow herbs to burn. Cool, then process in a food processor.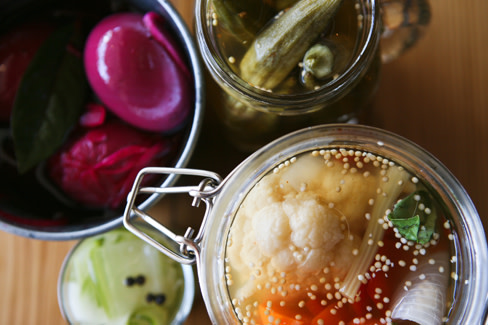 Quick Pickles
"This is a gift-giving idea for those who love to come home from the farmer's market with bushels of veggies," says Hershman. Just about anything can be quick-pickled, including beans, cauliflower, okra, carrots, asparagus, beets, peppers and cucumbers. Just remember that quick pickles are created for flavor rather than preservation.
1 cup apple cider vinegar
1/2 cup water
2 tsp. kosher salt
Black peppercorns
Fresh bay leaf
Star anise
Agave nectar or sugar
Cucumbers or other vegetables, such as beets or peppers, sliced
Combine vinegar with 1/2 cup water, salt and spices in a small saucepan. Heat to a boil.
Place vegetables in a clean, dry glass container just large enough to hold all the slices. Pour boiling brine over veggie slices to cover completely. Cover; refrigerate at least 2 hours. Pickles will keep for about 10 days.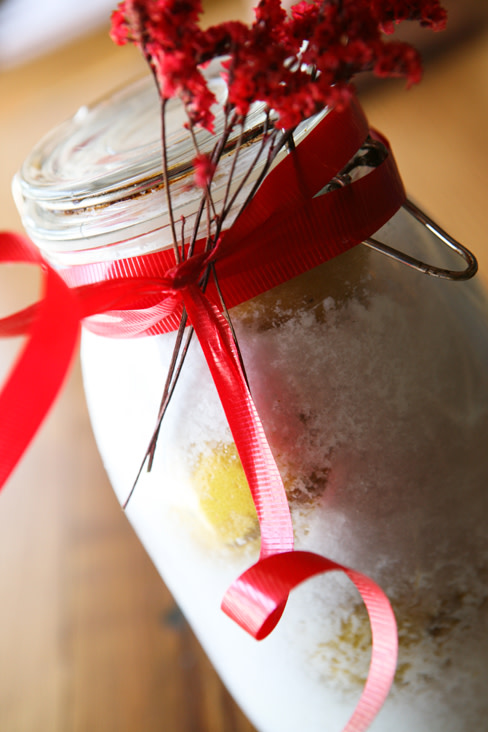 Preserved Lemons
"Salt-cured or 'preserved' lemons are underrated," says Hershman. "While they're often found in Moroccan dishes, they're delicious in whipped potatoes with butter, sauteed baby spinach, various sauces for fish and even Bloody Marys."
10 lemons
2-3 cups kosher salt
Sterilized Mason jar
Pour salt in the bottom of a sterilized jar. One by one, prepare the lemons in the following way: Cut off any protruding stems from the lemons and cut 1/4 inch off the tip of each lemon. Cut the lemons as if you were going to cut them in half lengthwise, starting from the tip, but do not cut all the way. Keep the lemon attached at the base. Make another cut in a similar manner, so that the lemon is quartered, but again, attached at the base.
Pry the lemons open and generously sprinkle salt all over the insides and outsides. Pack the lemons in the jar, squishing them down so that the juice is extracted and the lemon juice rises to the top of the jar. Fill up the jar with lemons, then cover with more salt and make sure the top is covered. Seal the jar, put in refrigerator and let sit.
To use, remove a lemon from the jar and rinse thoroughly in water to remove salt. Discard the pulp before using, if desired.
Store in refrigerator in packed salt for up to 6 months.
Bitters
"Bitters, an alcohol tincture, are an essential ingredient in the revival of the classic cocktail," notes Hershman. Rather than buying premade bitters, he suggests using your own when you mix a drink at home. They can also add interesting flavor to ginger ale or soda water. (Click here to read about State Street Eating House's inventive cocktail program.)
2 cups grain or 80-proof or above alcohol
Fruit or dried herb of choice
8 oz. wild cherry bark (available online)
1 tsp. green cardamom pods
1 tsp. angelica root
1/2 tsp. wormwood
Simple syrup
Place the herbs or fruit in a Mason jar and cover with grain alcohol. Seal the jar and let the mixture stand in a cool, dark place for a minimum of two weeks. Give the jar a good shake once in a while.
Strain the alcohol into a clean Mason jar. Add bitter spices to the flavored tincture and store the jar for a minimum of two weeks.
After two weeks, strain the spices and add mix to a saucepan. Add 4 cups of water. Bring to a boil, then cover and lower the heat and allow it to simmer for about 5-7 minutes.
With cheesecloth, strain water mixture. Add water to tincture infusion and squeeze last drops from cheesecloth.
Add simple syrup or sweetener of choice to the alcohol and water mixture (the sugar may solidify momentarily, but will dissolve).
Seal the jar and allow the mixture to sit for 5 days. Strain again and pour into a bitters bottle or small decanter with a lid.
Click here to read our round-up of gorgeous local gifts and stocking stuffers for everyone on your list.