Article
Sarasota's ShelterBox Provides Relief After Nepal Earthquake
When disaster struck in Nepal, Sarasota-based ShelterBox reached across the world to help.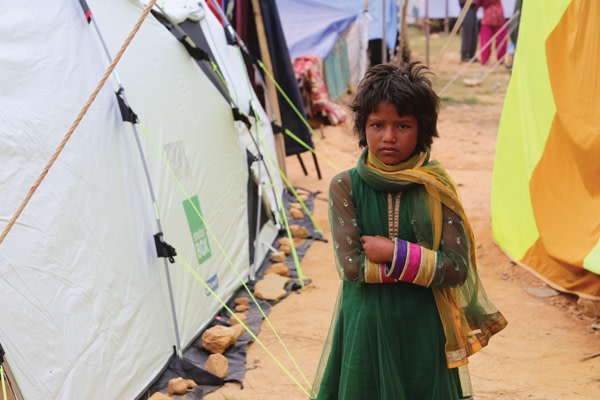 Normally, tourists flock to the little town of Jiri in the Himalayan foothills to start the popular days-long trek to the Mount Everest base camp. Tensing Norgay and Sir Edmund Hillary passed through here on their way up, and although most climbers fly to a landing strip closer to base camp these days, the town has gained the nickname of "Gateway to Mount Everest."
But weeks ago, Nepal had been hit with one of the worst earthquakes the little nation had ever endured, and since then, the town had been nearly deserted. Inside her tent on a hillside by Jiri, Carrie Wall slept. Outside, the lush, sweeping landscapes with majestic snowy peaks rising in the distance that she had marveled at all day were obscured by darkness.
Suddenly, Wall was shaken out of her sleep. Beneath her, the ground roiled; above, a thunderstorm exploded. It seemed as if nature weren't done yet.
"The thunderstorm came barreling down like a hot truck, white-hot lightning rolling before it," Wall remembers. "The storm was right on top of us, the most fierce storm I've ever been in. I thought we were getting ripped to shreds. Thunder and lightning above you and aftershocks below—it's a humbling, grounding experience."
But Wall was no tourist; she was in Nepal as a ShelterBox response team member, and her rigorous training kicked in. Even as the aftershocks resonated through the valley, she started making contingency plans. After all, Wall was here on a mission.
When typhoons pound Asian islands and landslides devour South American mountain villages, phones start to ring in the small suite of offices tucked away in a bland, one-story office strip in Lakewood Ranch. In 2014, ShelterBox responded to 23 disasters in 19 countries, from North Korea to Argentina. Sometimes the disasters that trigger the phone calls are known to only those who suffer through them; other times, they play large on the international stage. Nepal's earthquakes this past April were of the latter sort. The world watched in collective shock as the ground heaved, buildings toppled, thousands died and dazed survivors crawled out from under piles of debris. Aid agencies began to mobilize; reporters swarmed the scene.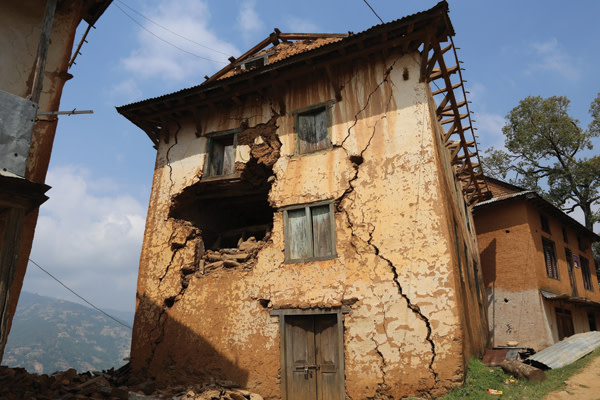 Even before the dust had settled, lightning-fast communications had streaked from Nepal to ShelterBox headquarters in the United Kingdom to the U.S. headquarters in Lakewood Ranch. And in her Chicago apartment, Wall got an email: Are you available to deploy?
With that message, Wall, a 35-year-old University of Iowa grad who had a few free weeks before starting a new job, transformed from spectator to participant. Within three days of receiving her orders, she landed in Kathmandu.
Mission Impossible-esque, perhaps. But the mission that Wall was there for—like the 400 other volunteers for Sarasota-based ShelterBox USA—was simple: Deliver shelter to those who need it the most.
In the lobby of the agency's Lakewood Ranch office sits the organization's calling card: a large green tote that can hold a durable, custom-designed tent for an extended family, shelter kits to repair damaged buildings, blankets and waterproof tarps, tool kits, mosquito nets, stoves and even comfort packs containing coloring books and supplies for children. Although the hope is that the recipients can transition out of the tents in about six months, many in Haiti who received the tents in 2010 are still living in them five years later.
ShelterBox USA interim executive director Alan Monroe explains that the organization, which is one of 20 international ShelterBox affiliates, is quick and lean, with only five staff members since formally organizing in 2004. ShelterBox USA focuses on fund raising and building awareness; all logistical operations for disaster relief are handled from the international headquarters in the U.K.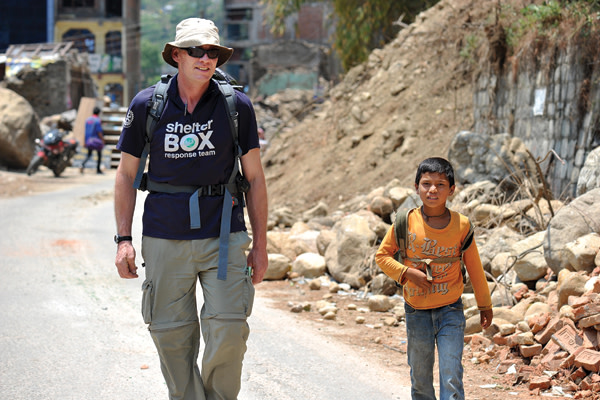 Those relief operations depend heavily on well-trained volunteers such as Wall, who are often the first to arrive on a disaster scene. Because the volunteers hand deliver the boxes and kits to recipients, along with the deeds that give them the formal title to their tent, they seek out community leaders to point out the most vulnerable and needy—the sick, the elderly, mothers with babies.
In all, ShelterBox sent 20 responders to Nepal; some were still there months after the earthquake. They provided enough aid, from materials to clear debris and secure existing structures to tents and tarps, to shelter 15,000 survivors.
An affable, pragmatic Midwesterner who has often mixed her career with volunteerism, Wall had signed up to volunteer for ShelterBox from a mixture of altruism and yearning for adventure. Although more than 400 people volunteer for ShelterBox USA, only about 50 will deploy as Wall did. Most serve as ambassadors, whose job is to get the word out and raise funds—whether through a local Rotary Club, by writing a blog or by visiting a music festival to spread the word. One middle school in Bradenton raised enough money from a spare change campaign for two ShelterBoxes, which can cost up to $1,000 each to stock.
"The volunteers come from all ages, all walks of life, and they are some of the most selfless and generous people you've ever met in your life," says ShelterBox USA communications manager Chris Alexander.
Volunteers interested in helping but not necessarily deploying are given training in fund raising, holding a successful event and how to tell an impactful story—all important because the agency is totally dependent on charitable giving and prides itself that out of every dollar given, 85 percent goes into the field.
Those volunteers who sign up to be ShelterBox response team members must undergo a written assessment, a Skype interview and a grueling four-day training in a ranch in Texas. If they pass, they are sent to the U.K. (where ShelterBox was founded in 2000) for a nine-day debriefing that includes everything from lectures to physical training.
The final leg of the training is a proba-tionary first deployment. It's an intense and rigorous process, but ShelterBox USA volunteer programs manager Sarah Shelton says that's necessary.
"We need to be able to trust their skills and their decision making," says Shelton. "This is the most chaotic situation you're going into. There are no team building exercises at that point."
Wall completed her U.K. training in September 2013. She says it was tough, but critical to succeeding with disaster response. "You have to read training manuals and memoirs; we purified water, cooked off a [portable] stove, slept in
the tents," recalls Wall.
They even teamed up with the British Royal Navy for simulated disasters.
"We become so used to expecting the unexpected that when something did happen, it didn't throw me off," says Wall. "You have to be flexible, to be willing to react to everything around you."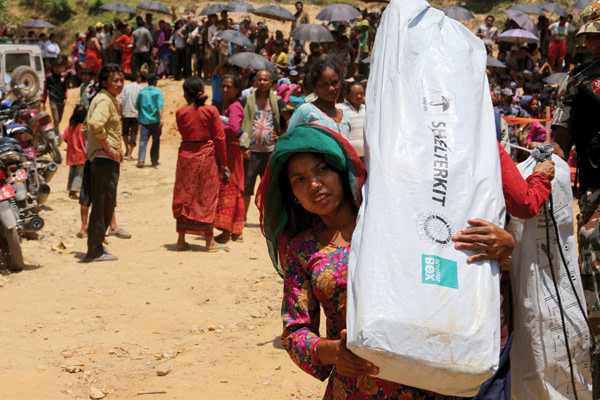 When she arrived in Kathmandu this spring, her instructions were to relieve the first team of ShelterBox responders and conduct reconnaissance missions in remote rural areas with members of other aid agencies and The Queen's Gurkha Engineers, a combination of British and Nepalese soldiers, and 18- to 30-year-old local Rotarians. It's standard practice for ShelterBox to partner with other agencies to make sure they don't duplicate services.
The damage she saw was a shocking contrast to the serene natural beauty of the country, Wall says.
"There were pockets of devastation in Kathmandu, but the full extent of damage and need wasn't apparent until I traveled into remote areas," she says. "The route to these locations required a steel will and stomach. From village to village, the destruction was widespread, and all along the road, there were piles of debris from recent landslides."
But at every step of the way, she was amazed by the people's resilience.
"People have lost family members, a home, livelihood, but they're figured out what they have to do with what they have," Wall says. "We were there to help them, but they've already started helping themselves."
Monroe says he's been equally inspired by how the human spirit can transcend catastrophe. He recalls that when a team responded to flooding in Taiwan, a man they called Mr. Tien brought fresh fruit for the ShelterBox volunteers' breakfast every day and accompanied them to community after community to translate and help assess need. One day, as they passed a pile of rocks close to a large river, Tien pointed to the slag heap and told Monroe, "That used to be where I parked my car." Monroe realized that his indefatigable helpmate had probably lost his home, too, and he immediately offered him a ShelterBox.
Tien declined.
"He said, 'I want to make sure that everyone else in this town who needs it gets a ShelterBox before I do,'" Monroe says. "There's this preconception many have that the people we go to assist are helpless. But the first people involved in human response are those directly affected. Watching them come together and rebuild communities is incredibly inspiring."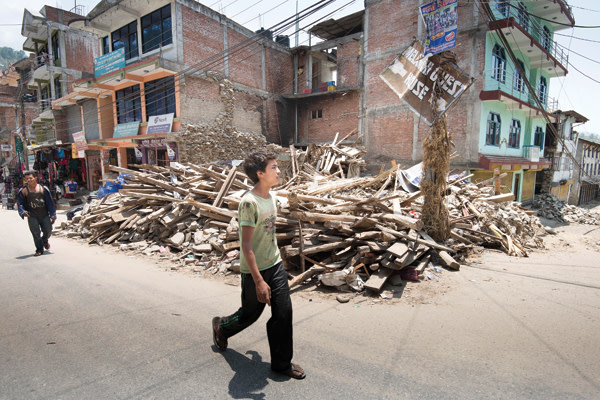 Monroe eventually persuaded the reluctant Tien to accept a tent. Tien then asked if he could borrow Monroe's cell phone. He wanted to call his elderly mother, whom he had carried out to safety moments before their home was submerged and who was now living with a sister. As Monroe watched, Tien broke down and sobbed to his mother that she could come home now.
"It's not just a box with stuff in it," says Monroe. "It brings families together. It gives them hope. It gives them dignity while they rebuild."
Wall agrees. And, she adds, "It's not completely altruistic. I get as much out of it as the beneficiaries. People are people. Obviously, we have our differences—culture, language—but I never know when I'm going to be in need of help."
But she does know when she can help next; she's busy building up her vacation time at work. She just started a new job the day after she returned from Nepal, so it will be a while, probably sometime in 2016. But as soon as those two weeks open up, Wall knows exactly what she'll do: Put her name down for another ShelterBox mission.
What's in a ShelterBox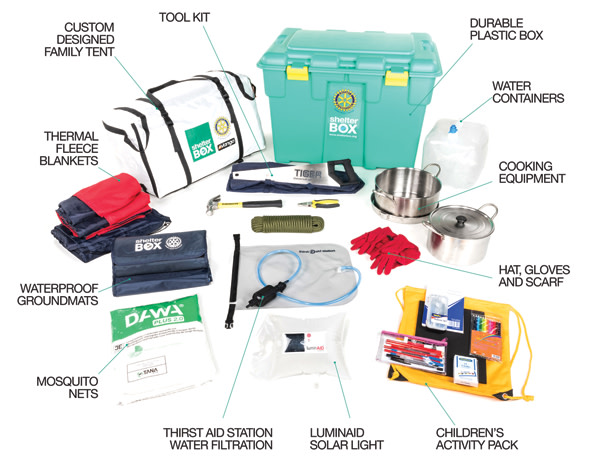 Want to help? You can donate at shelterboxusa.org/donate or make a one-time $10 donation by texting SHELTER to 20222. To explore volunteer opportunities, go to shelterboxusa.org/volunteer.