Article
Volunteer of the Year: Sarasota Dolphin Research Program's Nigel Mould
Our Volunteer of the Year helps keep local environmental organizations afloat.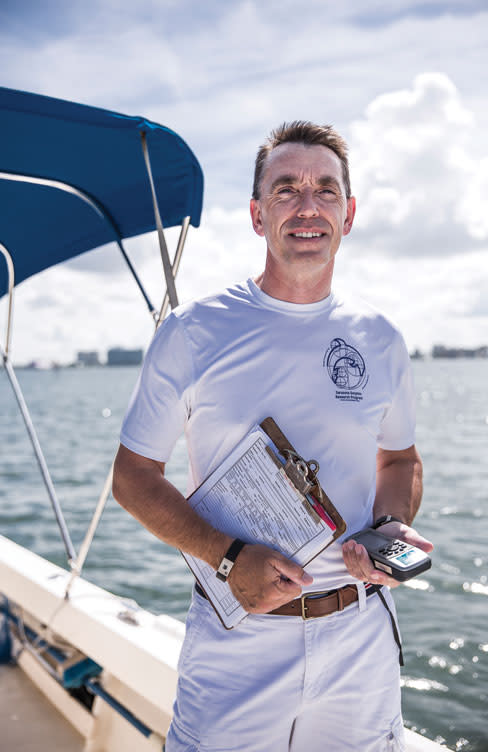 When he decided to volunteer for Sarasota Dolphin Research Program, Nigel Mould jumped in with both feet—literally. Since 2010, Mould has spent upwards of 300 hours a year in soaking-wet volunteerism—swimming next to 400-pound distressed dolphins, hauling and mending research nets and doing whatever else is needed to help the natural environment.
Mould grew up swimming and boating in England, where, he says, "You can never be very far from the ocean." When he retired from his career as CEO of an international cosmetics company and moved his family to Sarasota, he quickly realized that his experience on the water could be an asset for SDRP, the world's longest-running wild dolphin research program. Mould also contributes hundreds of hours to Mote Marine Laboratory, Catholic Charities and other local nonprofits.
Sounding very much like a former CEO, Mould can speak expertly about the economic benefits of Sarasota Bay, the far-reaching importance of long-term research programs, and the convenience of committing to solar power and electric cars. But his connection to the cause comes from his heart as well as his head.
He recently learned that a dolphin calf he'd helped rescue last winter was spotted alive and well. "It's the best feeling," he says of the news. "The reward may not be immediate. You help a dolphin, it doesn't turn around and say, 'Thank you.' Still, when you hear he's healthy, you say to yourself, 'That cold, wet, miserable day in the water—that was worth it.'"
Photography by Mark Farmwald